EDITOR'S NOTE: An earlier version of this story based on a report from the city Community Development Department to the Planning Commission erroneously stated that Planning Commissioner Sheila Lightfoot opposed a ban on short-term apartment rentals by corporations. In fact Lightfoot supported such a ban, and the story has been corrected to reflect that.
While the City of West Hollywood has banned short-term apartment rentals by individuals through services such as Airbnb, the Planning Commission is asking that it permit such rentals by corporations.
The Planning Commission has on its Thursday agenda a proposal to communicate to the West Hollywood City Council its opposition to a proposed ban against corporate short-term rentals. The proposed ban was initiated last year by Councilmember John Heilman and passed in a 3-to-2 vote. Councilmembers John D'Amico and John Duran opposed it.
At its Oct. 20 meeting, commissioners discussed the City Council's proposal to clarify the ban on short-term rentals by specifying that it includes renting to corporations who use the apartments for employees who are visiting or on temporary assignment in Los Angeles. The owner of at least one WeHo apartment building — the Dylan at 7111 Santa Monica Blvd. at La Brea — has been warned by the city that it was violating the short-term rental ban by letting companies rent apartments for visiting employees.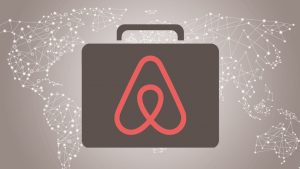 At the Oct. 20 meeting, all of the planning commissioners but one opposed banning short-term corporate rentals, arguing that such a ban would discourage company employees from both living and working in West Hollywood and that there is no evidence that short-term corporate rentals are a problem.  Commissioner Sheila Lightfoot supported the proposed ban.
Like many cities across the country, West Hollywood has tried to stop or restrict short-term rentals of local housing, arguing that they give landlords an incentive to take housing units for long-term tenants off the market and compete unfairly with hotels. An apartment that might rent for $1,800 a month could produce three times that revenue if rented to tourists. That is a major issue in West Hollywood given the city's high rents and shortage of available housing. In July last year the City Council amended its zoning ordinance to clarify that such short-term rentals are illegal.
So-called "shared economy" services such as Airbnb typically have focused on vacation rentals. However Airbnb has begun to focus on corporate short-term rentals with Airbnb for Business. That service works like a hotel booking site, letting a company's employees book a room in a house or condo or apartment through Airbnb and bill it directly to his or her employer.
The Planning Commission will meet at 6:30 p.m. on Thursday at the City Council Chambers, 625 N. San Vicente Blvd. south of Santa Monica.