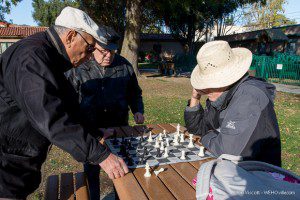 West Hollywood is considered an overwhelmingly liberal city, with the majority of its residents registered as Democrats. But apparently there is a pocket of avid Donald Trump supporters on the city's Eastside.
A story in today's issue of the Jewish Journal features interviews with members of WeHo's Russian-speaking Jewish community who expressed their support for the conservative Republican.
"Trump is going to be a strong leader," a 76-year-old Russian Jew told Jewish Journal's Olga Grigoryants. "He keeps his word. He will do everything in his power for people."
Steven Windmueller, a professor emeritus at Hebrew Union College-Jewish Institute of Religion in Los Angeles, told Grigoryants that his interactions with the local Russian-speaking Jewish community reinforced the idea that they backed Trump.
"They expressed to me their belief that the nation needed 'a strong man' to deal with the external threats to the country," Windmueller said. "Several suggested to me that [Russian President Vladimir] Putin and Trump would work well together, as they marveled at [Putin's] leadership, and they were hoping that Mr. Trump would emulate that model within this country. They also believed that Donald Trump would be 'great' for Israel!"
The full Jewish Journal story is available online.