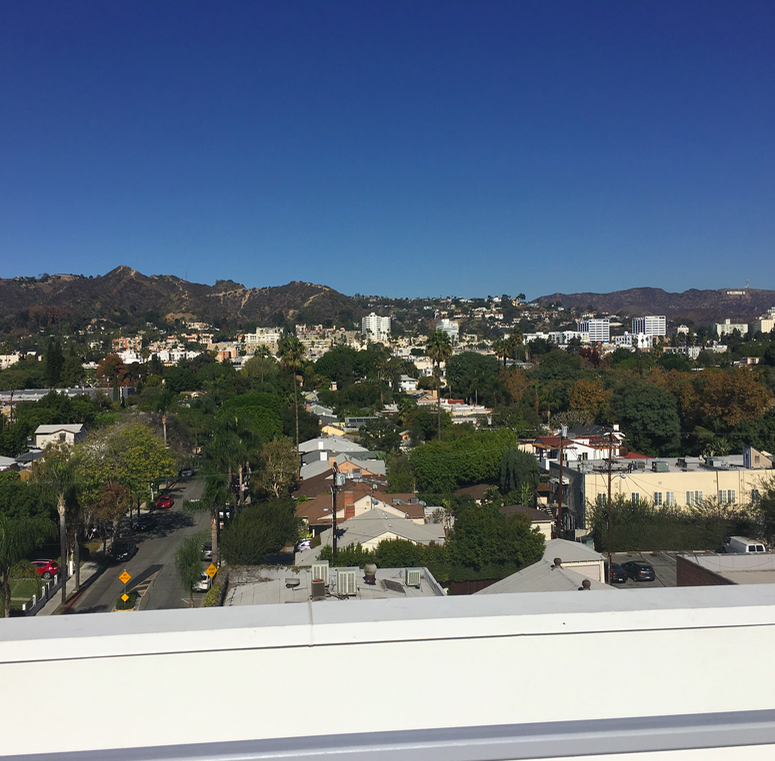 People will begin moving tomorrow into a building that is the first to be completed on the Movietown Plaza site and the latest project of the West Hollywood Community Housing Corporation.
The 77-unit apartment building on Poinsettia Place south of Santa Monica Boulevard will provide low- and moderate-income housing for people 62 years old and older. It offers a range of amenities including a gym and two community center rooms, one with tables and an open range for cooking classes and the other with a gas fireplace, a large television monitor and computers for the use of residents.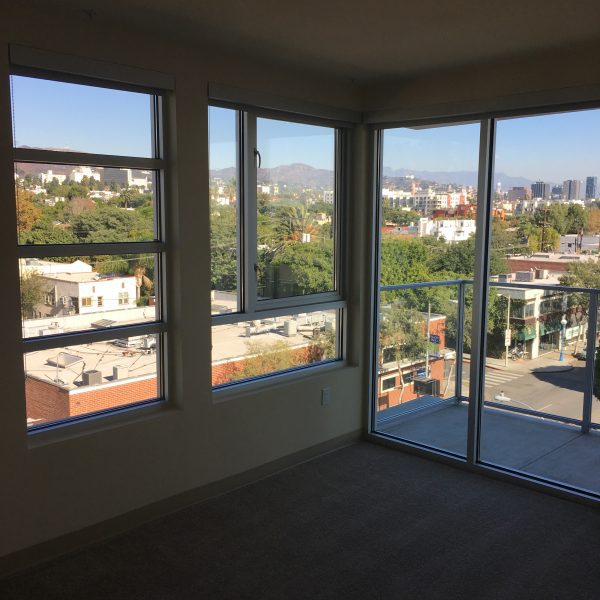 Beneath the five-story courtyard building will be Trader Joe's, the popular grocery store that was demolished in 2013 when the site was being prepared for construction of what now is dubbed Avalon West Hollywood, a project of Avalon Bay Communities. That project is designed by MVE & Partners of Irvine as is the WHCHC building. It will include 294 market-rate housing units and 32,300 square feet of retail space that will house Trader Joe's along with restaurants and shops. It is nearing completion.
WHCHC is the non-profit agency that has built much of the city's housing for low-income and elderly and disabled people. Robin Conerly, WHCHC's executive director, said it decided to name its building "Movietown Square" to acknowledge the history of the site. Formerly a strip mall, it is located to the west of The Lot, which since 1918 has housed film studios such as Pickford-Fairbanks Studios and United Artists. Applications will be taken from prospective residents who live in West Hollywood and already are on the city's lengthy affordable housing waiting list. For seniors to qualify they must earn between 30% and 60% of the Los Angeles County median income of $62,400.
Conerly and Jesse Slansky, WHCHC's director of real estate development, took WEHOville on a tour of the building recently. The interiors were designed by Mister Important Design, a firm whose projects have included the Hard Rock Hotel in Palm Springs and the W hotel in San Diego as well as other Avalon residential projects.
Slansky noted various aspects of the design and furnishings intended to accommodate seniors, especially those with disabilities. They include low kitchen counters, community room chairs with arm rests and flat bases to prevent them from overturning easily and grab bars adjacent to bath tubs. A few units are furnished with devices for those who have hearing or sight problems. For example, a loudspeaker or flashing light can alert a resident that someone is at his or her door.
Various aspects of the building are designed to bring its residents together. They include gardening containers on the roof, which offers a sweeping view of the Hollywood Hills to the north, and the community rooms.
More images of Movietown Square are on the pages that follow.