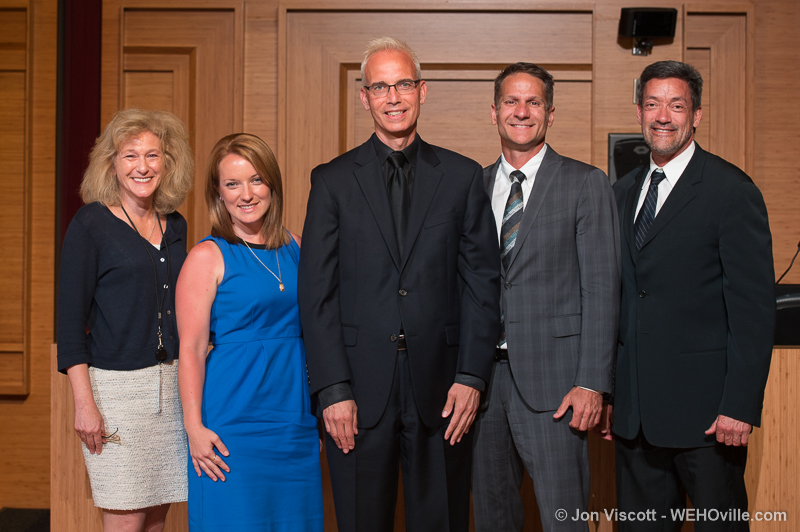 CHAPTER I: PROMOTING CIVIC ENGAGEMENT
The West Hollywood City Council has begun to go dark on the residents it represents.
Beginning in August, the City Council reduced its meeting schedule from twice a month to once a month, dramatically increasing the size of its now-monthly agenda. These days it's not unusual for a City Council meeting to go to midnight or later, which means citizens who take time to come and comment on matters important to them usually give up and go home instead. (After all, they have to go to work the next day.) Given that there is only one meeting a month, often more residents than usual show up at the beginning of a meeting to offer public comments. Mayor Lauren Meister's response has been to cut the comment period from two minutes to as few as 60 seconds.
If a City Council meeting that can run as late as 2 a.m. isn't enough to keep the residents of West Hollywood at bay, consider that council "retreat" in July that, depending on who you talk to, was meant to be closed to the public (or wasn't). After an inquiry from WEHOville, the retreat (actually a City Council meeting to discuss the behavior of some council members, among other things) was announced so late it barely met the 72-hour notice requirement of state law, which makes its intent suspicious. There also have been important discussions behind closed doors about the controversial 8150 Beverly Blvd. project and the City Council's decision to give itself a 50% pay raise. And who knows what else?
Yesterday, the City Clerk, in response to a request from the mayor, offered council members options for scheduling a meeting at 10 a.m. on a Saturday next month to discuss issues such as the historic preservation study and a study about public facilities. The mayor's idea is to not overcrowd the agenda of the regularly scheduled Monday night meeting on Jan. 16. Which likely wouldn't be overcrowded if the City Council held two Monday-night meetings next month like it is supposed to.
One reason offered for shuffling the meeting schedule is that holidays have conflicted with the regular schedule, which calls for City Council meetings on the first and third Mondays of every month. For example, the Jan. 2 meeting comes the day after New Year's. But sticking to a Monday night schedule, even if national holidays call for moving it to a different Monday, introduces a sense of uniformity and makes it more likely that people who actually want to enjoy their weekends will find time to participate in civic affairs.
CHAPTER II: THE COUNCIL-MANAGER SYSTEM OF GOVERNMENT
The West Hollywood City Council needs to learn the council-manager system of government. That system was born in the early 1900s through the work of a young civic activist and New York ad exec named Richard Childs. Childs saw the flaws in various forms of government across the country such as the strong mayor system and the commission system. That inspired him to come up with the idea of the council-manager form of government, which supporters saw as a well structured and efficient "business form" of local government. The council-manager system now is used in thousands of cities across the country and has been used in West Hollywood since its inception in 1984. It was first used in Sumter, S.C. in 1913, when Malcolm McLean Worthington became the first city manager in the nation.
So why does this esoteric history matter? It matters because it shows that the council-manager form of government is not a West Hollywood invention that the council should shape as it likes. Today it is widely regarded as the best way to manage a small city such as ours. But the way it is supposed to work is something that the West Hollywood City Council, or at least some of its members, does not seem to understand.
That was clear early on in the formation of the council deputy system, whose dissolution in June 2015 some current council members continue to regret. Formed when the city was incorporated, the deputy system was eliminated when the community learned that highly paid political appointees loyal to their own council member were interfering with the work of professional city staffers, among other things. Interfering, that is, when they weren't fighting with the deputies of their boss' political rivals.
It has been clear for a long time that some members of the West Hollywood City Council don't understand the way our form of government is supposed to work. Councilmember John Duran, for example, once proclaimed that he saw his deputy as a way to keep an eye on the activities of the city manager. Mayor Meister can't resist getting down into the weeds, spending lots of time at public meetings grilling city staffers on tiny details, asking questions that should have been directed to the city manager well before the meeting. That's another reason the City Council's meetings are absurdly long — too many council members take too much time dealing in public with nitty-gritty matters that really should be beyond their purview.
The lack of understanding of the council-manager system continues today as some council members interfere in the day-to-day work of city staffers. It has resulted in requests by some council members for excruciatingly detailed and time-consuming information about the city staff's interactions with residents. (Requests that should go through the city manager or his designee). Monday night Meister took a lot of time to quiz the city's Community Development director about the structure of a proposed series of public forums on housing. All of this diving into the details resulted last year in a demand by some council members for more pay for their part-time jobs because of the heavy workload, a workload that  is their own fault. (The council met its demand for more pay in 2015 by giving itself a 50% pay hike proposed and discussed in a closed session.)
So how is the council-manager system supposed to work? What are the duties of a city council? What are the duties of a city manager? In many ways, they are similar to the duties of a corporate board of directors and its CEO. The board of directors sets corporate goals and policy and oversees the CEO, who implements those goals and policies. They don't get involved in everyday business. For example, members of the board of General Motors don't walk into headquarters to talk to random staffers or show up at an auto factory to make sure a Cadillac is being assembled properly. That no one on the West Hollywood City Council has been in a major managerial role in his or her private life may explain why some of its members don't understand how this "business form" of government is supposed to work.
The city council is West Hollywood's board of directors. Its primary job is developing goals and policies for the city and keeping an ear open to constituent concerns. The council oversees the city manager, whose primary job is implementing the policies developed by the city council, keeping the council abreast of city issues, responding to the concerns of residents and keeping the city running. In an ideal situation, the council members would have no contact with city staffers outside official meetings. Instead they would filter their questions and concerns through the city manager, who would assign someone to address them.
CHAPTER III: LEARNING WHAT'S GOING ON IN WEHO AND HOW OTHER CITIES INNOVATE
In addition to listening to constituents and referring any issues to the city manager, council members should take time to study what other progressive cities are doing to deal with local issues such as traffic and parking and a shortage of affordable housing. They should keep abreast of the best thinking in civic development and community engagement to introduce new ideas that might solve big problems, such as Meister's proposal for a study of whether to give a renter the right of first refusal when his or her apartment is for sale or options for protecting and growing small businesses.
Every council member also should read Richard Florida's "The Rise of the Creative Class," a famous and somewhat controversial book that talks about the long term implications of a local economy built on serving drinks and making beds (the hotel room tax is our largest source of revenue) and explores ways to change that. Florida's thinking has sparked creative development efforts in cities as varied as Tulsa and Miami. No council member I've spoken to had even heard of that book.
Council members also should walk, and not in just their own neighborhoods. Being on the street on the Eastside, on Sunset Boulevard, in Boystown, in the Design District, in MidCity, is a good way to find out what issues local residents are dealing with. Listening only to the five or six "regulars" who attend and speak at every council meeting gives council members a distorted sense of the reality of West Hollywood.
What is the city manager supposed to do? His primary responsibility, as noted above, is implementing policies developed by the council. He also oversees a large staff whose duties range from keeping the city's finances in shape to making sure someone responds to a noise complaint. Given the size of the city's cash reserves and the quick response to most citizen issues, he seems to be doing his job.
Ultimately, under the council-manager form of government, it's  the city council that hires the city manager. And if he doesn't do his job, it's the city council that fires the city manager.
That's the council-manager form of government.