InvestCloud, a design, financial software engineering and cloud operator firm, has expanded its long-term lease in the Pacific Design Center's Green Building by 11,000 square feet, for a total of 28,000 square feet. The company recently took occupancy of its space on the Green Building's sixth floor, moving from its former Wilshire Boulevard address in Beverly Hills.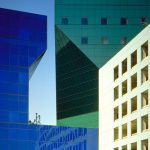 "We are very pleased that InvestCloud has expanded its presence in the PDC Green Building as a high-profile tenant with a dynamic, fast-growing company," said Charles S. Cohen, president/CEO of Cohen Brothers Realty Corp., owner and developer of the Pacific Design Center (PDC) "InvestCloud is a wonderful addition to the PDC campus' high-energy, creative tenant mix."
The company's PDC neighbors include tenants from creative industries that include fashion, marketing, public relations, brand management and media production and distribution.
InvestCloud designs cloud applets—small programs or applications that perform interactive animations, immediate calculations or other simple tasks—for a variety of functions, including tools for developing online communications and managing portfolios and operations..
InvestCloud and Cohen Brothers Realty Corporation were represented by Cohen Brothers Realty's senior vice president and national director of leasing Marc Horowitz in the lease expansion.