The Los Angeles City Council on Tuesday will decide whether to grant the Lytton Saving Bank building status as an historic cultural monument.
The building is located on the lot at 8150 Sunset Blvd. where Townscape Partners is planning a project that will include 229 residential units of mostly apartments and 65,000 square feet of commercial space, with plans for a grocery store, restaurants and retail shops. The project is designed by the firm of celebrated architect Frank Gehry, the man who designed the Walt Disney Concert Hall in downtown Los Angeles.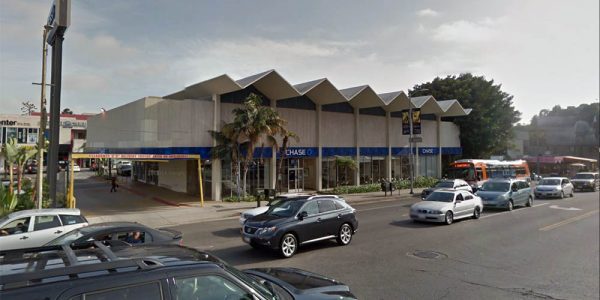 The L.A. City Council on Nov. 1 approved the 8150 Sunset project, which raises the question of what will happen to the Lytton Savings building if the council should grant it the historic-cultural designation sought by groups such as the L.A. Conservancy and Friends of Lytton Savings. Options include integrating it into the Gehry design, which is unlikely, moving it to another location or demolishing it, which would require additional legal steps by Townscape and delay the start of the project. Frank Gehry has noted that the Lytton Savings Building occupies a space where a construction crane must be placed, suggesting it will be demolished or moved. In a letter to members of the L.A. City Council, Gehry argued that the building should be removed to "make room for new buildings for a new generation of activities."
"In that spirit, I feel that the bank, as it stands, has lost its raison d'etre and would severely hinder our ability to create a design that engages and activates the street. It would block the creation of a new venue which is open and inviting to the community. It would make it very difficult to create any reciprocal relationship between the site and the hills and to create an appropriate entry to the Sunset Strip."
In mid-September the L.A. Cultural Heritage Commission unanimously agreed to grant the landmark status to the Lytton Savings building, designed by noted Southern California architect Kurt Meyer. Now a Chase Bank, the building, with its zig-zag folded plate roof, glass walls and interior art work, offered a radical architectural departure from a traditional bank building when it opened in 1960.
The L.A. City Council's Planning and Land Use and Management Committee (PLUM) in October endorsed the 8150 project before considering the proposal to grant the Lytton Savings building historic-cultural status, a move considered odd by many given the impact of the project on the Lytton Building. It eventually decided not to make a decision on the Lytton building and referred it on to the City Council.
The L.A. City Council meeting will take place on Tuesday at 10 a.m. at the John Ferraro Council Chamber, Room 340, Los Angeles City Hall, 200 N. Spring St.