A trash pickup truck from Athens Services is leaking liquid waste on the streets of West Hollywood.
Adam LaSalle, who lives on Cynthia Street near its intersection with San Vicente Boulevard, noticed the waste dripping onto the street while walking his dog one day this Fall. Despite several complaints from LaSalle and some street cleaning by Athens, LaSalle told WEHOville that he continues to see spills. LaSalle said they especially concern him because of the risk they pose to the health of his dog.
LaSalle first reported the spill to City Councilmember John Duran on Sept 2 and got a response from Matthew Magener of the city's Public Works Department, who alerted Athens to the issue.
Johnnie Perkins, an executive vice president at Athens, told LaSalle on Sept. 6 that the problem was an issue with truck number 532, which would be removed from service and fixed, and that Athens would clean the northeast and northwest corners of San Vicente and Cynthia. But six days later, on Sept 12, LaSalle saw truck number 532 again spilling contaminated fluid at that intersection and also at Vista Grande and Hilldale. The pressure washers promised by Athens never came, he said.
LaSalle said that Perkins told him Athens already had repaired and cleaned the truck and would do it again and also would wash the street on Sept. 16. Athens supplied LaSalle with an invoice from GI Services, a street cleaning company, that showed it had done cleaning at the Cynthia and San Vicente intersection and that it came back later to clean up a spill on San Vicente near the Pacific Design Center.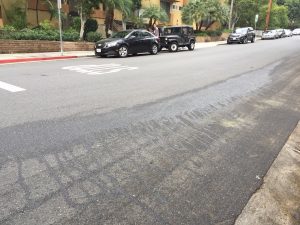 But LaSalle said GI Services appeared to have cleaned only one of the three soiled areas — at the northwest corner of North San Vicente Boulevard and Cynthia Street. The northeast corner of that intersection and the soiled area at Vista Grande and Hilldale apparently weren't cleaned.
Then last week LaSalle captured on video a stream of liquid waste coming from the trash truck and found fresh spills in two new areas, evidence that the problem continues. The video, posted above, shows the fluid streaming from the truck as it turns a corner.
"Accidents happen – I realize that," LaSalle said in an email to WEHOville. "However, what has been particularly disturbing has been the negligence of West Hollywood city officials and Athens Services in fully resolving this matter, and in a timely manner. More than two weeks passed after the incident was first reported, while the spills of contaminated fluid remained as cars continued to drive over and people continued to walk through with their bare-foot dogs unknowingly spreading the bacteria into their homes.
"It was not until the morning after the Oscars, which were held at the Pacific Design Center, that GI Services LLC performed pressure washing not only to one of the spill locations, but also to the east side of North San Vicente Boulevard outside of the Pacific Design Center, which was completely unrelated, as if to kill two birds with one stone.
"The contaminated spill area that GI Services LLC did pressure wash also did not appear to thoroughly remove the stain, while the other two affected areas were not reported to have been cleaned at all. To make matters worse, Athens Services truck number 532 was back in service in what seemed like no time, and in less than two months later, already spilling gallons of contaminated fluid back onto the residential streets of Norma Triangle, North San Vicente Boulevard and East Cynthia Street."
Sharon Perlstein, West Hollywood's city engineer, said the city is responding to LaSalle's video, which it received several days ago. She said that most of Athens' trucks in West Hollywood are relatively new, so it isn't a vehicle issue.  Instead it's a matter of fluid from wet garbage or trash spilling from a reservoir under each truck that is supposed to capture it.
"We're in the process now asking Athens to deal with their fleet to make sure they have the proper procedures in place to monitor those reservoirs," Perlstein said.  "It's not supposed to spill out. It's a violation of our regulations."
She said the fluid isn't seriously harmful like something that is radioactive. But Perlstein noted that it might contain bacteria.
Such leaks have sparked complaints for years by residents in other communities. Some residents have expressed concerns about whether the leaked fluid could be dangerous. Food Poison Journal, a website that provides information about food poisoning, notes that a Cleveland television station "collected samples of fluids spilling from garbage trucks in Cleveland, Cleveland Heights, Maple Heights and Brooklyn and had them tested. In addition to listeria, Accra Labs found very high levels of bacteria and low levels of salmonella." Food Poison Journal is associated with a law firm that represents clients in personal injury suits related to food poisoning.