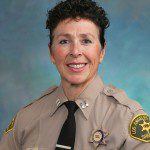 WeHo Mayor Lauren Meister and Sheriff's Station Capt. Holly Perez will host a public conversation about public safety tomorrow at Marco's restaurant at 8200 Santa Monica Blvd. at Havenhurst.
The "Sunrise Discussion" will take place at 8 a.m.
This is the latest in a series of public meetings with Perez, who has headed the West Hollywood Sheriff's Station since February.
For additional information about the Sunrise Discussion, please call (323) 848-6460. For people who are deaf or hearing impaired, please call TTY (323) 848-6496.