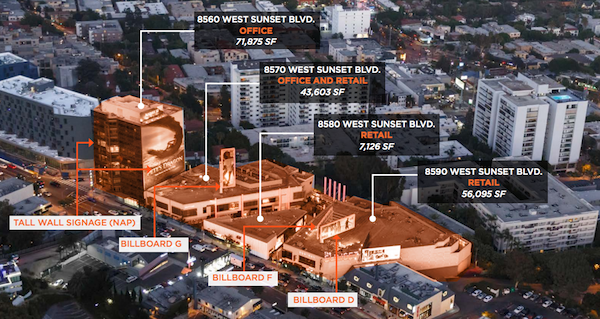 Kilroy Realty Corp. has acquired the building complex at 8560-8590 Sunset Blvd., known as The Sunset, in what is likely the most expensive commercial real estate deal ever in West Hollywood.
The purchase, reported first by The Real Deal, a real estate trade website, totaled $210 million or $1,179 a square foot, according a source quoted by The Real Deal. Tenants in the complex include Equinox gym, H&M apparel, Olive Peoples eyewear, SoulCyle exercise salon, Swarovski, Regus and Primo, the coffee bar.
The 178,699 square foot property covers 2.22 acres and includes a 10-story, 71,875 square foot office tower and a three-building retail and office complex totaling 106,824 square feet. It is near the CIM Group's Sunset-La Cienega project, which is nearing completion. One marketing brochure by HFF described its location as part of "the rapidly urbanizing Sunset Strip, L.A.'s equivalent of Times Square."
The commercial complex owned by Palo Alto-based Broadreach Capital Partners came on the market in August. It was purchased in 2006 by Broadreach $105 million. It once was the home of Playboy Enterprises Inc.