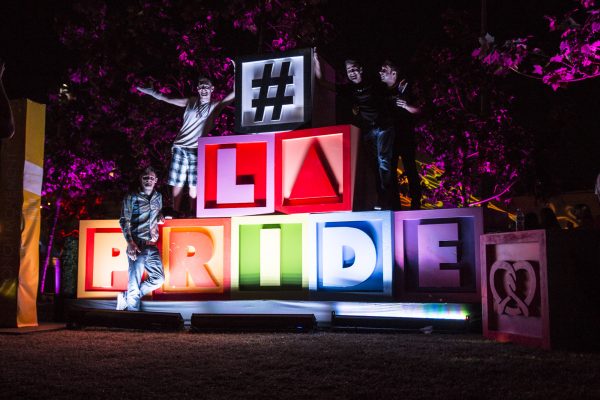 EDITOR'S NOTE:  This story has been updated to include comments from one of the resigning board members and from current board member Craig Bowers.
Four members of the board of directors of Christopher Street West, the non-profit that stages the annual L.A. Pride event, have resigned, complaining that the board is requiring them to sign "gag orders," is not supportive of the transgender community, that they are not being respected or listened to and that the organization is not transparent.
Those four are Steve Ganzell, former CSW board president; Marlon Morales, chairman of L.A. Pride, who also is viewed as representative of the Latino community; Andy Sacher, founder of the Lavender Effect, a non-profit to preserve and promote LGBT history and culture, and Karina Samala, who represented the transgender community.
The resignations leave CSW with 11 board members.
WEHOville as yet has been unable to contact only one of the board members who resigned (the resignations were first disclosed in the Fight magazine.) The mention of a gag order apparently is a reference to a CSW request that its board members sign non-disclosure agreements, which was made after board members discussed internal divisions with WEHOville.
That board member, Andy Sacher, said he quit out of frustration.  "It was a very hard decision for me because I really felt for a long time, almost two years, that I could make a serious impact on the organization on the inside," Sacher said. "I hit a point where I didn't have the hope of that anymore. So I'm focused on work I can do and things that are necessary, the work that I can do with the Lavender Effect."
Craig Bowers, a current CSW board member, told WEHOville that the four board members submitted their resignations on Dec. 20, with no explanation. "As a board and, me as a board member, we certainly appreciate their time and support," Bowers said. "… I do know that Chris reached out to each of them after they submitted their resignations and asked if they wanted to be involved in some less formal capacity." Chris is a reference to Chris Classen, the board's president and Bower's partner in a separate events promotion business.
Bowers said the non-disclosure agreement (NDA) that apparently was referenced in a board member's complaint about a gag order is  a common requirement of those serving on non-profit boards and that one has been in effect since 2002. Bowers said CSW decided to update its NDA at the recommendation of its attorney, Jeffrey Thomas.  Bowers noted that the CSW board has held two retreats in the past year in an effort to improve communication, the latter of which was not attended by two of those who resigned.
Under the leadership last year of Classen and Bowers,CSW has generated significant controversy. A major issue was the board's decision to rebrand the annual L.A. Pride Festival as a music festival targeting millennials. CSW also decided to cut back time and space given to the transgender and lesbian communities for the June 2016 festival, allowing it to accommodate more performers who appeal to a young audience. The organization also decided to raise on-site ticket prices by 40%.
Those moves sparked demands by some groups to boycott L.A. Pride, which is a major revenue generator for the City of West Hollywood, generating an estimated spending of $5 million each year among local merchants and in pay to local residents, according to a study commissioned by the City of West Hollywood. The controversy led CSW to back down somewhat by increasing the time and space available to lesbian and transgender and other groups and providing free entrance to the three-day event during limited hour on Fridays.
Perhaps because of the controversy, and perhaps because of mass murders of LGBT people at a nightclub in Orlando just before the event in West Hollywood, attendance was down at last June's event as was revenue, with a final loss of $395,000.
A copy of CSW's 2016 profit and loss statement made available to WEHOville showed the organization's overall revenue was $2.1 million, 30% less than budgeted. Its overall expenses were $2.5 million, 13% less than budgeted. CSW had projected a $162,000 profit.
Major factors in the loss included a 30% shortfall in projected revenue from festival admission tickets. CSW had projected revenue of $1.3 million (44% of the total revenue from the event), but realized only $915,710. Another shortfall was in revenue anticipated from beverage sales, which at $250,000 was down 65% from the $718,000 that CSW had projected.
The losses reportedly have been covered by a substantial profit made by the L.A. Pride in 2015, before Classen and Bowers took over the organization's management. While Classen has promised many times to make the organization's 2015 tax returns available, that has yet to happen. The financial results for the 2016 Pride event were made available to WEHOville, which published them as CSW was telling its board members that they weren't yet available.