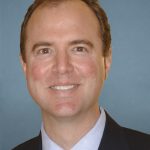 U.S. Rep. Adam Schiff, whose district encompasses West Hollywood, will hold a forum tomorrow night to discuss the Affordable Care Act and its impact on Californians.
The forum will take place at 7 p.m. at the Saban Auditorium of Children's Hospital Los Angeles, 4641 Sunset Blvd. Participants will include Schiff; Ellen Zaman, director of community affairs/government and public policy for Children's Hospital Los Angeles; Nancy Gomez of Health Access California, and Bethany Eshleman, COO of Planned Parenthood Pasadena and San Gabriel Valley along with local people affected by the ACA.
The forum takes place as the Republican majority in Congress is taking steps to dismantle the Affordable Care Act, which has enabled millions of Americans to have health insurance coverage they could not otherwise afford.