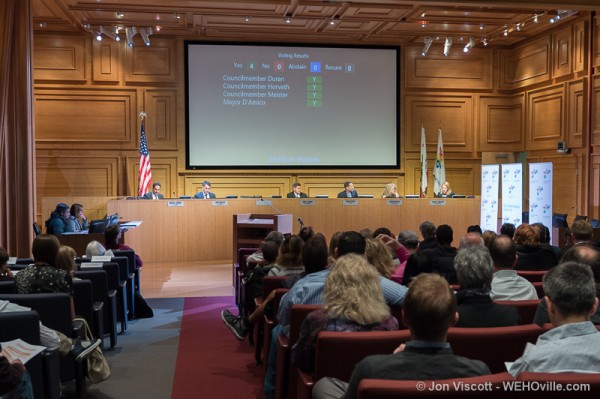 As another of its notoriously long meetings approached midnight, the West Hollywood City Council yesterday decided not to endorse a proposal by Mayor Lauren Meister to take steps to shorten them.
The council members did, however, acknowledge that meetings have become exceptionally long and that they should act to end them earlier and allow more comments from residents who attend those meetings. Residents have complained that they can't stay through the lengthy meetings to address items on the agenda that affect them. Last night three people who stayed until midnight to speak on a proposed ordinance regarding seismic retrofitting for buildings were surprised to find it tabled at the last minute to a future meeting after having waited nearly six hours.
Councilmember John d'Amico noted that the council had cancelled one of its two monthly meetings in every month since August, sometimes because they were scheduled on a holiday and sometimes because one or another council member could not be present. The council traditionally meets on the first and third Mondays of each month, beginning with a closed session at 6 p.m. and open to the public at 6:30 p.m. Going forward, D'Amico said, the council should commit to 20 meetings a year, holding them even if a particular council member can't attend. He said the cancellations have made each meeting 60 to 70% longer.
Councilmember John Heilman said "a lot of the problems with the length of our meetings has to do with how long we are talking…"
"I also think we have a tendency to micromanage staff," Heilman said, an apparent allusion to Meister's habit of grilling city staff members about the details of various items on the council's consent agenda that typically would have been approved in a unanimous vote without discussion.
Meister said one problem was the large number of items put on the consent agenda by city staffers. "If we need to have that many items, we need to have an extra meeting," she said, adding that she would support a third meeting a month. In her proposal, Meister had asked that formal acknowledgements of the deaths of local residents and celebrities be made at the end of the meeting and that the council limit itself to one formal presentation a month. She asked that the public comment session be extended from 20 minutes to 30 minutes.
Councilmember John Duran also said the council members have themselves to blame. "I think the problem is ourselves," he said. "It's a matter of self-policing."
Councilmember Lindsey Horvath noted that making it possible for more residents to speak would make council meetings longer, but she said that restricting that speech "means that people contribute less, and I don't think we want to do that."
The notion that the council members themselves are responsible for the very long meetings was echoed by Dan Morin, a local resident who was one of the last people not a city employee who remained in the Council Chambers. Morin said council members should limit their talk during the council member comment period to five minutes.
Heilman proposed that the council postpone acting on the issue for six months to see if resuming its twice-monthly schedule would improve the situation. City Clerk Yvonne Quarker also recommended streaming announcements of city meetings on the video screen behind the council dais instead of having council members take time to call them out. Both proposals were supported unanimously.