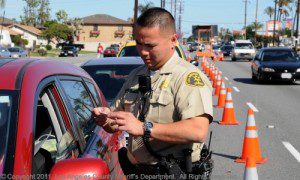 The L.A. County Sheriff's Department Traffic Services Detail will be conducting a DUI/driver's license checkpoint on Friday at an undisclosed location in West Hollywood between the hours of 6 p.m. and 2 a.m.
Officers will be looking for signs of alcohol and/or drug impairment, with officers checking drivers for proper licensing, delaying motorists only momentarily. When possible, specially trained officers will be available to evaluate those suspected of drug-impaired driving, which now accounts for a growing number of impaired driving crashes.
High visibility enforcement using both DUI checkpoints and DUI saturation patrols has proven to lower the number of persons killed and injured in alcohol or drug impaired crashes. Research shows that crashes involving an impaired driver can be reduced by up to 20% when well-publicized proactive DUI operations are conducted routinely.
DUI checkpoints like this one are placed in locations based on collision statistics and frequency of DUI arrests, affording the greatest opportunity for achieving drunk and drugged driving deterrence. Locations are chosen with safety considerations for the officers and the public.
Drivers are encouraged to download the Designated Driver VIP, or "DDVIP," free mobile app for Android or iPhone. The DDVIP app helps find nearby bars and restaurants that feature free incentives for the designated sober driver, from free non-alcoholic drinks to free appetizers and more. The app also has a tab to call Uber, Lyft or Curb.
The impact of a DUI arrest can include jail time, fines, fees, DUI classes, license suspensions and other expenses that can exceed $10,000.
.