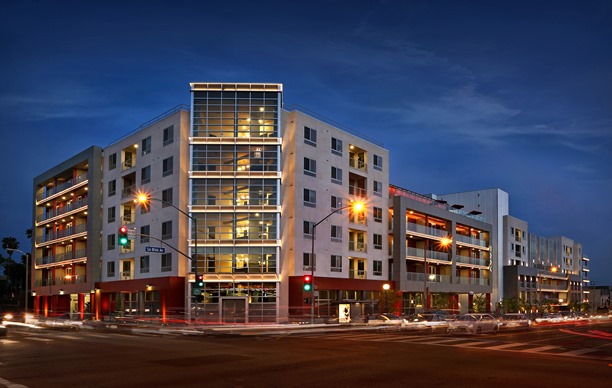 The amount of development and the loss of affordable housing has been a constant issue in West Hollywood, and a talking point for many of the eight challengers seeking to unseat two incumbents on the WeHo City Council next month.
A report by the city's Human Services and Rent Stabilization Department offers facts about what really is going on. According to that report, which will be presented to the city council on Monday, the facts are as follows:
— Since 1986, when the Ellis Act was adopted by the state legislature, 203 buildings with a total of 764 rent-stabilized housing units have been removed from the market. That represents only 4.5% of the city's total of 16,832 rent-stabilized units. Of those properties, 7.9% have been returned to the rental market.
The Ellis Act allows property owners to evict renters if they intend to remove their property from the rental market. The city's rent stabilization law covers buildings constructed no later than July 1, 1979. Rents on those WeHo properties can be increased only according to a formula tied to the regional Consumer Price Index. However a landlord can increase a unit's rent to the current market rate when a tenant moves out.
Of the housing removed from rent-stabilization, most were two-, three- and four-bedrooms properties, and they were converted to single-family homes or remain unused. Duplex, triplex and quadriplex units make up about 12% of all units in WeHo.
— City council members have asked if rent control or stabilization rules could be applied to newer buildings. The report notes that the state's Costa-Hawkins law bars rent stabilization on housing built after Feb. 1, 1995. West Hollywood has an exception because it already had a rent stabilization ordinance in place when Costa-Hawkins was passed.
The city council is considering Monday a proposal by the Human Services and Rent Stabilization Department that would require a developer who removes rent-stabilized units for a new project to include rent-stabilized unit in his new project if the number of rent-stabilized units is fewer that the number of affordable units planned for the building. The city currently requires a developer of a building of 10 units or more to make 20% of those units affordable to low- or moderate-income tenants.
If the council accepts that proposal, a developer who demolishes a building with six rent-stabilized apartments and replaces it with a 10-unit building, would have to make four units affordable and two rent-stabilized, which would limit the degree to which he could increase the rent. Since January 2013, 15 low-income households have had to move because of the Ellis Act, with seven of them finding housing in apartments set aside for low- or moderate-income people.
— And the amount of development in WeHo? That data shows there hasn't been a lot.
According to the Human Services Department report, 491 new residential units were built in the city from 2013 to 2015, a figure that includes both rental units and single-family homes and condos. That is an increase of about 2% in the city's housing stock. Of those, 18 are single-family homes, 400 are market rate units in apartment buildings, and 49 are affordable units in buildings developed by nonprofit organizations such as the West Hollywood Community Housing Corp. There also were 81 affordable housing units included in market-rate apartment buildings.
That report doesn't include recently opened or about to open apartment buildings such as the Avalon West Hollywood and the Domain on Santa Monica Boulevard, whose apartments will boost the city's housing stock by another 2 percent. The eventual opening of the Melrose Triangle and the 8555 Santa Monica Blvd. buildings, where construction hasn't begun, and the Sunset-La Cienega project, which is almost completed, will increase the number of units by around 1%
— The city report also addresses a question raised by council members about whether the increase in housing in WeHo has caused rents to go down. Opponents of new housing development have argued that it hasn't, citing rents at new buildings such as the Avalon, where a 709 square foot, one-bedroom apartment is on the market for $3,260 a month.
The issue, according to the report, is that West Hollywood is a small part of a much larger regional market where new home construction hasn't kept up with population growth. It notes that outside of California, construction of buildings with five or more housing units has been at its highest level since 1987. But in 2015 the Los Angeles region had the lowest rate of housing production in the United States. Among the issues are regulatory and zoning controls.
The report cites data showing that in 2015, the vacancy rate in WeHo was 2.5% and the average rent was $1,648, an increase of 7% from the year before. "The increase in supply has been exceeded by the increase in the need for housing in West Hollywood and regionally," the report says.
An examination by WEHOville has found many vacancies in new buildings with high rents such as the Huxley and Dylan, and that property owners now are offering incentives such as one month or two weeks free rent on the signing of a one-year lease. That indicates owners of buildings with high rents are feeling pressure, which likely will increase with the opening of even more competitors such as the 166-unit Domain. Also, the Dylan and several other new buildings have units that are being offered for short-term rentals, which is a violation of city law.
— What can West Hollywood do to reform the Ellis Act? The report notes that recent proposals to amend the Ellis Act have failed because of strong opposition from developers. There is not a well-organized renter's lobbying group in Sacramento to oppose them. The report notes that the City of West Hollywood has asked staff members to step up their lobbying efforts, possibly pushing to extend the one-year relocation period offered to seniors and the disabled under the Ellis Act to all tenants in a building housing seniors and disabled. The report also notes that the city does not have the right to deny a property owner permission to leave the rental market.
The city council will receive and may discuss this report at its meeting on Monday at 6:30 p.m. at the City Council Chambers, 625 N. San Vicente Blvd., south of Santa Monica.