Mayor Lauren Meister will ask the city council on Tuesday to consider barring the City of West Hollywood from doing business with any hotel, real estate company, financial institution or investment firm in which Donald Trump or his trust has a stake.
Meister also will ask the council to reconsider the city's relationship with Wells Fargo Bank given its funding of the controversial Dakota Access Pipeline and of some of Trump's real estate ventures.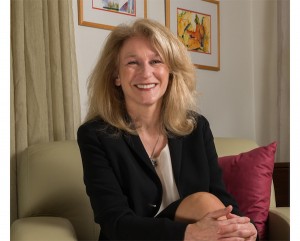 "When I was elected, I took an oath to support and defend the Constitution of the United States. The Emoluments Clause of the Constitution prohibits POTUS from receiving any benefits outside his or her salary," Meister said in an email to WEHOville. "This item prohibits the city from being an accessory to any potential violations of the Emoluments Clause. Further, the city created a working group to respond to potential policy changes from the new administration that are directly in opposition to the city's core values. Think of this item as the city putting its money where its mouth is."
The Emoluments Clause, part of Article I of the Constitution, bans the president from accepting money or gifts from foreign rulers or other countries. It has been interpreted by some to mean hotels or buildings owned by Trump cannot accept money from foreign governments. One example of that frequently cited is ICBC, the state-owned Chinese bank that is the largest tenant in Trump Tower in New York City.
The clause also bars the president from taking money other than his designated salary from the United States or any individual state. Under that restriction, one could argue that the City of West Hollywood, as an agent of the State of California, would be prohibited from providing emoluments to the president
If approved by the council, the city's Finance & Technology Services Department would compile a list of those companies in which Trump or his revocable trust have a stake and present that to the council along with possible actions it might take. After his election Trump promised to move all of his businesses and investments into the revocable trust, which would be managed by his oldest son, Donald J. Trump Jr., and the Trump Organization's chief financial officer.
While they would manage the company, Trump himself would receive income from its holdings. Financial and ethics experts have questioned whether such a move is enough to avoid a conflict of interests between Trump's power as president and the trust's business dealings.
Meister's request that the city council rethink doing business with Wells Fargo is likely to cause some pushback from the WeHo Chamber of Commerce. Chamber CEO Genevieve Morrill spoke out against a similar proposal in October by council members John D'Amico and Lindsey Horvath  that asked city staffers to research options for responding to a major Wells Fargo scandal that would include ending its business relationship with the bank for a period of time or finding another bank to work with. D'Amico was reacting to a major scandal in which the bank was discovered to be selling accounts to unknowing customers.
Trump's campaign for president and election in November has provoked a number of official responses from West Hollywood.  They include  a council decision to ask City Hall to develop possible responses to efforts Trump might make to push back on LGBT rights, abolish the Affordable Care Act and force immigrants out of the country.  Last year then-mayor Lindsey Horvath banned Trump for coming to West Hollywood, a ban that got national media attention but was ultimately deemed unenforceable.
The city council is  moving its regular Monday meeting to Tuesday because Feb. 20 is Presidents Day, a holiday.  It will meet at 6:30 p.m. in the City Council Chambers at West Hollywood City Hall at 625 N. San Vicente, south of Santa Monica.