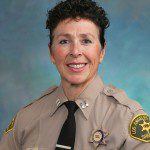 West Hollywood Mayor Lauren Meister will host a "sunrise discussion" on Wednesday with West Hollywood Sheriff's Station Capt. Holly Perez and members of the community.
The event will take place at 8 a.m. at Dialog Café, located at 8766 Holloway Drive at Palm Avenue.
"If you live or work nearby, please join us," Meister said in an announcement of the event. "I can't think of a more enjoyable way to meet our sheriff's station captain and our city's public safety staff members to discuss what's going on in the neighborhood."
The City of West Hollywood contracts with the L.A. County Sheriff's Department for law enforcement. The West Hollywood Sheriff's Station is located at 780 N. San Vicente Blvd. at Santa Monica.