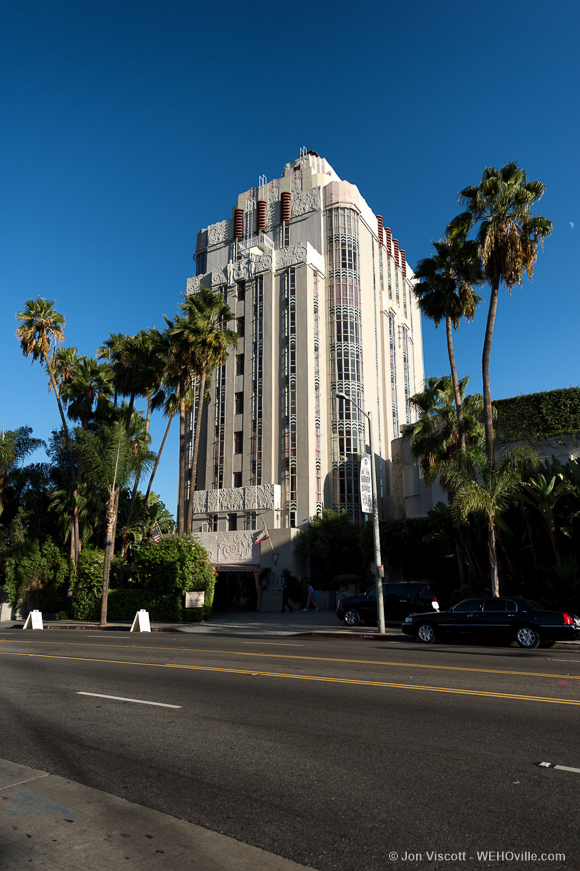 EDITOR'S NOTE:  An earlier version of this story identified Jeff Klein's partner in the Sunset Tower Hotel as Elevated Properties. That partner actually is ER Hollywood, and the story has been corrected to reflect that.
The Sunset Tower Hotel, one of Sunset Boulevard's most iconic buildings, reportedly is on the market.
The New York Post yesterday reported that Jeff Klein and ER Hollywood, owners of the hotel, have engaged JLL, the Chicago-based real estate broker, to find a buyer and are asking $100 million for the property. WEHOville has learned that there are three offers for the property, one somewhat above $100 million, one near that mark and one somewhat below it.
The building opened in 1931 as an apartment hotel. It was designed by Leland Bryant, a prolific architect who specialized in luxury apartments, and it is noted for its Streamline Moderne style. It has been described by Robert Winter and David Gebhard, authors of "An Architectural Guidebook to Los Angeles," as being "as much an emblem of Hollywood as the Hollywood sign." It was home to celebrities such as Marilyn Monroe, Zsa Zsa Gabor, John Wayne and Howard Hughes. The building was added to the National Register of Historic Places in 1980.
After a failed effort to turn the building into a condominium in the 1980s, it was converted into a branch of the St. James Club hotel chain. Another buyer renamed it the Argyle. In 2004 the building was purchased by its current owner, Jeff Klein, who undertook a major renovation while preserving its design.
Klein's original partner in the purchase was Peter Krulewitch. The Post reports that in 2015 Krulewitch sold an 80% stake in the Sunset Tower to ER Hollywood for $75 million. ER Hollywood is owned by Thosapong Jaruthavee, a wealthy Thai investor.
According to the Post, ER Hollywood "has the right to offer Klein's 20% share as well. But he could stay in if he and the buyer agreed."
Under Klein's management the Sunset Tower Hotel and its bar and restaurant have become the go-to location for celebrities and industry influentials such as Jennifer Aniston, Kevin Huvane, Katy Perry and Orlando Bloom. It also attracts media influentials such as New York Times columnist Maureen Dowd and Adam Nagourney, the newspaper's West Coast bureau chief. To attract those guests, Klein has leveraged his contacts and friendships in Hollywood. It helps that his husband, John Goldwyn, is a producer who is the grandson of Sam Goldwyn, one of the film industry's famous founders and the creator of what eventually became MGM.
"Klein turned what was basically a $99-a-night dump into an iconic destination," said a source quoted by the Post. "Anybody with a brain would want to keep him to run it, but he'd sell his share, too, if he thought they weren't right for the property."
Several people in the local hospitality industry contact by WEHOville, who asked not to be quoted, also praised what Klein has done with the Sunset Tower and said they hope he stays on. The hotel, they said, is an important part of the reputation of the Sunset Boulevard. One hospitality industry executive said the Sunset Tower would always be known for its architecture, but that Klein's management has made it famous on many other levels.
Klein also is converting WeHo's San Vicente Inn, a set of run bungalows built in the Shermanesque style, into an upscale boutique hotel. WEHOville has reached out to Klein who said he is unable to talk about the matter at this time.