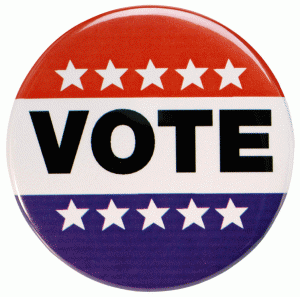 As of this afternoon the L.A. County Registrar-Recorder has determined that 4,979 ballots were cast in yesterday's West Hollywood City Council election, which would indicate a voter turnout of 18% of the city's 27,638 registered voters.
However there are at least another 1,000 ballots that must be reviewed. Of those, 496 are vote-by-mail ballots that were dropped off at polling places yesterday. Another 588 are provisional ballots, which are ballots completed by people at the wrong polling place. If the review determines that the voter is an authorized West Hollywood voter, such ballots are counted. There also may be more vote-by-mail ballots coming. Those ballots can be accepted as late as Friday so long as they are postmarked no later than yesterday.
As of early this morning, the results showed incumbents John Heilman and John Duran having won the election, with 2,252 votes (25.55%) and 1,929 votes (21.89%) respectively from the city's nine precincts.
Candidates Steve Martin and Cynthia Blatt were tied with another, with each having received 17.38% of all votes cast, or 1,532.
Other challengers in order of their votes were Nate Clark, 469 votes (5.32%), Amanda Goodwin, 281 votes (3.19%), Carla Romo, 274 votes (3.11%), Michael Cautillo, 236 votes (2.67%), Reed Stillwell, 172 votes, (1.95%) and Joel Quaresimo, 137 votes (1.55%)
In an email to City Council members, City Clerk Yvonne Quarker said the next elections result update is scheduled for the end of the day Friday. It will include the 496 vote-by-mail ballots dropped at polling places and any others that have arrived by mail and are postmarked no later than March 7.