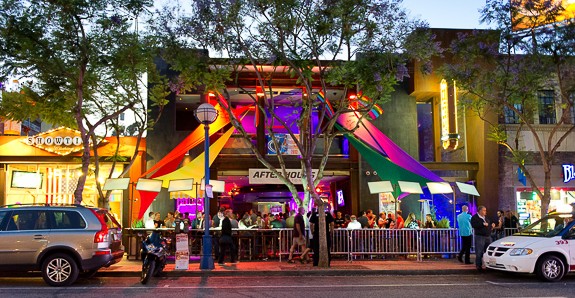 While some owners of businesses in WeHo's Boystown nightlife area are concerned about the financial impact of the protest march that will replace the traditional L.A. Pride parade on June 11, others are welcoming the event.
The L.A. Pride parade and festival attract an estimated 125,000 people and generate an estimated $5.1 million in otherwise unavailable income for local businesses and workers, according to a study by Conventions, Sports & Leisure International commissioned by the City of West Hollywood. Of that amount, an estimated $2.8 million goes to local workers. Most of the remainder goes to local bars and restaurants, with some also going to taxi services, retailers and hotels.
Christopher Street West (CSW), the non-profit that stages the annual pride events, confirmed on March 8 that it was dropping the 45-year-old parade this year in favor of the Resist March organized by Brian Pendleton, a gay entrepreneur and a contributor to LGBT organizations and causes. Pendleton has joined CSW's board of directors, which has been fraught with controversy with five of its 15 members resigning with complaints about the non-profit's leadership. It suffered a loss of $396,000 on last year's Pride events.
Advocates for the Resist March say it's likely to attract many more people on the Sunday traditionally devoted to the L.A. Pride parade, with estimates ranging from 250,000 to 750,000. They use the Woman's March in downtown Los Angeles on Jan. 21, which attracted an estimated 750,000, as an example. City Councilmember John Duran has said the Resist March will effectively close all of West Hollywood. The Sheriff's Station is working on plans for emergency routes that will allow ambulances to rush people to the hospital in a city whose streets otherwise will be flooded by protestors.
While more people may be on Santa Monica Boulevard for the Resist March, some local merchants interviewed by WEHOville say they worry that the protestors won't stop for lunch or a drink or to shop. Others aren't sure or say that doesn't matter.
"Economically it could be a loss," said David Fanaroff, owner of Z Pizza. "Honestly I don't know the impact, because I'm not involved with the planning … All I can tell you is I hope they figure out."
"I'm in a wait and see thing," he said. "I don't want to be negative. It's up to these CSW people … It's not like they didn't know. It feels last minute. It sounds like it needed a little imagination and planning."
Fanaroff noted that the Pride festival takes place on Friday night and Saturday and Sunday (there will be transgender events and the Sizzle sober event on Friday), so visitors on Saturday may be more likely to go to local bars and restaurants.
The owner of another prominent Boystown business voiced stronger opposition. He asked that WEHOville not name him for fear that his opposition could hurt his business. "I'm afraid to say anything because everyone will shout and throw rocks through the window," he said.
That business owner said the Resist March would have a negative impact on his business and on his employees, who look to the Pride weekend for big increases in overtime pay and tips.
"It's very last minute, there's been no discussion in the community," he said. "There's no organic basis for this. What are we resisting?"
John Bakalar of Fiesta Cantina, the bar and restaurant at 8865 Santa Monica Blvd. near Larrabee, said he was concerned that starting the protest march on Hollywood at Highland would draw lots of people away from West Hollywood on one of the best days of the year for his business. During past year's L.A. Pride parades, the sidewalks begin to get crowded at 10 a.m., he said. "They want to drink and have a meal and celebrate, and that's not going to happen this year," Bakalar said. "That's unfortunate. "
However Bakalar said that if organizers of the Resist March are able to realize their tentative plan to begin the march at 8 a.m. at Hollywood and Highland and end it at 2 p.m. in WeHo, the negative impact would be reduced somewhat.
Still, Bakalar said he would miss the parade. "On Pride Sunday we've always had the parade, which is a staple of the community. It's a message of unity and love, and I think people look forward to it. To not have it, I think is unfortunate."
A major opponent of replacing the Pride parade with the Resist March is Larry Block, a community activist and owner of The Block Party, an apparel store in Boystown. Block has engaged in lengthy debates about the matter on his Facebook page and wrote an op-ed for WEHOville arguing that West Hollywood should have both the Resist March and the L.A. Pride Parade on June 11.
The Resist March is planned to begin at Hollywood Boulevard and Highland, then turn down La Brea Avenue before entering West Hollywood at Santa Monica. Block argues that the march should stop at the intersection with Crescent Heights Boulevard, at which point the traditional Pride parade would begin.
Marta Knittel and Shoshana Joseph, owners of Yogurt Stop, said the Pride events don't have as big a positive impact on their business as does the annual Halloween Carnaval, when Santa Monica Boulevard is closed from La Cienega Boulevard to Robertson and the streets are flooded with people. Joseph said they would be happy if there were no festival  at the park because it takes money away from businesses in the area. They argue that the city should offset any possible negative impact of the Sunday protest march by closing Santa Monica Boulevard in the Boystown area on Saturday, June 10, for a street festival. That will allow CSW to expand the festival that traditionally has taken place in West Hollywood Park, most of whose footprint will be closed this June for reconstruction.
"We would all be on the big float together," Knittel said. "Everybody will make money that day. One Pride, one community."
Chris Barnes, co-owner with Jacqui Squatriglia of Flaming Saddles, the gay country/western bar on the corner of Santa Monica and Larrabee, said he supports the Resist March and laments the commercialization of Pride parades in West Hollywood and New York City, where he and Squatriglia also own a bar that is popular among gay people. Pride parades should, he said, celebrate and remember events such as the 1969 Stonewall riots in New York City, when gay people rebelled against a police raid on a gay bar.
"We don't give a sh-t about our business making money or not," Barnes said. We're not going to shut down that day … This is where you should be on Pride day, in a bar where you can sit and not worry about the police coming in and bashing us over the head with billy clubs. I'm not coming at this as a place of commerce and making money on that day. This march is a huge protest march, and I love that."
Barnes said he hoped the Resist March would prompt the organizers of the New York City and West Hollywood Pride marches to "bring it back to its core. The parade signifies that something went wrong and we're not standing for it any more. This isn't a music festival. That's Coachella," he said, referring to CSW's controversial and financially unsuccessful L.A. Pride Music Festival last year.
"The parade should be about the people it celebrates most, not the corporate sponsors. American Express doesn't need a float. It should sponsor it and stay the hell out of the parade."
"I hope that the Resist March wakes up everybody and reminds everybody what WeHo is about and why these three blocks should be lit up every night, reminding people that West Hollywood is a sanctuary for gay people."
The West Hollywood Chamber of Commerce is listed as an official sponsor of the Resist March. However Keith Kaplan, the chamber's chairman, said: "We have not made a determination on whether or not to support this on behalf of the business community." Kaplan said the chamber needs more information about the event. "There's nothing in this that we do like or that we don't like," he said. "We need more details."
Brian Pendleton said he understands that some business owners might be worried until they learn more about the march. He said the Resist group has put together a "small but mighty" group to reach out to those who might be affected by the march. He said he has garnered the support of Don Zuidema, an owner of the LASC men's clothing store, and has on his agenda meetings with Michael Niemeyer, the owner of Micky's, the popular gay bar, and David Cooley, owner of The Abbey and The Chapel, as well as other gay bars and restaurants in Boystown. Pendleton said he will be speaking to members of the chamber of commerce.
Pendleton said the number of people coming into West Hollywood because of the march is very likely to mean more revenue for local businesses in the city.  He pointed out reports that the Women's March in downtown Los Angeles had been good for businesses there. Eater, the restaurant website, interviewed owners of restaurants and cafes at Grand Central Market, one of  whom  said business was up 24% over what was normal on that day and another of whom said it was his busiest non-holiday period.
"We'll see," Pendleton said. "I think that they will make a lot of money if that's what matters to them."