Equality California and Equality California Institute today announced the election of five new members to their boards of directors and of five to the organizations' Equality Council. The Equality Council is a joint advisory board formed to provide strategic policy advice and other support to the organizations.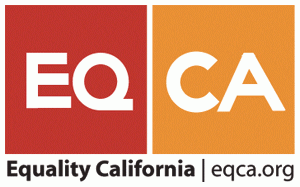 "Our new board members bring skills and exceptional experience to our organization," said Rick Zbur, executive director of Equality California, the LGBTQ civil rights group. "They are all leaders in their professions and communities, and that leadership will help us as we advance civil rights and social justice for LGBT people and the diverse communities of which we are a part."
The newly elected members of the Equality California board are:
Marc Blakeman (San Francisco), vice president – external affairs for AT&T California, where he provides planning and strategic leadership across five California regions. Blakeman serves on the boards of directors of several nonprofit organizations, including the San Francisco Chamber of Commerce, Genesys Works Bay Area, Meals on Wheels of San Francisco and San Francisco Citizens Initiative for Technology and Innovation. He holds a bachelor's degree from Northwestern University.
Cecilia Cabello (Los Angeles), director of government relations for the Southwest Regional Council of Carpenters and former California state director for Hillary for America. She is a veteran political strategist, previously serving as director of intergovernmental affairs for Los Angeles Mayor Eric Garcetti, as a vice president at Mercury Public Affairs and as chief political advisor to the Israeli consul in Los Angeles. Earlier in her career, she worked as legislative deputy to then Council President Garcetti and Congresswoman Hilda Solis. Cabello is an elected member of the Los Angeles Democratic Central Committee. She has served on the board of Women Against Gun Violence and has been active with HONOR PAC, Obama for America and the "No on Proposition 8" campaign. She holds a bachelor's degree from Columbia University.
Drew Murphy (Los Angeles), senior vice president of strategic planning for Edison International. He is responsible for strategic planning for Edison International and its subsidiaries. Prior to joining Edison International, Murphy was senior managing director of Macquarie Infrastructure and Real Assets, where he headed the utilities, energy and power team. He serves on the boards of Southern California Public Radio and the Energy Law Advisory Board of the George Washington School of Law. Murphy earned a bachelor's degree from Harvard College and a juris doctor from George Washington University, where he was a member of the George Washington Law Review.
James Williamson (Palm Springs), a member of the Palm Springs Unified School Board. During his professional career, James served as the chief financial officer for a chain of educational bookstores and a for private equity firm. He also held the position of director of finance and administration for a U.S government-funded international relations organization and a nonprofit community development organization. He has served as the chair of the board of both the San Francisco LGBT Center and the Horizons Foundation, and he has served in leadership positions for the Asian and Pacific Islander Wellness Center, the National Center of Lesbian Rights and the LGBT Center of the Desert. He holds a master's degree from the University of Edinburgh and an executive certificate in nonprofit management from the University of San Francisco.
The newly elected member of the Equality California Institute Board is Guillermo Sandoval Coustasse (San Francisco), associate general counsel at sPower, an independent producer of renewable energy. His past experience has included positions as advisor or in-house legal counsel to Spacequant, the Chile California Council and Pattern Energy. Guillermo was a co-founder of Semanas Culturales, a nonprofit organization focused on bringing nutrition and education to children in rural Chile, and has volunteered with the Center for Justice and Accountability in San Francisco. He holds dual juris doctor degrees from Georgetown University Law Center and from Universidad de Chile.
The newly elected members of the Equality Council are:
Holly Amaya (San Diego), a strategist at Scutari & Cieslak Public Relations, as well as an award-winning former journalist. She is a member of the Indiana University School of Law's Young Alumni Council and serves as president of the Indiana University Alumni Association's San Diego chapter. In 2012, Amaya was named a Top Young Attorney and among San Diego's Top Corporate Counsel by The San Diego Daily Transcript. In 2013, she was selected as one of SD Metro Magazine's "40 Under 40." In 2014, Amaya was honored with the Lawyers Club of San Diego's C. Hugh Friedman Award. She holds a bachelor's degree from Indiana University and a juris doctor from Indiana University School of Law.
Sandra Fluke (Los Angeles), currently the California state director of Voices for Progress, a nonprofit policy advocacy organization focused on issues such as climate change, economic inequality, campaign finance reform, immigration, healthcare and criminal justice reform. Early in her career, she co-founded a New York state coalition that successfully passed legislation ensuring that same-sex couples had access to family court services, and that LGBT victims of intimate partner violence could receive civil restraining orders against their abusers. She ran for State Senate in 2014, and now serves on the Stonewall Democratic Club Steering Committee. She also works as a pro bono attorney with the Los Angeles LGBT Bar Association for transgender clients needing name and gender marker changes. She received a bachelor's degree from Cornell University and a juris doctor from Georgetown University Law Center.
Shreya Key (San Diego), currently e-commerce Manager at SKLZ, a brand specializing in performance and sports training equipment. For almost ten years, she has worked in e-commerce, managing all aspects of marketing and social media campaigns, both in-house and agency-side jobs. She was a member of the Helenes, a women's service organization, at her alma mater, the University of Southern California, and has volunteered with Youth Campaigns, a non-profit organization focused on bridging the diversity gap in the tech industry. She holds a bachelor's degree from the University of Southern California.
Julie Stromberg (Los Angeles), who is of counsel with Obagi Law Group, P.C., in Beverly Hills. Prior to joining Obagi Law Group, she was an associate for a large national law firm where she focused her practice on complex civil litigation, environmental litigation and remediation of contamination properties. Stromberg serves on the boards of directors for numerous non-profit organizations, including Women Lawyers Association of Los Angeles and Los Angeles City College Foundation. She also is a board member of the Miracle Mile Democratic Club, a member of the Democratic Party of the San Fernando Valley Executive Board and a delegate to the California Democratic Party for the 50th Assembly District. She holds a bachelor's degree from UC Berkeley and earned her juris doctor from Loyola Law School, where she served as vice president of OutLaw, an organization of LGBT students and their allies.
Chris Wagner (Los Angeles), a partner at Gordon & Rees, where his practice focuses on insurance coverage advice and litigation. He has also held various leadership roles at St. Thomas the Apostle Episcopal Church in Hollywood which, for more than 30 years, has been a leader within the Los Angeles faith community in advocating for LGBT rights and inclusion. Chris holds a bachelor's degree and a juris doctor from Santa Clara University.