"I sing the body West Hollywood where I met my moonlight, my calm, waiting for me
here all along waltzing the Boulevard lined with fierce boys, transgender trailblazers,
warrior women, rainbow logos on cop cars, sun glowing through the canyons,
hugging the curves of Route 66 all before breakfast. West Hollywood you count
the beats of my heart. Poker nights and speedo-clad future husbands meet in warm
rooms bet on happily ever-afters, and for the first time I don't feel different."
— Excerpt from opening verse of "I Sing the Body West Hollywood"
Yes, West Hollywood is still struggling to understand what L.A. Pride will be about this year. But meanwhile, we can relax and enjoy the city's celebration of National Poetry Month, which begins on Saturday.
Kim Dower, the city's poet laureate, has curated a diverse array of things including street banners, readings, interactive events, a writing workshop and the official presentation of a citywide collaborate poem, in performance and on a poster to be seen all over the city.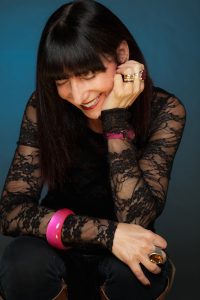 Dower will read the collaborative poem, "I Sing the Body West Hollywood," at the City Council meeting on Monday. (It begins at 6:30 p.m. at the City Council Chambers, 625 N. San Vicente Blvd.)
Dower created the work by collecting lines from residents and visitors all around West Hollywood, in person at events and by pulling verse ideas dropped in suggestion boxes at City Hall and the West Hollywood Library.
Woven together, the lines evoke West Hollywood's landscape, landmarks, people and joie de vivre, in an homage to Walt Whitman's classic epic poem "I Sing the Body Electric." Posters with the full text of "I Sing the Body West Hollywood" will be hung all over the city and distributed for free at the West Hollywood Library and City Hall.
Beginning Saturday and continuing throughout the month, there will be lamp post poetry banners on Santa Monica Boulevard and San Vicente Boulevard. Two will feature lines of verse selected by Dower from celebrated poets Erica Jong ("Fruits & Vegetables", "Fear of Flying") and Richard Blanco, who was selected by President Barack Obama in 2012 to serve as the fifth inaugural poet in U.S. history, joining the ranks of Robert Frost and Maya Angelou, among others.
These banners will join a selection of poets honored in previous years by former city poet laureate Steven Reigns.
On Thursday 7 p.m., "WeHo Arts: As Far as the Eye Can See: Sunset Strip through the Eyes of Poets" will take place on the second floor of West Hollywood Library (625 N. San Vicente Blvd.). Organized by Dower, the event is part of the city's WeHo Arts programming "There's Something Happening Here…On The Sunset Strip 1966," marking the 50th anniversary of the Sunset Strip riots, and spotlighting the enduring influence of the music, culture, and activism, and revolution that shaped a generation.
It will feature readings of both original poems and works by poets who wrote during a time that still captures our imagination. The line-up of prominent and award winning poets includes Laurel Ann Bogen, Elena Karina Byrne, Brendan Constantine, Yvonne Estrada, Bill Mohr and Lynne Thompson.
Guests may come early and view a photography exhibit of music icons by legendary rock photographer Henry Diltz installed in the library. More information is available online. Admission is free but please RSVP.
On April 17, Dower will lead a free senior writing workshop. It will take place at Plummer Park Community Center, Room 5, from 2 to 4 p.m. (7377 Santa Monica Blvd.). This poetry workshop will offer an intimate writing experience filled with ideas and exercises, including writing to prompts, dreams and memories – all with the goal of awakening the poet within. No experience – or RSVP – is necessary.
A new highlight of National Poetry Month is the first annual L.A. Get Down Festival (formerly InkSlam), a celebration of hip hop and spoken word, sponsored by the City of West Hollywood through WeHo Arts. Presented by Greenway Arts Alliance in association with Da Poetry Lounge, it will take place April 18-30. Information on festival events and tickets are available online.
National Poetry Month, held every April, was inaugurated by the Academy of American Poets in 1996. 2017 marks the third year that the City of West Hollywood has recognized National Poetry Month with a series of events, projects, and programming. Also for the duration of the month, free bookmarks will be distributed at West Hollywood Library, City Hall and other locations throughout the city.
Kim Dower is West Hollywood's second city poet laureate (following Steven Reigns). Her tenure began in October 2016, and continues through October 2018. A West Hollywood resident for more than 30 years, she was born and raised in New York City and received a BFA in Creative Writing from Emerson College, where she also taught. Her first collection of poetry, "Air Kissing on Mars" (Red Hen Press, 2010) was described by the Los Angeles Times as, "sensual and evocative . . . seamlessly combining humor and heartache." The Pushcart-nominated "Slice of Moon" (Red Hen Press 2013), her second collection, was called, "unexpected and sublime," by "O" magazine. Her third collection, "Last Train to the Missing Planet" (Red Hen Press, 2016) has been praised by Garrison Keillor, who has featured her work multiple times on "The Writer's Almanac." Dower's work has also appeared in Ted Kooser's "American Life in Poetry," Barrow Street, Eclipse, Los Angeles Review, Ploughshares, and Rattle.
Her poems are included in anthologies including, "Wide Awake: Poets of Los Angeles and Beyond," published by The Pacific Coast Poetry Series (Beyond Baroque Books) and "Coiled Serpent: Poets Arising from the Cultural Quakes & Shifts in Los Angeles" (Tia Chucha Press). Dower teaches workshops in the B.A. Program of Antioch University, Los Angeles.