[dropcap style="inverted"][/dropcap]
[dropcap style="inverted"][/dropcap]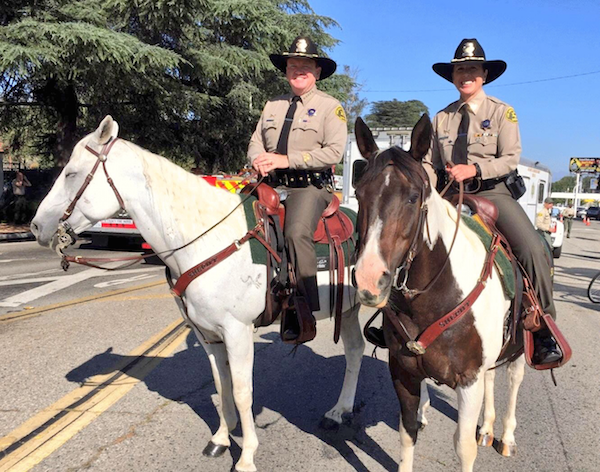 Law enforcement is a career that people embrace for many reasons, but public service — doing good for others – is perhaps the most common of them.
Once upon a time law enforcement officers were pretty much universally admired — seen as good folks, people who risked their lives to keep the rest of us safe, people never reluctant to be stopped on the sidewalk to answer a question. Think Sheriff Andy of Mayberry.
These days being a law enforcement officer isn't so easy.
There always have been bad eggs in the law enforcement basket – as is the case in any profession. However the proliferation of social media and 24/7 news media has made it easy to call out the behavior of those few bad eggs to huge audiences, casting shade on the reputations of their good peers. Law enforcement also has itself to blame for a trend of militarization that over the years has reinforced a notion among some officers that it's more important to come across as a tough gun packer than an amiable public servant.
As is the case with any institution or organization, the changes in attitude and approach necessary to restore law enforcement officers' well-deserved reputation for doing good has to come from the top. In Los Angeles County we see that in actions Sheriff Jim McDonnell has taken to promote transparency and welcome civilian review of the Sheriff's Department. And in West Hollywood we have seen that in the 13 months that Capt. (now Commander) Holly Perez has led the local Sheriff's Station.
Under Perez's leadership, sheriff's officers stationed in West Hollywood have become more willing to cooperate with news organizations like WEHOville. They also have abandoned what was a sometimes brusque demeanor and cooperated and collaborated in an amiable way that reflects their real good natures.
In her brief time here, Perez has instilled a customer service approach at our local Sheriff's station. She sits with local residents at coffee shops and takes their questions. She analyzes data to figure out how best to deploy her force to make West Hollywood safe. She makes sure a weekly report of crimes in the city is released to the public. A woman known for her warm and engaging smile, Perez clearly is also someone who doesn't suffer fools, including those don't understand that their mission is to protect and serve.
Only a few months after Perez took over leadership of the station, some City Council members began worrying privately that she wouldn't last long in WeHo. That's not because she wasn't up to the job – it's because she clearly had management skills that would merit a much bigger position. That fear was realized earlier this month when Perez was promoted to commander, a position in which she will lead the Sheriff's Department's Central Patrol Division.
We will miss Holly Perez, that horseback-riding, dog-loving, relay-racing, smiling-yet-tough woman who some jokingly called Sheriff Holly of Gayberry, a way of calling out her friendly embrace of a city whose reputation is heavily influenced by its large population of gay men. And we welcome Capt. Sergio Aloma, whose has had 15 years of experience at the West Hollywood Station (and runs a faster race than Commander Perez). Aloma has his own plans for making West Hollywood a safer place to live, work and play, some of which are called out in James Mills' profile of him today. We are confident that Aloma will succeed in implementing those plans and in continuing Perez's focus on public service.