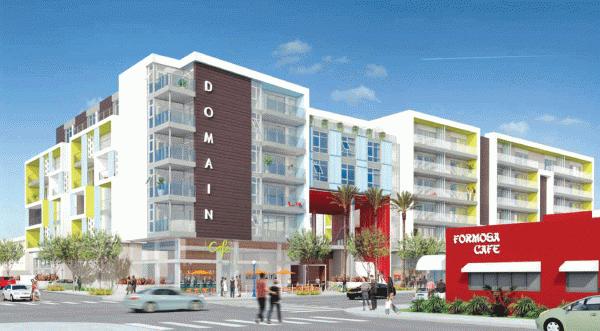 An overwhelming majority of West Hollywood residents believe the city needs more affordable housing but, in an apparent contradiction, many of them don't want more apartment and condo buildings built in WeHo, which is the only effective way to create more affordable housing units in a built-out city.
That contradiction is revealed in a survey conducted in November by Fairbanks, Maslin, Maullin, Metz & Associates (FM3) at the request of the West Hollywood City Council. The survey, with 1,322 respondents online and by telephone, will be formally presented to the Council at its meeting tonight.
The survey reveals a divide among the city's older and younger residents, among homeowners and renters and among those on the city's more affluent West Side and those on the East Side. Those residents who are older, own their own homes and live on the more affluent West Side are more likely to say the city should not allow construction of more multi-unit housing. But when it comes to more apartments and condos in their own neighborhoods, half of respondents say no, build them elsewhere.
Overall, the FM3 survey found that nearly three out of four respondents don't believe there is enough housing that they can afford in West Hollywood and that the city lacks enough affordable housing overall. Respondents also said there isn't enough affordable housing for low-income people (61%), for young adults (51%) and for seniors (41%).
But while 73% of respondents said there isn't enough affordable housing in WeHo, 67% said building more apartment or condo buildings will lead to rents going up, forcing out current residents. A little more than half of the respondents said they don't believe building more multi-unit housing creates more affordable housing, while 35% believe it does.
The city's decision to commission the study was made in 2015 in response to complaints from some residents about multi-unit housing projects that were approved because they met the city's zoning code and development standards. Its results illustrate what a report from the Department of Rent Stabilization and Housing describes as a "conundrum".
That conundrum is not unique to West Hollywood, but it is a particular issue in WeHo and in other California coastal cities according to "California's High Housing Costs: Causes and Consequences", a March 2015 report by the California Legislative Analyst's Office.
OPINION: Foes of Development Need to Remember What WeHo Was Founded On
"A collection of factors come together on the California coast to create a particularly heightened level of community resistance to new housing," the report says. "High demand to live on California's coast results in constant pressure for additional housing. At the same time, residents of California's coast have much at stake in decisions about housing growth, as their communities have very high home values and desirable natural amenities. As a result, residents often push back against proposals for new housing. In addition, there is very little vacant land for new housing, meaning that development often takes the form of redevelopment in established neighborhoods. Redevelopment changes these neighborhoods, creating additional concerns for existing residents."
Those concerns are evident in the FM3 survey results. "… Concern about issues related to overcrowding, including traffic and congestion, increased population and parking concerns are among the most cited reasons for opposing new multi-unit housing," says a report on the FM3 survey. "Approximately one in four respondents also volunteered concern about it being unattractive or harming the charm and character of the city … "
According to the survey:
— Eight in ten respondents believe that new multi-unit housing adds to traffic and congestion problems (14% disagree and 3% are uncertain).
— While half of respondents agree that new multi-unit buildings provide more off-street parking within the building, 33% disagree and 16% are unsure.
— Six in ten respondents believe new multi-unit housing adds to many people to West Hollywood, something 33% disagree with and 6% are unsure of.
Survey Shows Conflicts in Perceptions of WeHo Residents
The survey reveals close conflicts in the perceptions of WeHo residents. For example, 38% of respondents think there are not enough existing apartments in West Hollywood, and 20% believe there are not enough new apartments being built. But while that total of 58% of respondents would appear to want more new apartments, 40% of those surveyed think too many new apartments are being built or proposed to be built.
Residents were asked whether they would prefer a building with fewer parking spaces and lower-rent apartments or a building with higher rents and more parking. Forty-four percent chose higher rents and more parking while 40% chose lower rents and fewer parking spaces.
Respondents were closely divided on two other development issues: Whether they would support a building with more affordable units that was closer to the sidewalk (46% said yes) or one with few affordable units set back farther from the sidewalk (40%). And whether they would support a five-story tall building with more affordable units (46%) or a four-story building with fewer affordable units (40%).
"… Support for multi-unit housing is undermined by concerns of how it fits in the existing neighborhood, including height, setback, and design; concerns about parking, traffic congestion and overcrowding, and doubts about whether it will provide more affordability or just push out current residents to be replaced by more affluent residents."
The Old and the Young Perceive West Hollywood Differently
Perhaps the most striking differences in the survey are the responses from those who are young and those who are old:
— Of those ages 40 to 64, 40% believe the city's look and feel is worse than it used to be. Thirty-five percent of those older than 64 agree. By contrast, only 10% of those 18 to 29 years old the the atmosphere of the city has gotten worse, as do only 23% of those ages 30 to 39.
— Of those under 30 years of age, 43% support building more apartments and condos, while only 31% of those age 75 or older do. Length of time in WeHo also is a factor, with 54% of those who have lived here two years or less supporting more apartments and condos. By contrast, only 27% of those who have lived here 21 years or more support that.
The survey found major differences in opinions of those on the city's West Side and those on the East Side and Center City. On the East Side, where 84% of residents are renters, 67% think there isn't enough affordable housing for lower income residents. That compares with 57% in the rest of the city. On the West Side, where 58% of residents own their homes, only 66% of respondents think there isn't enough affordable housing, while 78% think that in the rest of the city.
Proposed Next Steps
In its response to the survey, the city's Rent Stabilization and Housing Department will ask the City Council tonight to take several steps:
1) Develop design guidelines that would be citywide and potentially neighborhood specific to address concerns that new buildings don't fit with the existing character of the neighborhood.
2) Eliminate a current city requirement that all projects in the multi-unit housing districts (R3 and R40) fill at least 90% of the density permitted on the specific lot. The department argues that that would give developers more flexibility to design projects that fit the neighborhood.
3) Allow townhouse projects. Currently the city only allows multi-unit condominiums, where each unit is owned by the occupant and the overall site and public spaces are the property of the condo association to which the unit owners pay a fee. Under the townhouse model, the owner of the unit also would own the land below and around it.
4) Consider offering developers incentives to build shorter projects, including reviewing and approving them without requiring they be vetted by the Planning Commission, which can be a lengthy process.
5) Limit the height of buildings in the R3 and R4 districts to three stories. The city's current housing regulations require that any condo building with more than 10 units provide 20% of them as affordable housing. When a developer agrees to meet that requirement, the state's density bonus law applies, which lets the developer add an additional story or increase the project's height — a bonus — by 10 feet. The Rent Stabilization and Housing memo says that restricting the height to three stories means the most a developer could do is boost the building to four stories under the state bonus density law. However Ed Levin, a local architect, has noted that there is a "waiver provision" in the state law that says the city can't preclude a developer from building the entire allowable density – including bonus – on the project site, regardless of any zoning restrictions. A developer who chose to take advantage of the entire allowable density and the bonus could end up building a five-story building.
6) Permit height averaging in evaluating a proposed project. That is a process where, for example, where a flat-roofed building could be 50 feet high, and a building with a sloping room could have a peak of 55 feet and a lowest point of 45 feet. Height averaging allows architects to design buildings whose height is sensitive to human perceptions.
7) Evaluate parking requirements, which currently are based on the number of bedrooms in multi-unit residential building, along with actual residential parking demand.
8) Evaluate current regulations to identify roadblocks to building innovative types of housing types and potentially create incentives for certain types of units that might make more possible independent living for older adults, assisted living, congregate living homes and housing that works students or employees of local businesses.
The department explicitly does not recommend:
1) Eliminating the requirement that all developers of condo projects with 10 or more units make 20% of them affordable units and instead let them pay a fee to the city. Opponents of development in West Hollywood have called for the city to do that, with those on the other side noting that the city is effectively built out and that it would be difficult for City Hall to find new places to build such housing. "Eliminating the on-site requirement would not only conflict with the city's goal for affordable housing, but also goals for social equity and inclusiveness," the department's memo states
2) Eliminating the on-site affordable housing unit requirement and instead requiring that developers pay the city an "impact fee" that it would use to develop affordable housing projects. That requirement is somewhat similar to the in-lieu fee requirement.
The City Council will consider the survey at its meeting at 6:30 p.m. tonight at the City Council Chambers, 625 N. San Vicente Blvd., south of Santa Monica. Parking is free in the five-story structure behind the building with a ticket validated at the meeting.