The annual L.A. Pride parade and festival, which moved to West Hollywood in 1979, is a celebration of more than the civil rights of lesbian, gay, bisexual and transgender people, although the oppression of them is what inspired it.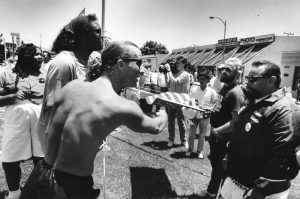 Pride also is one of West Hollywood's ways of loudly and proudly declaring itself as a city that embraces diversity — ethnic, sexual, economic, racial and national (although perhaps not so much when it comes to politics). It is the second largest event in the city after the annual Halloween Carnaval. And it generates an estimated $5.1 million in revenue for local businesses and workers.
In the years since L.A. Pride began in 1970, it has come under criticism for its evolution into an event focused more on fun than on history and civil rights. That criticism reached a peak last year when Christopher Street West, the non-profit that stages the annual event, decided to promote the festival as a music festival for millennials.
This year CSW has done an about face, throwing its support behind local activist and entrepreneur Brian Pendleton and his call for the L.A. Pride parade to be replaced by the Resist March. The goal of the march is to bring together people of all sexual orientations, races, ethnicities and income levels to protest efforts underway in the United States to scale back the basic human rights we long have fought for.
There is opposition to the Resist March. Some complain that it is too focused on politics (i.e. the Trump administration), that it will mean less revenue for local businesses, that it is taking us away from what Pride has become.
Yes, the Resist March might mean less revenue for local businesses, although it could mean more. Its impact on our local economy is unclear at this point. Yes, it clearly is focused on politics, despite efforts by organizations such as the Chamber of Commerce to tame down that aspect of it. Yes, the Resist March is a radical departure from that traditional parade of go go boys, marching bands, politicians and floats sponsored by corporations who want to give the LGBT community a wink during the traditional parade but don't have the guts to go near the Resist March.
For all the doubts and questions, one thing is clear: the Resist March is a way for us to say we will oppose a government that wants to take away basic civil liberties and access to affordable health care, to bust up immigrant families, to increase the gap between the ultra-wealthy and the rest of us, and will blunder through the world in a way that could result in a nuclear war.
Our Resist March, along with others across the nation, is a first step in what may have to become a fight to preserve the country we love. So let's resist with love on June 11, knowing we may have to resist with anger later.