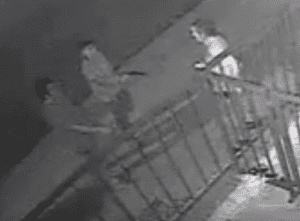 My evil Uncle John was a "police reporter" early in his long journalism career and filled a column every day with the criminal antics of his city. John's reporting was rather dull, pedestrian and dry, but some of the local lads still used its items as part of their resumes. Looking back, those days were rather calm compared to what we see today. Crime seems a lot more personal now.
In Boston, my former home, one of the most anticipated weekly newspapers was the Midtown Journal. It was produced by a man with a most wry sense of humor and a good observer of the human animal at its most ridiculous level as he gleaned his material from the daily police blotters at several precinct houses. Often, because of the details reported, his pieces were offered by both defense lawyers and prosecutors as "something more than hearsay evidence". I can't believe any judge would accept it seriously. Few recall that weekly report but I do wish we could look upon the misdeeds of our fellows in the same way as the Midtown Journal did. Unfortunately, we cannot.
My own time, albeit as a military police investigator, on the streets of London (UK) was a mélange of every cockeyed action one could imagine. Nevertheless, it allowed me to wander from outright comedy to pathos and even to horror. A difficult but intriguing way to learn so many of life's lessons, yet invaluable to one who wishes to manufacture fictional stories about his fellow humans.
Of late, (the past several weeks, that is) in our local police reports, a surge in physical attacks on the streets of West Hollywood have caught my notice. Just a week ago there were nine such listed – take away the two domestic violence reports and there are still nine involving strangers. Car burglaries and petty thefts are part of big city life, even more so prior to cityhood. House burglaries are largely crimes of convenience in that an unlocked door or a window ajar invites the small time crook wandering the streets looking for such invitations. (My own house was hit twice in the late 1970s.) One sheriff captain said that West Hollywood was like a candy store. But, as far as I can recall, physical assaults were rare and limited to a few bars on Sunset and Santa Monica. (My own favorite saloon, Sloan's, was selected by a gentler crowd intent upon each other's company and the 95 cent shot of good whiskey.)
The city seems more crowded now, the streets busy with automobile traffic all day and night – not so many walkers. More bars, more clubs, restaurants and opportunity for mischief, it appears. But, who are the people doing the assaulting? Are they random visitors to our "party city"? Are they some of the homeless men we see on stolen bicycles? Are they cruising thugs who use strong arm tactics in their street robberies? Is it possible to know how many have been apprehended?
The times of several such incidents were during daylight hours on busy streets, while the majority were late at night near busy venues. It should not be such a mystery – or, am I looking in the wrong places? Our sheriff and Public Safety people need to provide more information for the citizens. Perhaps an expanded weekly column on this website from an official source would better enlighten us. It doesn't have to be humorous.