Sheila Lightfoot, whose frequent disagreements with her fellow Planning Commissioners got to the point that she and they sometimes joked about them, has resigned.
Lightfoot's resignation is one of five resignations or decisions not to accept reappointment by appointees of Mayor Lauren Meister in recent months. Others are Victor Omelczenko from the Public Facilities Commission, Stephanie Harker of the Rent Stabilization Commission, Michael Wojtkielewicz from the Disabilities Advisory Board and Kate Eggert from the Lesbian and Gay Advisory Board.
At its meeting on Monday, the City Council will reconsider reappointing or naming new appointees to the city's 15 boards and commissions, with terms that will expire May 31, 2019.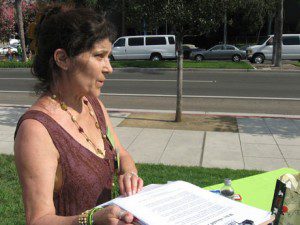 The Planning Commission is arguably the most powerful of the boards and commissions, given its role in evaluating proposed real estate development projects in West Hollywood.
In an email message to WEHOville, Lightfoot said she stepped down because "it's just my personal opinion that more community members should have the opportunity and responsibility to serve on our boards and commissions. This is not a revelation… I have always felt this way.
"I'm grateful to Lauren for giving me the opportunity to serve. It's something I never thought of having the opportunity to do. I'm proud to have served as her Planning Commissioner for two years, and I did the job to the best of my ability. Now, it's someone else's turn."
Lightfoot has told others that she resigned out of frustration, believing she wasn't able to have much impact on the Commission. Lightfoot was known for her opposition to major development projects that came before the Commission, which reflected positions Meister has taken since her election in 2015 to curb real estate development in West Hollywood.
Applicants for the Planning Commission to date are Alicen Bartle, Adam Bass, Adam Campos, Michael Cautillo, Lynn Hoopingarner, James Duke Mason, Robert Rave, Tracy Steinkruger, Tai Sunnanon and Jonathan Weisbart.
Meister declined to comment on her choice for the Planning Commission, although it is widely believed that she will appoint Hoopingarner, who is a business consultant and has been active in the West Hollywood North Neighborhood Association.
Serving on a commission or advisory board is seen as an important first step in winning a seat on the City Council. Michael Cautillo, an unsuccessful candidate in the January City Council race, has applied for appointments to four different boards or commissions. Nate Clark, another unsuccessful Council candidate, has applied for two. And Tai Sunnanon, a business consultant, has applied for five.
Commission and advisory board openings other than those to be filled by Meister are:
— Arts & Cultural Affairs Commission. One position, appointed by Councilmember Lindsey Horvath.
— Disabilities Advisory Board. One at-large position in addition to the position vacated by Meister's appointee, Michael Wojtkielewicz.
— Historic Preservation Commission. One position, appointed by Councilmember John Heilman.
— Rent Stabilization Commission. One position, appointed by Councilmember John Duran, in addition to the position currently held by Meister appointee Stephanie Harker.
— Senior Advisory Board. One at-large position chosen by a majority vote of the Council.
— Transportation. One at-large position chosen by a majority vote of the Council.
— Women's Advisory Board. One position, appointed by Councilmember John Heilman.
More positions may be open because some incumbent advisory board and commission appointees have not responded to requests as to whether they want to be reappointed. Also, Council members may replace their current appointees.
The City Council will meet at 6:30 p.m. on Monday at the City Council Chambers, 625 N. San Vicente Blvd., south of Santa Monica.