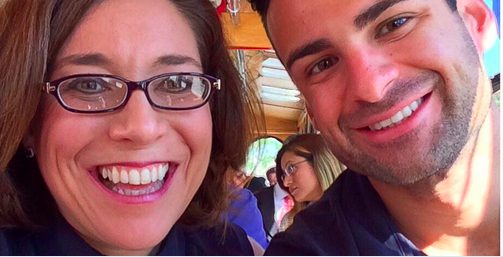 UPDATE: The Rex vs. City of West Hollywood trial has been postponed to Wednesday according to a courthouse worker.
Former WeHo City Council Deputy Michelle Rex's lawsuit against the City of West Hollywood is set to go to trial Monday morning, resurrecting a scandal that got media attention nationwide and came to be called "Deputygate."
The trial is scheduled for 9:30 a.m. at L.A. County's Civic Center courthouse in downtown L.A. Rex has requested that it be heard by a jury, whose selection likely will consume at least the first day of the trial.
Rex, the former campaign manager and deputy for Councilmember John D'Amico, filed a lawsuit against the city last year, alleging that she was fired from her position in retaliation for her testimony in support of Ian Owens and his allegation that another deputy, Fran Solomon, solicited donations for the election campaign of her boss, Councilmember John Heilman, while at work. Owens, the deputy to Councilmember John Duran, sued the city and Duran in 2015 alleging sexual harassment by Duran and that he was fired by the city for exposing corrupt behavior by a fellow deputy. The city settled the case by paying Owens $500,000.
In her suit, Rex also alleges that when the City Council abolished the controversial deputy system she should have been offered another job at City Hall. She is asking for an unspecified amount in damages for "emotional distress" and to pay the fees of her attorney, Aanand Mehtani, who represented Owens in his suit.
The city and Duran denied Owens' allegations but settled his lawsuit under pressure from its insurance provider. Mandatory negotiations have taken place between lawyers representing the city and Rex, and the city's decision to proceed with the Rex trial is an indication that the parties couldn't reach a settlement.
The lawsuit contains statements by Rex's lawyer that suggest that some of the most controversial alleged behaviors at City Hall will be dug up again and presented to the jurors. For example, it repeats Owens' contention that John Duran hired him after meeting him on Grindr, the gay hookup app, and having sex with him and that Duran continued to sexually harassment after Owens took the job. Duran has conceded that he met Owens on Grindr and had sex with him but he denies that he harassed him while Owens was employed at City Hall.
The lawsuit also contends that Solomon solicited donations from real estate developers to the West Hollywood Community Housing Corporation, the non-profit that builds housing for low-income and disabled people in WeHo. And it contends that Duran saw his position as acity council member as a way to solicit donations to the Gay Men's Chorus, a non-profit whose board he chairs.
"A review of the list of donors to the Housing Corporation and the Gay Men's Chorus paints a picture of excessive — almost cartoonish and unbelievable — quid pro quo corruption within the City of West Hollywood," the lawsuit states.
The suits by Rex and Owens, who were known as friends at City Hall, came after the decision by the City Council in June of 2015 to eliminate the five-member deputy system. The system had long been seen as flawed by City Hall insiders and was unparalleled in California cities of a similar organization and size. Its dysfunction became public in 2015 when WEHOville revealed that Ian Owens was the author of an email message sent under a fake name alleging that Fran Solomon was using her office phone to promote Heilman's re-election campaign. Owens was suspended while the city investigated the matter. Solomon, who complained that her conversations were being improperly monitored, also filed a claim against the city alleging that she was the victim of bullying, harassment, intimidation and defamation by D'Amico, Rex and Owens. Solomon retired after Heilman's defeat in the March 2015 Council election. Heilman rejoined the Council after winning a seat in the June special election.
The revelations about Owens and Solomon brought forth other accusations of animosity between Rex and Solomon that reflected the then-contentious relationship between their bosses, D'Amico and Heilman. (The two apparently have repaired that relationship, with D'Amico endorsing Heilman in this year's City Council election). Also revealed was the fact that some deputies arrived at work late and left early, interfered in the work of other city employees and weren't responsive to the needs of local residents, a key part of their well-paid jobs. Some West Hollywood residents became particularly upset about the compensation of the deputies. The 2014 salary and benefits of Owens totaled about $150,000 while that of Rex totaled about $190,000.