While most of West Hollywood is debating whether it's appropriate to replace the annual L.A. Pride parade with the Resist March, some people are objecting to the addition of the Immortal Regiment March to the annual Victory in Europe events for West Hollywood's Russian-speaking community.
Victory in Europe marks the end of the Nazi Regime in Germany and the defeat of the German Army in Europe. The event, intended as a ceremony of remembrance of the 50 million people who were killed during World War II, takes place around the world in Russian-speaking communities. In 1965, under Leonid Brezhnev, it became a public holiday. It is scheduled for May 7 in West Hollywood, with the Immortal Regiment March beginning at 9:30 a.m. at the intersection of Santa Monica Boulevard and Fairfax and ending at Plummer Park.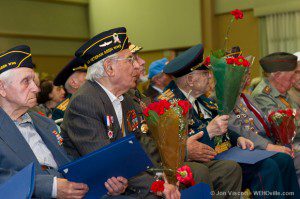 A few West Hollywood residents and foreign journalists complain that Victory in Europe celebration and the original Immortal Regiment March has effectively been taken over in Moscow and other major cities in an effort by Vladimir Putin to control one of the only unifying events in Russia.
The Immortal Regiment March was created in 2012 by Igor Dmitriyev, a Russian man who noticed the dwindling attendance at the Victory in Europe events, largely because of the deaths of WWII veterans. Dmitriyev's idea was that the families and friends of those veterans should march, carrying photos of them, to immortalize them in the public memory. The first march was in Tomsk, the Siberian city where Dmitriyev lived. The concept took off. By 2015 there were Immortal Regiment Marches in 500 cities across Russia.
An article in the Moscow Times, an English-language weekly that is viewed as one of the few publications in that country that has managed to escape control by the government, says that Dmitriyev and friends created a charter that stated the mission of the march. "It proclaimed that the immortal regiment would forever remain a loose collection of volunteers; that it would be non-commercial, apolitical and non-state, and never be hijacked to improve anyone's image. Its meaning was simple: Help families remember their members who endured the war."
The newspaper reports that a Communist Party deputy in Moscow's local parliament pushed for Dmitriyev to yield some control to local politicians. When he and his friends refused, that deputy, Nikolai Zemtsov, established a "copycat movement" called "The Immortal Regiment of Russia."
"Zemtsov did everything the original organizers had wanted to avoid," according to the Times story. "He wanted on-stage speeches to the Moscow crowds. He forged links with political movements linked to President Vladimir Putin. He canvassed for funding. He announced on television that immortal regiments would march through Donetsk and Luhansk with "portraits not only of war veterans, but those who have died now" (an allusion to Russian soldiers who died in that country's widely condemned invasion of the Ukraine. Zemtsov's march replaced Dmitriyev's.  Last year other news organizations posted photos of trashed photographs of supposed relatives that were carried by marchers in Moscow, suggesting that they were fakes provided by the Russian government to paid marchers.
The two Russian-speaking local residents who have reached out to WEHOville to object to the march have offered no evidence that the West Hollywood event is in any way associated with the current Russian government. However they argue that it and other similar marches will be used for Putin's benefit.
"Russia spends around 1 billion dollars on propaganda abroad, and I can guarantee you that they will translate this event to Moscow to show how money was spent," said a community member, who reached out in an email message to WEHOville and has declined to be publicly identified to protect himself. "They already did it in SF and other US cities. Until now Los Angeles progressive activists were able to disable all attempts of Russian sleeping agents to organize pro-Putin movement in Los Angeles."
Tatiana Rodzinek, City Hall's liaison to WeHo's Russian Advisory Board, disputed the Putin claim in an email to City Council members. "The movement is beyond politics," she wrote. "All over the globe, these events are organized by Russian-speaking people, who highlight the importance of the campaign against certain forces that try to rewrite history and distort facts relating to the war.
"The Russian Advisory Board suggested that by organizing this march they would be able to show that we will be forever grateful and will never forget the sacrifices of World War II veterans. With Fascism on the rise worldwide, the Immortal Regiment has taken on new and urgent meaning, as it honors those who fought and the millions who perished in the fight against fascism, and in the fight for human rights and freedoms."
One of the local opponents, whose apparently fake email name is David Goliath, argued that despite the purpose of the march locally it will benefit Putin, who is supported by some Russian-speaking WeHo residents according to a story in the Jewish Journal.
"There are no any doubts that this event will be translated by Russian propaganda TV to Moscow," "Goliath" wrote. "America is a free country, and you cannot prohibit this, but I can give you one advice. Just bring a rainbow flag to commemorate the memory of many thousands of gay people killed by Hitler in concentration camps and by Stalin in soviet jails, and you will see the real face of this event organizers.
"None of Russian propagandists can afford to risk showing an illegal flag at the background. Maybe you do not know, but in Russia you can go to jail just for showing the rainbow flag in public. It is just surrealistic, very wrong and immoral to see Putin's sympathizers and supporters in LA, and especially in WeHo City Hall. Now the only question left: Who are those secret Putin's admirers and Russian propaganda proponents in WeHo City Hall?"