With recreational use of marijuana becoming legal in California on Jan. 1, 2018, thanks to the passage of Prop 64 in November, cities across the state are pondering how to regulate the sale of cannabis.
The passage of the statewide Prop 64 in November leaves many regulatory concerns in the hands of the state. But individual cities can make their own decisions on issues such as licensing retail marijuana stores, taxing marijuana sales, allowing on-site consumption, allowing home delivery of marijuana and allowing warehousing of marijuana. California cities have until Jan. 1 to enact local ordinances, otherwise, the state laws will prevail.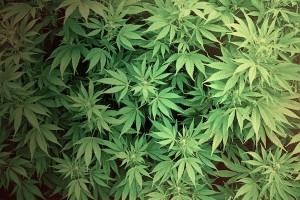 The West Hollywood City Council began discussing those issue Monday night, but had few answers. Instead, the five Council members opted to hold a special study session with experts to before setting policy. That meeting likely will be held in late June or July.
The primary thing the Council agreed upon was that retail marijuana stores in the city should be separate from the four existing medical marijuana dispensaries.
Councilmember John D'Amico pointed out that the business acumen that makes a medical marijuana dispensary successful might not be the same as the knowledge and skill necessary for a retail marijuana business to succeed.
"The four dispensaries that we have, I don't think are ready to operate in prime time yet," D'Amico said. "I think they serve the medical use community quite well, exquisitely in fact. But I can imagine a $400-a-night tourist on the Sunset Strip having a certain experience, someone shopping on Melrose having a different experience and someone on the Eastside having yet a third experience, and none of those experiences is captured by our current dispensaries."
Pointing out that marijuana is still illegal on a federal level, Councilmember John Duran noted that President Trump's administration has indicated it will likely leave medical marijuana alone, but may crack down on recreational marijuana sales and use in states that have approved it. Duran feared that allowing a merger of medical and retail stores could possibly jeopardize the medicinal aspects citizens need.
"I actually think the medical marijuana collectives in the city would have far greater protection in their current role as medicinal distributors," Duran said. "If we allow them to then expand into adult use, we place them at risk of federal prosecution. We should be making them aware of the risks involved and let them decide what risks they are willing to take."
That discussion, however, might be moot as Gov. Jerry Brown has indicated he favors merging the medical marijuana and retail marijuana businesses across the state.
An audience member suggested the Council form a Cannabis Advisory Board to provide guidance on the issues being discussed. The Council responded that the study session with experts should suffice, but did not eliminate the possibility of creating a Cannabis Advisory Board in the future.
The city's tools for regulating retail marijuana businesses would be through land use restrictions and business licenses. Consequently, the city's Planning Commission and the Business License Commission would be involved in these decisions. Mayor Lauren Meister noted that businesses must apply for requiring them for marijuana sales too.
West Hollywood law allows a maximum of four medical marijuana dispensaries to operate in the city. The Council was open to the idea of having more than four retail marijuana businesses in the city, but its members no idea what the maximum should be. D'Amico suggested that the marketplace would quickly determine the proper number.
The city already has a list of people interested in opening retail marijuana shops, but Duran suggested that rather than use a lottery system to determine who gets to operate in WeHo, the city should carefully screen potential operators to be sure they get the best business operators.
As for locations of the retail businesses, the Council agreed they only should be on major commercial corridors, which is also a requirement for medical marijuana dispensaries (the city's four existing medical dispensaries all happen to be along Santa Monica Boulevard). City regulations require those dispensaries to be at least 1,000 feet apart from each other and none of them can be within 500 feet of a church/temple, school, day-care center or playground. However, the state regulations regarding locations would extend the distance from schools, playgrounds and parks to 600 feet.
Although the city can collect sales tax on retail marijuana sales, any special tax on marijuana would require voter approval. The earliest the city could hold such a referendum would be in 2019. Meister pointed out that the city will need a way to assure that it is getting all of the taxes it is due because marijuana dispensaries are cash-only businesses because of concerns that the federal government could seize money and assets deposited with banks.
The Council seemed to favor allowing on-site consumption in some stores, similar to that in the famous coffee shops in Amsterdam where marijuana can be purchased and smoked on site. However, such on-site businesses would have to operate under different regulations from stores that sell marijuana for off-site consumption.
Few warehouses of any type exist within the city because land prices are so high, so the Council felt marijuana warehouses were unlikely to open.
As for home delivery of marijuana, Councilmember Lindsey Horvath suggested those regulations should mimic the rules regarding home delivery of alcohol.
Resident Michael Wojtkielewicz pointed out that marijuana use in federally funded housing (including Section 8 housing) is illegal and grounds for eviction. The Council agreed that public education about marijuana and housing issues would be needed.