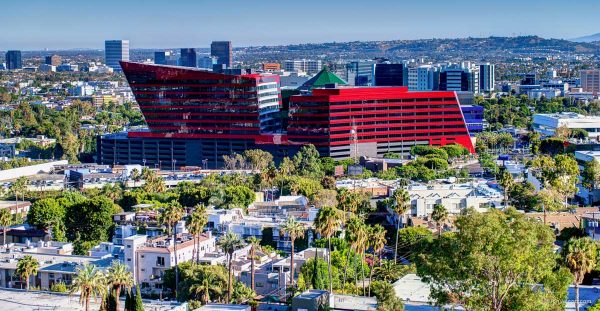 "Meet me at Melrose and San Vicente," your friend says. What is the first image popping into your mind? Eating a salad on the outdoor patio at Zinque? Checking out a book from the library? Testing your celebrity status with camera-clutching paparazzi assembled outside Catch?
"Wait. There is that big glass building," you say to yourself. "It's green. No, red? Blue? There's that big metal chair on the corner."
Pacific Design Center is the term you're looking for (aka PDC), and it does boast three large glass buildings – one red, one green and one blue – totaling 1.6 million square feet. "Red Green Blue" is even part of PDC's branding.
The PDC, or at least parts of it, has been in West Hollywood since 1975, before the city was incorporated. But, if after all these years, you're not sure what the PDC does, why it's in WeHo, or what impact it has on the city, you are not alone.
Patrick Shandrick, a WeHo West homeowner living three blocks away, describes the site as "iconographic" because of its color, design and, well, size. "It's not a community space, yet they have such a presence here," he said.
A Center for Design
Jeff Sampson is the PDC's marketing vice president. "'The Blue Whale' debuted in 1975," he said, referring to the original building facing Melrose. "Designed by Argentinian-American architect Cesar Pelli, [it was] an effort to centralize L.A.'s disparate design industry in the Beverly-Robertson-La Cienega area." Additions, the Green and Red Buildings, also designed by Pelli, arrived in 1988 and 2013, respectively.
More than 80 interior design showrooms make a home in the PDC, Sampson told WEHOville. Brands such as Armani/Casa, Dedon, Donghia and Holly Hunt sell 2,000-plus interior and exterior furnishing lines. So designers know. Anatomy of Style's Jennifer Aos, based in Sherman Oaks, wrote in her Yelp review: "If you know how to use this resource, it is amazing." She shops at the PDC "regularly for fabrics," adding, "despite the fact that some showrooms have left due to the recession, this is still the best design center in the U.S."
The seeming emptiness of the PDC is a point of contention for some. Again, Sampson: "The Great Recession, coupled with the advancements in the online market, certainly made its imprint on the design world, forcing companies to rethink their business models."
Some brands exited the PDC, opening what look like retail storefronts in the West Hollywood Design District and the La Cienega Design Quarter. An official business improvement district (BID) since 1996, WHDD is "the walkable radius of Melrose Ave., Beverly Blvd. and Robertson Blvd.," per its website. An area where, Sampson adds, "Rates and the visibility to the consumer may have been more appealing."
But according to a recent announcement on its website, the PDC has "recently welcomed five international showrooms in the furniture, fabric, wall coverings, theater and accessory categories."
For Sampson this is "a significant trend in PDC leasing," both by previous tenants relocating back "from the street" as well as brands new to the market. Either way, Sampson said these companies "realize their success lies in the value of a Design Center presence."
And for Consumers?
What about regular people? Can anyone walk in? "You need not be an interior designer to enter the Design Center," Sampson said. Residents and visitors can shop there, though some showrooms are trade-only. He added, "Our Designer on Call and Buyer Referral Service programs can assist consumers in the purchasing of products, or match a prospective client seeking full services with an interior designer."
Yet the PDC has drawn sneers on social media from some consumers. Consider these Yelpers:
• Keesha F: "The outside has always been quite enchanting, and I've always wondered what was inside." Showroom "prices were far outta the average person's range" but she found "inspiration."
• Anna N: "Beautiful…but not very welcoming to guests…Discouraging for design enthusiasts."
• David V: "This place is quieter than the library across the street. You can spend the whole day there and not see a single person."
And, though the parking garage is easily accessed from Melrose Avenue, parking within it vexes many, even those familiar with the building. "I work here so I have to deal with this insane, confusing, labyrinthine structure every day. Huge design fail," said Alex C. on Yelp.
In response to criticism, Sampson says, "People seem to forget, or perhaps do not realize, that before PDC was built, the property we sit on, including the Sheriff's Station and the MTA Bus Station, was the former site of West Hollywood's rail yard."
A location that "used to be a low-scale residential and commercial area of West Hollywood," says the L.A. Conservancy's website.
Criticism May Start at the Top
Part of WeHo's mixed feelings toward the PDC may have to do with landlord Charles S. Cohen of Cohen Bros. Realty Corp., based in New York City. Although Cohen has been president and owner since 1999, and has a condo in the exclusive Sierra Towers on WeHo's border with Beverly Hills, there are many who feel he doesn't necessarily have WeHo's best interests at heart.
Cohen's PDC is just one of four design centers he owns and operates (the other three are in New York, South Florida and Houston). And for WeHo, the developer's plans may be significant. According to the Los Angeles Times, in March 2015 Cohen had the "MTA bus storage lot" adjacent to the PDC in his crosshairs for development. WEHOville has reported on heated community conversations about the proposed project since 2013.
Where Is the Value?
So what's the answer? Has the PDC added value to West Hollywood? Again, the L.A. Conservancy reports the center is "at once beloved and reviled by its neighbors…an icon of glass skin design…a landmark of undeniable impact."
Undeniable may be the word. If you walk along Huntley Drive, a north-south residential street on the design center's eastern flank, the western side of the street is, quite literally, in the PDC's shadow as the sun goes down. Still, there are those who appreciate the PDC just as it is.
"It's magnificent," said Mark Cregar, who owns a duplex on Keith, right behind Pavilions, and did work with a PR agency based in the center. "The beauty of the façade," especially the landscaping, appeals to Cregar. He would agree with Sampson when the PDC exec says that the complex's construction "helped transform not only the parcel we occupy…but the entire complexion of West Hollywood from a rough-and-tumble frontier to a chic, cosmopolitan enclave."
The PDC has allowed itself to become accessible to the larger community. Shandrick said he heard the center is permitting access to its fountain-accented courtyard on San Vicente to Pride festival goers this June. WEHOville reported that such access will be granted for undisclosed sum.
A Multi-Fold Purpose
"PDC's purpose and value to the region is multi-fold," Sampson said. The Los Angeles Museum of Contemporary Art (MOCA) has a satellite gallery – look for the beige concrete cube – across the street from West Hollywood Park. Wolfgang Puck offers restaurants Red Seven and Spectra. And the Silver Bullet Express and Design Café serve "order-out food and beverage options." All four restaurants are open to the public.
In addition, specific PDC initiatives do offer residents and visitors a way to interact with the complex. "We welcome design enthusiasts," Sampson said. "Our designLAb [note the unique spelling emphasizing "LA"] and MOCA Pacific Design Center arts programs connect with the general public." They host around ten public exhibitions each year. (For a list of upcoming events check out: http://www.pacificdesigncenter.com/events/)
You also may host an event within the PDC. The 14-acre campus offers "dramatic public and private spaces for screenings, exhibitions, lectures, meetings, special events and receptions," per its website. Its cushy SilverScreen Theater screens films for audiences up to 294. You might even run into a celeb or two (Lily Tomlin and Jane Seymour, for example, have both been spotted by Trish Hoffman, COO of Prefec Hardwood Floors, a PDC tenant). And if you need a conference space, its 200-seat Blue Conference Room can be rented out.
Charity and Online
It also should be noted that "The Elton John AIDS Foundation Academy Award Party has traditionally been held at the PDC," per the center's Wikipedia page. An entertainment industry Oscar party of epic proportions since 1993, it annually raises millions of dollars for charity. And let's not leave out online. Again, Sampson: "Trade and consumers seeking the latest design information and inspiration can learn more at pacificdesigncenter.com," and its Facebook, Instagram and Twitter pages. There also is Cohen Design Center's blog Go Design Go.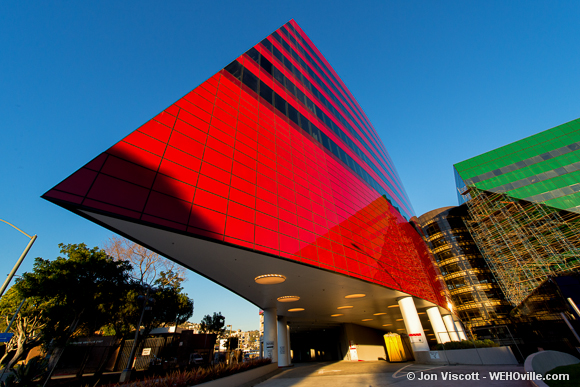 Beyond Design
The PDC has also become home to companies doing business in industries beyond interior design. The Red Building contains the offices of Grindr, the successful male-to-male meet-up app, media-tech firm Whalerock Industries (it relocated to WeHo from Santa Monica) and talent/literary agency Abrams Artists Agency. Many see the arrival of such brands as part of WeHo's evolution into a diverse and creative professional working city.
Sampson added, "PDC's Green Building is currently under renovations in anticipation of the continued demand for premier office space leasing we are experiencing."
When asked what the PDC might do to enhance its relationship with WeHo residents and those not doing business with the center, Shandrick and Cregar had some thoughts. "Maybe they could open up a restaurant on the street level, where the fountain is," Shandrick said "a place where people could go to lunch and enjoy the space more." His comment underscores how many locals remain unaware that the existing restaurant options already are available to them. And Cregar wondered, "What about a design open house? Throw open the showrooms with an art tour, like on a Friday night."