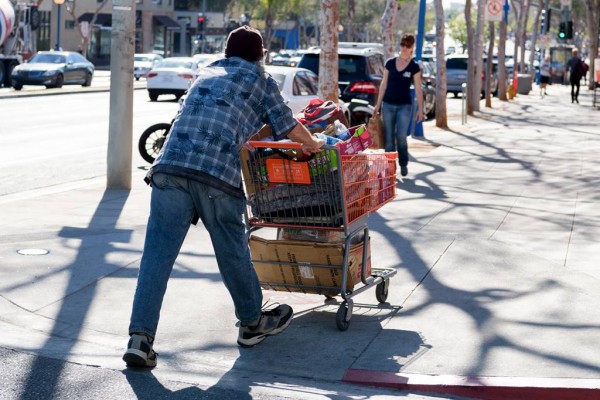 The number of homeless people in Los Angeles County grew 23% last year to a total of 57,794 according to the 2016 homeless count.
That total, compiled by the Los Angeles Homeless Services Authority from data gathered from a street survey in January, includes 5,511 homeless people in a large district that encompasses West Hollywood. That area saw an 18% increase over the number in 2015. Known as county service planning district No. 4, that area includes the communities of Boyle Heights, Central City, Downtown L.A., Echo Park, El Sereno, Hollywood, Mid-City Wilshire, Monterey Hills, Mount Washington, Silver Lake and Westlake in addition to WeHo.
Data specific to West Hollywood likely won't be available until this summer. However local residents have reported an apparent increase in homeless people in WeHo, with many sleeping along Santa Monica Boulevard and in Sal Guarriello Park. Last year's street survey found 87 homeless people in West Hollywood, an increase of 50% from the 43 in 2015. That figure is still less than the 111 counted in 2005.
The City of West Hollywood has stepped up its efforts to address the issue. In October last year, the city initiated a pilot program to provide outreach and services to homeless people at West Hollywood Library. Also, Social Services Supervisor Corri Planck was assigned to take on the role of coordinating the city's homeless efforts.
Under the pilot program, homeless people can meet at the library during certain hours with organizations with which the city has contracted to provide services. Those organizations provide an array of services, ranging from housing and shelter to mental health and substance abuse treatment.
Planck, in an interview with WEHOville in January, said there are no easy solutions to homelessness. One of the issues she said, is the ease with which people can cross the city's boundaries. That's one reason why West Hollywood is working with countywide agencies on the problem. Another issue is that homelessness can be the result of several different factors: poverty, mental illness and drug addiction, among them. Also there is a lack of affordable housing. "What we need regionally is more affordable housing, more housing vouchers and resources," Planck said.
The countywide survey offers a large array of data about homelessness in Los Angeles County. It includes the following:
— 4,545 people were counted as living in campers or recreational vehicles, a larger number than those in cars (2,147), vans (1,852), tents, 2,342) and makeshift shelters (1,516).
— A majority of the homeless population is ages 25-54 (58%). Another age categories are those under 18 (9%); 18-24 (10%), 55-61 (15%) and 62 and older (7%).
— African-American people are the largest percentage of homeless people (40% of the total), compared with Hispanic (35%), white (20%), Asian (1%), Native American (.3%), and those who identify as multi-ethnic (2%).
— Men constitute 68% of homeless people in the survey, compared with 31% for women, 1% for transgender people and .3% for those who do not identify in any of those categories.
— People suffering from a serious mental illness made up 30% of those counted. Eighteen percent had a drug or alcohol addiction problem. People with HIV/AIDS totaled 2.2% of those counted.
— Sixty percent of those counted as homeless were experiencing that for the first time as of the 2016 count, compared to 57% during the 2015 count.
— Seventy-one percent of those counted as homeless had lived in Los Angeles County before becoming homeless, with 17% identifying as coming from out of state and 3% coming from out of the United States.
A report on the survey states that Los Angeles County is in serious need of more housing for very and extremely low income people. It notes that the rental vacancy rate forecast for 2017 is 2.6%, compared to 3.3% for New York City,, 3,4% for San Diego, 4.2% for San Francisco and 4% for the United States as a whole.
The county's median rent, adjusted for inflation, increased 28% from 2000 to 2014 while the median income of renters decreased 8%.