Lt. David Smith, a 30-year veteran of the West Hollywood Sheriff's Station, has been suspended with pay from his position.
In recent years Smith, known as Smitty, has effectively served as the station's public liaison, attending meetings of the WeHo City Council and Public Safety Commission and fielding inquiries from local news reporters. For that reason and his morning runs through West Hollywood, he has become one of the better known members of the local sheriff's staff. He has reported directly to the captain who runs the Sheriff's Station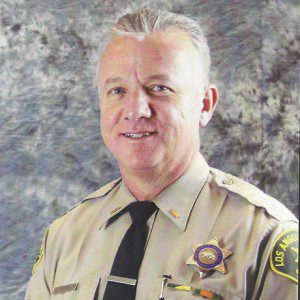 To date WEHOville has been unable to learn why Smith was removed from his job. That removal was announced privately to the West Hollywood City Council on Monday. A source at the local station confirmed this afternoon that this is a temporary suspension while an investigation about an unknown issue is being conducted and that Smith has not been fired. WEHOville has been unable to contact Smith for a comment.
Smith's departure comes at a difficult time for the Sheriff's Station, given that he was one of the leaders in its effort to coordinate with the Los Angeles Police Department to provide security for this weekend's LA Pride event and the Resist March. Both events are projected to attract hundreds of thousands of people to West Hollywood and Hollywood. Given recent terrorist attacks in crowded places in Europe, many residents are concerned about what measures are being taken to make them safe.
Capt. Sergio Aloma, who heads the West Hollywood Sheriff's Station, said he is confident that his team will be able to keep the events safe. "We have a lot of experience at the West Hollywood Sheriff's Station with Pride," Aloma said. He noted that the Sheriff's Department is working together with the L.A. County Department, the Sheriff's Department's Emergency Operations Bureau and the city's Public Safety Department.
Smith, 58, was raised in Atwater Village and is the father of five children. After training at the Sheriff's Academy and work in the county jail system, he took a position at the West Hollywood Sheriff's Station in 1985. He was reassigned in 1996 to the Lynnwood jail but returned to WeHo a year later. Among his many roles has been working with the team focused on crime on the Sunset Strip and working with the Community Oriented Policing (COPS) program, which works with local residents and community groups on issues in their neighborhoods. Smith was promoted to lieutenant in 2004. It is not clear who will take over Smith's role as overseer of the COPs program and Entertainment Policing Team, which patrols the city's nightlife areas.
Smith missed out on two opportunities to serve as captain, running the West Hollywood Station. When Capt. Gary Honings took early retirement in 2015, he was replaced by Capt. (now Commander) Holly Perez. Perez was promoted to the commander position after only 13 months in West Hollywood and was replaced by Sergio Aloma.
EDITOR'S NOTE: An earlier version of this story reported that it was unclear whether Lt. David Smith has been suspended from his position at the West Hollywood Sheriff's Station or was fired. WEHOville has learned that Smith is suspended with pay while an investigation is taking place on an undisclosed matter.<