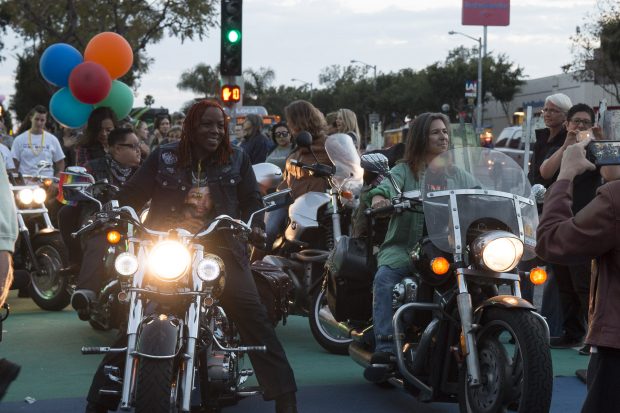 Lesbians, queer women, and allies will gather by the hundreds today to celebrate community, embrace resistance and turn up some visibility at the annual Dyke March.
This year's Dyke March will take place at the Sal Guarriello Veterans' Memorial, located at 8447 Santa Monica Blvd. at the intersection of Santa Monica and Holloway Drive.
At 6 p.m., there will be a live DJ set with Claudette Sexy DJ and a protest-sign and pin-making workshop led by artist Julianna Parr, with all materials provided.
At 7 p.m., there will be a rally with guest speakers including members of the West Hollywood City Council and Los Angeles County Supervisor Sheila Kuehl, as well are representatives from SEIU, Black Lives Matter, Planned Parenthood and the "Lesbians to Watch Out For: '90s L.A. Activism" exhibit.
At 8 p.m., there will be a march on Santa Monica Boulevard from Holloway Drive to San Vicente Boulevard and back. The march will be led by the Nasty Women's Drum Circle of Long Beach, which will continue to perform when the marchers return to the Veterans' Memorial (along with more live DJ music by Claudette Sexy DJ).
This is one of the first events of Pride weekend. From Friday through the 2017 LA Pride festival will take place at West Hollywood Park.