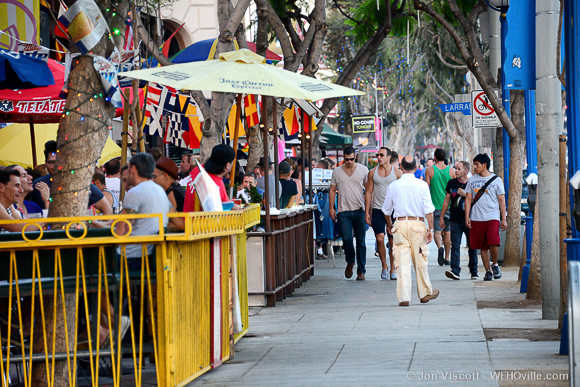 Owners of businesses in West Hollywood's Boystown nightlife district are banding together to make donations to the L.A. LGBT Center as part of their commemoration of this year's LA Pride.
Larry Block, owner of The Block Party apparel shop, is organizing the contributions. Block said he hopes this year's donations become a model for future collaboration among the businesses to support LGBT non-profits and to encourage Christopher Street West, which operates the annual L.A. Pride event, to do the same.
Block said the idea came to him when Brian Pendleton asked for his support for the Resist March, which took place this past Sunday in place of the annual L.A. Pride parade. Unlike the parade, which is recent years has been dominated by floats sponsored by major brands and some local businesses, the march was a procession by LGBT, immigrant rights, women's rights and other activists groups protesting the Trump administration's actions to roll back civil rights protections for those groups.
Block said he initially was hesitant to support the march but decided to do so when he realized it could create a financial benefit for the community. He created a brand of Resist t-shirts, promising to give a portion of the sales to CSW and the L.A. LGBT Center. Don Zuidema, owner of the LASC clothing store, agreed sell those shirts and make a donation to the Center.
Block said sales initially were weak but took off in the final days leading up to the march. He originally had agreed to donate 10% of the price of each t-shirt to CSW and the Center, but when sales slumped and he had cut prices, he decided to donate $5 per shirt, which was the actual retail price for some of them. Finally, Block said, he decided he would donate a flat $1,000 each to CSW and the Center, much more than was generated by the t-shirt sales.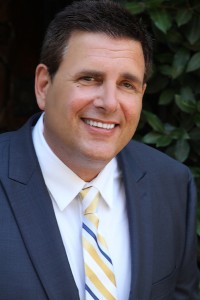 Block said Zuidema has agreed to donate $500 to the Center. Other committed donors are Chris Miller, owner of Revolver, who has pledged $2,000, and Michael Niemeyer, owner of Micky's, who has pledged $1,000. Block said others who have said they will contribute but not yet stated an amount include Tom Dougherty of Café d'Etoile, John Bakalar of Fiesta Cantina and the owners of Flaming Saddles. Block said he will approach David Cooley, whose The Abbey and The Chapel are the most prominent businesses in the area, for his support.
Block said many of the local businesses were not comfortable donating to CSW because of its lack of transparency and questions about its financial management. The organization lost nearly $400,000 on last year's L.A. Pride events and five of its board members quit in a dispute with the board chairman.
Some local business owners also were uncomfortable with CSW's decision to forgo the Pride parade in favor of the Resist March. A study commissioned by the City of West Hollywood showed that the traditional L.A. Pride parade and festival generate an estimated $5 million in new spending at local businesses and in compensation for local workers. Some who opposed the Resist March argued that it would have a negative impact on that spending.
Block said the donations he is gathering will show that the Boystown businesses aren't just about making money. "We are always accused of just being commercialized," Block said. "We have a street, we have a community that wants to support the community and not just take money. We are generous."
Block said he hoped that the donations will inspire CSW to develop a new template for Pride that includes making donations to LGBT non-profits of some percentage of its revenue from the annual event. Such donations are typical of Pride organizations in San Diego, Long Beach and San Francisco but haven't been done by CSW, which has a history of losing money on the events. He cited as an example the Labor Day L.A. event in years past organized by the late Dana Miller and others. In 1999, Block said, he and Don Zuidema made grants from Labor Day LA totaling $100,000 to local non-profits.
Block said he think that it is important that local businesses "have a seat at the table" in the discussion of the evolution of L.A. Pride, given its financial challenges and competition from events such as Downtown LA Proud. "If there was ever CSW moving out of WeHo, and we had a WeHo Pride, who would we lean on? We would lean on these local businesses."