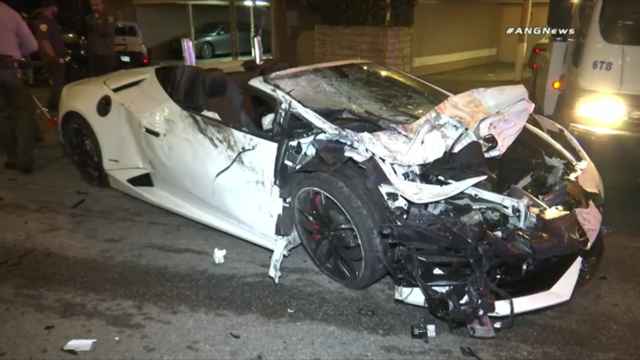 A Lamborghini Huracan, a car whose base price is about $240,000, crashed near the intersection of Romaine Street and Genesee Avenue in West Hollywood early this morning, with the driver fleeing the scene.
Sheriff's deputies and firefighters arrived at the scene at about 1 a.m. to find the car abandoned on the street and one black compact SUV overturned and another heavily damaged. Both SUV's were parked on Romaine.
Neighbors reported seeing as many as two men fleeing the Lamborghini and jumping into a dark-colored Bentley that was trailing it and leaving the scene. A sheriff's sergeant said his deputies may have been on a traffic stop with the Lamborghini earlier in the evening. There were no reported injuries. West Hollywood Sheriff's deputies are handling the investigation.