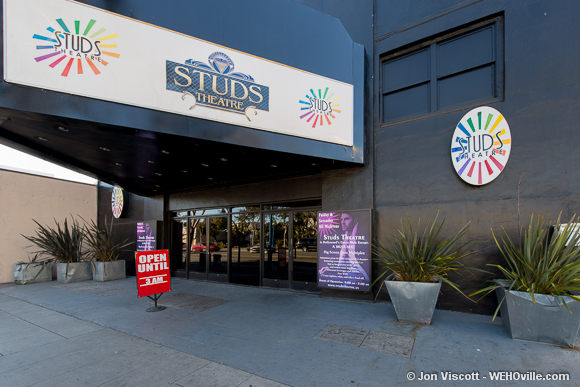 No doubt you've walked past it. Or, since this is California, driven past it. If you don't qualify for Social Security, It's less likely that you've been inside this building at 7344 Santa Monica Blvd. near Spaulding that a story in today's Los Angeles Times identifies as one of only two porn theaters remaining in L.A. and one of only 35 in the United States.
The story, by reporter Carolina Miranda, describes Studs as a "Smithsonian of porn". (It was identified in a study commissioned by the City of West Hollywood last year as potentially eligible for historic designation).
From a Modernist movie house in the 1940s known as the Monica, which screened mainstream Hollywood movies, to the Leftbank Theatre and then the Tomkat and the Pussycat, Studs evolved. It now is a place whose audience, at least when Miranda was there, was older men in golf shirts who Studs has invited to "come explore, relax, and take a load off."  WEHOville has described it as West Hollywood's "porn block of fame."
It also is "one of the most important spaces in North America" in the history of adult films, according to a professor quoted in the story.
For a full read, including mention of that frequent visitor who brings her man in on a leash, click here.