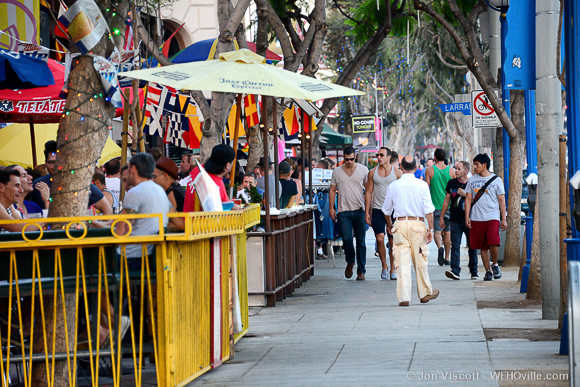 A campaign by Larry Block, owner of The Block Party store in WeHo's Boystown, has raised nearly $20,000 in contributions from more than 40 local businesses and several local residents for the L.A. LGBT Center and has inspired the creation of a local merchants association.
Block intends to present the checks to a representative of the Center at tonight's City Council meeting.
According to Block, the campaign was inspired by June 11 Resist March, which replaced West Hollywood's annual L.A. Pride parade. While the march had wide support from prominent local and state political figures and many in the LGBT community, others complained that it would hurt revenue from businesses in the gay retail, dining and nightlife area of Santa Monica Boulevard known as Boystown. There also were complaints that the march, intended to protest policies enacted by the Trump administration, took the focus off of LGBT Pride. The parade drew an estimated 25,000 to 35,000 participants, according to law enforcement agencies.
Block said that in the face of criticism from some, he wanted to show the business district's support for LGBT rights. Block said he also wanted to set an example for Christopher Street West, the non-profit that stages the annual Pride festival and parade, which has been criticized for not raising money for LGBT organizations as do Pride groups in other Southern California cities.
Block credited Tom Doherty, owner of Café d'Etoile, for his help with the campaign and for coming up with the idea for a local merchants association. That association will be called West Hollywood Independent Local Merchants Association or WHILMA. "After this fund drive we will do our best to keep in touch and stay unified on the issues that we share," Block said in a letter distributed to local merchants.
WHILMA, if successful, could fill what some have seen as a need to unify business owners in the Boystown area as undergoes major changes. The bars in the area, which once catered almost exclusively to a gay clientele, increasingly are venues for gay and straight people. The area also faces growing competition from the gay nightlife scene in downtown Los Angeles, which in August will stage its own Pride event.
The West Hollywood Chamber of Commerce was hired by the city a few years ago to enlist Boystown businesses in a business improvement district. BIDS levy mandatory fees on their members and can use the money for safety, street cleaning and marketing. That effort failed.
By restricting its membership to local businesses, WHILMA also could pose a challenge to the WeHo Chamber, which represents local business interests but also those of a large number of its members who do not live in West Hollywood or own local businesses in WeHo. They generally are real estate developers and the lobbyists and lawyers who work with them and some businesses on the fringe of WeHo.
Donors of $1,000 or more thus far are Bar 10, Flaming Saddles, Halal Guys, Micky's, P.U.M.P., Rage, Revolver, The Abbey, Block Party. Donors of $500 to $999 are Café d'Etoile, Capitol Drugs, Faring Capital, Fiesta Cantina, Gym Bar, Keith Kaplan Properties, Koontz Hardware, LASC, Motherlode, Rounderbum, St. Felix, The Bayou, Trunks. Other business donors are 665, 8 Oz. Poke, Andrew Christian, Bossa Nova, David Wood Insurance, Earth Compound Pharmacy, Emerson Locksmith, George's Kitchen, Greenville Village Pizza, Guisados, Hamburger Haven, Kitchen 24, Dr. Eric Lee, Maison Optique, Nail Spa, Salt and Straw, Showtime, V Wine Room, WEHOville, Yogurt Stop, Z Pizza.
Individual donors are Rubert Alvarez, Jeff Book, John Bowab, Donald Deluccio, Manny Rodriguez, Rudolph Vallejo, Mike Zanella in the name of Richard Blonz.
Block said that Tom Doherty had made a donation of his own in the name of a local business who couldn't afford to do that now.  "That really touched me," Block said.  "This is a community undertaking that should not leave anybody behind.   So since 'Its All for One and One for All,'  both Tom and I are going to make a donation in names of those who cannot afford it.   Its unity and community and not only about money."
The City Council will meet tonight at the City Council Chambers, 625 N. San Vicente Blvd. south of Santa Monica. The first part of this Monday's meeting, from 6 p.m. to 7:30 p.m., is focused on the city's community development plan work plan. The ordinary meeting will begin at 7:30 p.m. Parking is free, with a ticket validated in the lobby, in the five-story structure behind he Council Chambers.