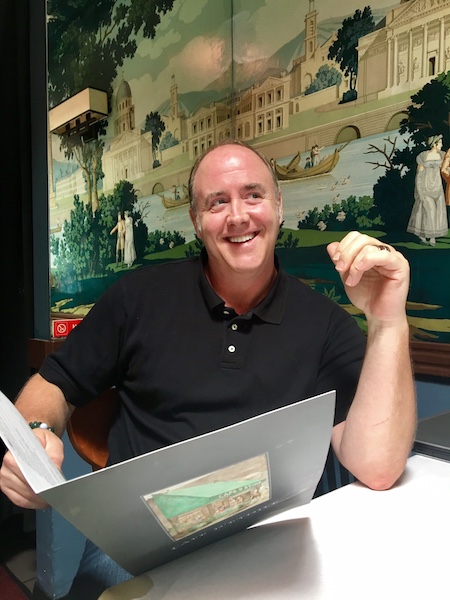 It takes Tom Doherty, 51, a really, really long time to tell me what he would order if he were dining in his very own restaurant, the WeHo institution and French-themed Café D'Étoile. "I'm really having difficulty," Doherty admitted as he scanned the menu.
"First of all," Doherty said, "we make all of our own stocks, all of our own desserts."
Okay, cool. But what would you recommend?
"The kitchen is the size of a walk-in closet with two ovens. They're in use 24 hours a day."
Uh-huh. And you would have the…, what's that now?
"You have to start at four in the morning. If you don't have space, you'll figure out how to make it work."
What to do? "Like if a new patron walks in and asks what they should order for dinner on a warm summer evening?" I prodded, hoping I was helpful.
Like many of us who sit down for a good meal, Doherty started off with alcohol, going from light to weighty. After announcing he's offering "9, 10, 12 new wines" Doherty said, "We also make our own sangrias, white and red. It always gets people in trouble 'cause it's so yummy."
What got my attention were his new craft cocktails: Old Fashioneds. Doherty actually left our table to retrieve one from a refrigerator. He was excited. "We actually put them in mason jars, sugar, syrup, all the ingredients…su vis," Doherty said. "It means under glass." "You cook them for about 4 hours…bain marie…[they] sit in water. Nothing is allowed to escape. The flavor is unreal."
Eventually I teased out an appetizer suggestion. "On a warm summer night," Doherty trailed off, "definitely like to throw back fresh oysters, east coast Blue Points with a watermelon shot." Not vodka, tequila. "[It's] not like tequila of the past that's harsh," Doherty said, "it's really a whole new tequila."
And for an entrée? (Concentrate, Tom. Look at your menu.) Doherty sighed, "It's really hard to sift through because there isn't anything on the menu I would not get." Fine. It's all good. Diners can order whatevs and walk away satisfied.
Doherty grew up in North Andover, Mass. Describing himself as "110% Irish," he's proud of having four sisters and two brothers. "My six favorite people in the world," said Doherty. "In my case, family feeds your soul."
After earning his business degree with an emphasis in hotel management from UMass Amherst, Doherty worked and lived in Baltimore, Detroit and Philadelphia. In 1990 he took the opportunity to work at the Loews in Santa Monica. "I never thought of living on the Left Coast," Doherty admitted, "as opposed to the Right Coast – as in the Correct Coast."
Doherty stayed in the City of Angels and lived on the Westside. "I was still coming out," Doherty explained, "hanging out at Rooster Fish where you could be doing your laundry across the street."
His next two gigs prepared him for the restaurateur he is today. "I hit the streets with a resume just like everyone else," Doherty said, "and found a job waiting tables." He then learned the retail side working "for a guy named Hans Röckenwagner. A great chef, one of the greatest guys I ever met."
But around 1993 he got real. Although offered a corporate hotel job again, he was hesitant. "As you move up the ladder it becomes more and more about the numbers," Doherty said, "less and less about the people."
That did it. Definitely a people person, Doherty decided it was time to start his own business. "I had five dollars in my pocket," Doherty said. "And somehow I'm gonna make this happen."
Café D'Étoile was already an established restaurant when Doherty got a tip from a friend that the place may come up for sale. "It was an absolute sh—t hole," Doherty said, not mincing words. "It was just dirty and gross. [But] it did have clientele."
WeHo residents and visitors may not know that "in the 1950s it was a bar with a pool table," Doherty said, "The Barrel." "Late 60s it became L'Etoile, a sort of very high-end French restaurant." And in 1983 it was renamed Café D'Étoile, although "it's not grammatically correct," Doherty explained. "It should be Café de L'Étoile."
Like so many dreamers in this town (film school students, anyone?) his older brother helped Doherty finance the purchase – via credit cards. "We applied for every bit of credit we could get," said Doherty, and came up with the 150 grand they needed. "You have cash and love, what could go wrong?"
Perhaps a lot, but Café D'Étoile now has 24 employees, quite a few of whom have been with Doherty for over 20 years. When asked why he thinks that is, Doherty replied, "When [people] find something decent, they want to stay. In addition, I'm not a trigger happy guy." Translation: he's created a good place to work – and he's an awesome guy.
Doherty offered a historical perspective on the two sides of gay L.A. that he has experienced. "When I bought this place, I had been to WeHo once," Doherty said. "To the Westside [WeHo] was considered a freak show." And guys in WeHo saw those on the Westside as "just a bunch of closeted homos who didn't have the balls to live [here]."
This restaurateur may also be an armchair sociologist. "In a gay restaurant it's very weird," Doherty explained, "the customers." "You can have a director of oncology sitting here who's hitting on a 24-year-old waiter." What's his point? That "there are certain hierarchical, socioeconomic differences that do not matter when gay men get together."
Café D'Étoile, the Great Equalizer? Vive la difference.
But is the place a "gay restaurant," for men only? "In the early days it was probably 98%," said Doherty. "Now, probably 75% gay-ish" That "ish" means something. Doherty said the city is changing. "Lots of people are buying in WeHo, and they're paying big dollars. They're straight. They're gonna come down to local places as well."
Celebrities are no strangers to Café d'Étoile. Sitting in the opposite corner from Doherty and myself when we conducted this interview was Rachel Lindsay of "The Bachelorette".  Doherty said she comes in for lunch now and again. She sat with Cary Fetman, her "award-winning dress designer," according to Doherty.
However, there are two stars that definitely made an impression. "I'd say probably one chick that really turned me on was Nicole Kidman," Doherty recalled. It was about 10 years ago. "Someone called me and said I should come in. And I did, just so I could watch her eat. I really did."
I asked Doherty if he requested her autograph. Shocked, Doherty replied, "That would be awful." "You just get a feel for who wants attention. And who wants to be left alone."
Fair enough. Yet Doherty did suggest something to Diahann Carroll, who dines there frequently. "She's sitting here," Doherty said, gesturing with his hands and arms. "I said to her, 'We should really go out to lunch sometime.' And she says, 'Tom, that is simply never going to happen.'" Doherty smiled. "She is a complete laugh riot. So smart, so fun, outrageous."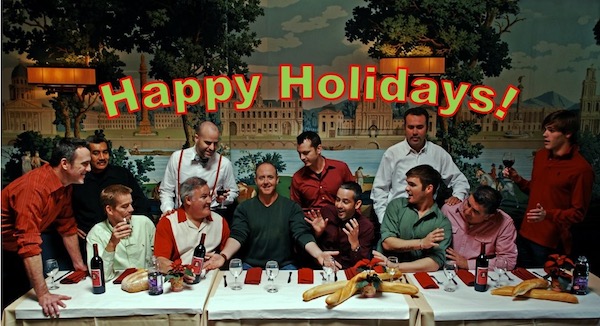 Speaking of names with cachet, there is one thing Doherty itched to tell me. He pointed to his eastern wall. "It's a 47-foot, nonrepeating, two-foot panel mural," Doherty said. If you've eaten at Café D'Étoile, you've seen it. It's a Zuber. "It's all in two-foot panels," he repeated with pride. In a moment of wild serendipity, Doherty received the valuable piece of art as payment for a catering job way back in the day. "It actually cost more to hang the thing."
When I noticed Doherty wore two large metal-and-wood rings on his left hand, he said, "I do have a husband." Twirling both around his finger he added, "He's lost weight so I'm wearing both."
Husband Rick, a software salesman, and Doherty met 19 years ago when Rick was a customer who traveled down from San Francisco for work. Married for three-and-a-half years, Doherty told me, "Koa wood…it means bravery, strength, all of this very manly [stuff]." Does he relate to that? "It sounded pretty cool," he admitted.
If you've ever fantasized about opening your own restaurant, listen to some Doherty input. "If you were to say, 'Why is this place successful?,'" Doherty said, "I don't have a f—cking clue."
He said the blessing and the curse are in the intangibles, "things that just can't be explained." "You can do all the studying you want," Doherty said, "you have no way of knowing how what you do is gonna turn out, what kind of effect it's gonna have on your clientele."
One thing he does know, though, is that Friday and Saturday nights are where the gold is. "You're only making money about eight to nine hours a week," said Doherty. "Every other hour you spend, the other 70 hours, you're actually paying a little bit of money."
Doherty ultimately, I think, just maybe, decided what he would recommend for dinner. "The sea bass is outrageous," said Doherty. "Somebody came in yesterday – it's a beautiful piece of fish – 'You know what I want? I want a piece of sea bass on a burger bun with that fresh tartar sauce you make.'" Doherty shrugged. The guy ended up paying $37 for a fish sandwich.
But if that's what the customer wants, again, Doherty: "Do what you gotta…sh—t like that is the best." You know, on a warm summer evening in WeHo.
Café D'Étoile
8941 1/2 Santa Monica Boulevard
West Hollywood, CA 90069
(310) 278-1011
cafedetoile.net
CafeDEtoile@gmail.com
CORRECTION:  An earlier version of this story identified the celebrity dining at Cafe d'Etoile with designer Cary Fetman as "Scandal" star Kerry Washington. According to Fetman, he was dining with Rachel  Lindsay of "The Bachelorette". The story has been corrected.