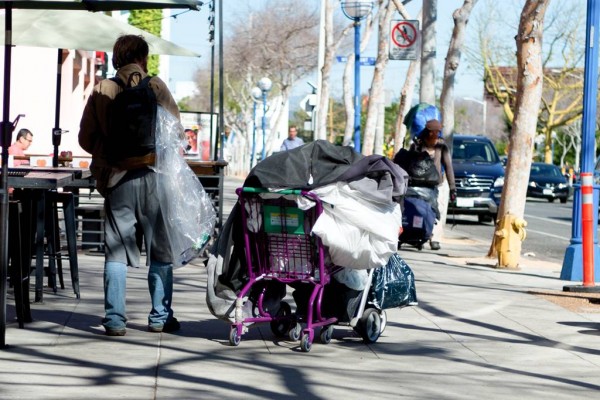 West Hollywood's homeless population has increased by 30% according to data from the annual homeless count released today by the Los Angeles Homeless Services Authority.
The LAHSA report shows a count of 105 homeless people in WeHo during an annual street survey conducted in January. That compares with 81 counted in 2016 and 54 in 2015. The current report varies from that released last year, which showed 87 homeless people in West Hollywood, because of alterations LAHSA has made in its calculation of the count.
The count showed an increase of 16% of homeless people in all of Los Angeles County, with a total of 49,698. However, it does include Long Beach, Glendale and Pasadena, which conduct their own counts. The annual count is conducted by volunteers for the L.A. Continuum of Care, a local planning body that coordinates housing and services funding for the homeless.
Of those counted in West Hollywood, most were found on the street, with four in vans, two in tents and eight in makeshift shelters.
Beverly Hills, a city adjacent to WeHo with a population of a similar size but nearly four times the land mass, had a count of 31 homeless people. That is a 94% increase from the 16 counted last year.
Other Westside cities and their 2017 homeless count include Santa Monica, 855 homeless for an increase of 20%, and Culver City, 226 homeless for an increase of 85%.
Given the transient nature of homeless people, the count cannot be interpreted as exact. And given changes in the LAHSA's methodology, year over year comparisons are not exact either.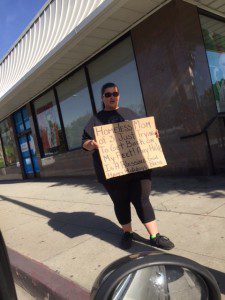 Homelessness is a major issue in Los Angeles County, where rents have risen sharply as the construction of new housing has failed to keep up with population growth. New housing is a major issue in cities such as West Hollywood, where owners of houses and condominiums traditionally have opposed new developments that would put downward pressure on rents.
Proposition HHH, approved in November by voters in the City of Los Angeles, will provide $1.2 billion in bond money to build permanent housing over a ten-year period. Measure H, approved by county voters in March, will provide $3.5 billion over 10 years for rent subsidies and services. Together those measures are expected to create or subsidize 15,000 housing units and provide assistance to those living in them.
The City of West Hollywood also has stepped up its efforts to address the issue. In October last year, the city initiated a pilot program to provide outreach and services to homeless people at West Hollywood Library. Also, Social Services Supervisor Corri Planck was assigned to take on the role of coordinating the city's homeless efforts.
Under the pilot program, homeless people can meet at the library during certain hours with organizations with which the city has contracted to provide services. Those organizations provide an array of services, ranging from housing and shelter to mental health and substance abuse treatment. The city contracts with other agencies such as the L.A. LGBT Center and homeless shelter providers for services.
Planck, in an interview with WEHOville in January, said there are no easy solutions to homelessness. One of the issues she said, is the ease with which people can cross the city's boundaries. That's one reason why West Hollywood is working with countywide agencies on the problem. Another issue is that homelessness can be the result of several different factors: poverty, mental illness and drug addiction, among them. Also there is a lack of affordable housing. "What we need regionally is more affordable housing, more housing vouchers and resources," Planck said.