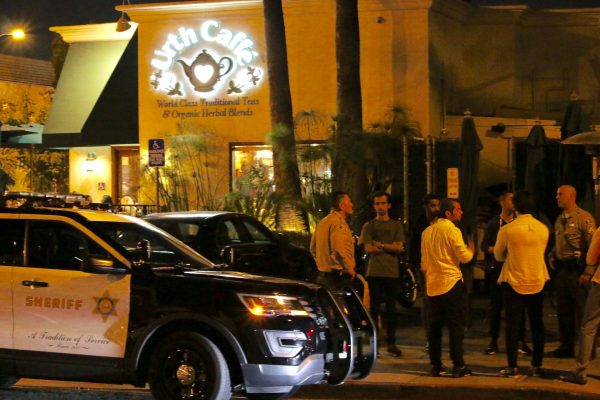 Two men armed with handguns staged a robbery on Melrose Avenue outside Urth Caffé last night.
Lt. Edward Ramirez of the West Hollywood Sheriff's Station said the men, both black, approached the victims around 10:30 p.m. and demanded that they turn over their wristwatches. One man, faced with a gun, surrendered his watch, an Audemars Piguet valued at an estimated $30,000. The other victim, who had a handgun in his waistband, pushed the robber away at which point both suspects ran north on Westmount Drive.
One suspect is estimated to be between 18 and 25 years-old, 5'6" tall with a thin-build and was wearing dark clothing.
The other was wearing a black hooded sweater and a red baseball hat.
Sheriff's Deputy Charles Duncan said that about 10 minutes later residents called 911 to report two suspicious men running near Willoughby and Croft. That prompted the Sheriff's Station to set up a perimeter around the area, assisted by the Beverly Hills Police and the L.A. Police Department's Air Support Division, whose helicopter circled the Tri-West neighborhood searching for the suspects. Deputies searched a building under construction in the neighborhood after someone said he'd seen two black men enter the property and hide in a portable restroom on the site. They were unable to find the suspects.
Anyone with information about this incident is encouraged to contact the West Hollywood Station Detective Greg Boagni at (310) 358-4041.  If you prefer to provide information anonymously, you may call "Crime Stoppers" by dialing (800) 222-TIPS (8477) by using the website http://lacrimestoppers.org
Note: This story was updated at 1:50 p.m. to add information regarding the looks of the suspects and the name of the detective in charge.