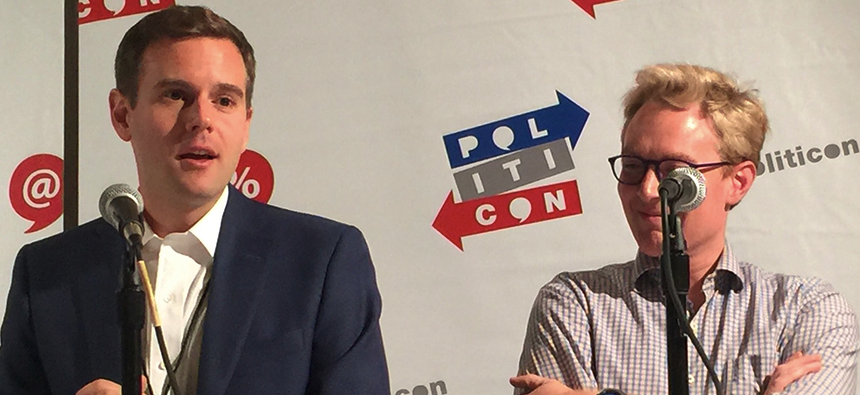 There was no name calling or chair throwing during this session.
At Politicon 2017, a panel comprised of LGBT conservatives and progressives signaled that in this era of Trump, the two sides may be more open than ever to working together.
"Everything in the media right now is conservative versus liberal, Republican versus Democrat. I hate that. It is so dumb," said Alex Mohajer, co-founder of the progressive advocacy organization Bros4America.
"Why is everything being boxed into this dichotomy of false choice?" wondered Mohajer. "We can have common ground, we can build coalitions. We can unite on certain issues."
"It's sort of a time now where we have to look to each other, to stick together and build coalitions with one another to protect our rights and our interests," he added.
Joining Mohajer on the spirited panel were singer-turned political activist Clay Aiken, Fox News contributor Guy Benson (pictured above with Aiken), the Los Angeles LGBT Center's Terra Russell Slavin and Log Cabin Republicans of California – Los Angeles President Matthew Craffey.
More than 10,000 people attended this year's Politicon at the Pasadena Convention Center. The annual bi-partisan event brings Republicans, Democrats and people of all political stripes together, providing a unique platform for opposing ideologies to meet. The "LGBTQ in the 21st Century" panel, facilitated by Melissa Goodman of the ACLU of Southern California, was largely free of the fireworks that consumed other panels. It was the only LGBT-themed panel of the weekend-long conference.
"One actual sign of progress is that gay people and LGBTQ people don't have to be single issue voters," said Benson, an openly gay Republican and political editor of the conservative news organization Townhall.com. "We're free to have open minds and our own set of priorities."
Benson said Republicans are needed within the LGBT coalition, adding "It would be super helpful if some folks on the left stopped attacking us as self-loathing or mean-spirited. I promise you I'm not self-loathing. I promise you. My boyfriend will tell you the same thing."
While he is asking for respect, Benson is also paying respect to progressives who fought so hard for LGBT equality.
"I would not have the freedom to think about one day proposing to my boyfriend or living a normal life as a gay man in America without the very hard work of lots of people who would never agree with my politics–gay rights activists on the left," he said.
"I have to thank them and be grateful for the hard work they've done. I want to pay homage to them and take my hat off to them and also say, 'Now let's have that toleration work in both directions."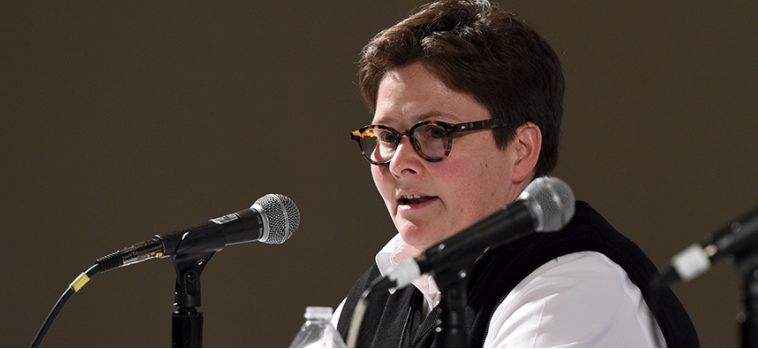 Slavin (pictured above), the Center's Deputy Director of Policy & Community Building, said "the issue isn't that you're a Republican so you must hate LGBT people. I don't agree with that attitude."
"I think the issue is that if you're a Republican and you can't call out actions that are Islamophobic or anti-LGBTQ, that's a problem."
Deep Concern Over Trump's Actions
Slavin is deeply concerned with well-publicized things like President Donald Trump's "dehumanizing" tweet last week announcing that he plans to ban transgender people from the US military.
She noted other alarming setbacks, including the actions of the Department of Education and the Department of Justice to rescind guidance that protects transgender students in schools and the US Department of Health and Human Services' notice of its intent to rescind a non-discrimination rule in the Affordable Care Act that covers gender identity.
There's also the US Department of Housing and Urban Development removing resources on its website designed to help housing providers comply with nondiscrimination rules that protect LGBT people.
"I think this is just the start," Slavin warned.
Working with Trump Administration
Craffey of the Log Cabin Republican Club said this is why the oft-maligned LGBT conservatives are so important right now.
"I'm not telling anyone that they should support Trump or that they should like him or whatever," he said. "I'm just saying it's the administration that's in power so you have to work sometimes with those that are in power. I've lost plenty of friends who have said, 'The fact that you will even engage with the enemy is a reason I can't respect you as an individual.' That's not where the dialogue should be."
Aiken, the "American Idol" and "The Celebrity Apprentice" runner-up, admitted that while he is "bothered by Donald Trump and his lack of clarity," he's even more bothered by the prospect of Vice President Mike Pence ascending to the Oval Office.
"There's a little piece of me that would rather Donald Trump stay president and get jack**** done for four years as he's so successfully done for six months than have Mike Pence become president and get a lot done in four years."
EDITOR'S NOTE: This article originally was published on the LA LGBT Center's Vanguard blog and is being republished with its permission.