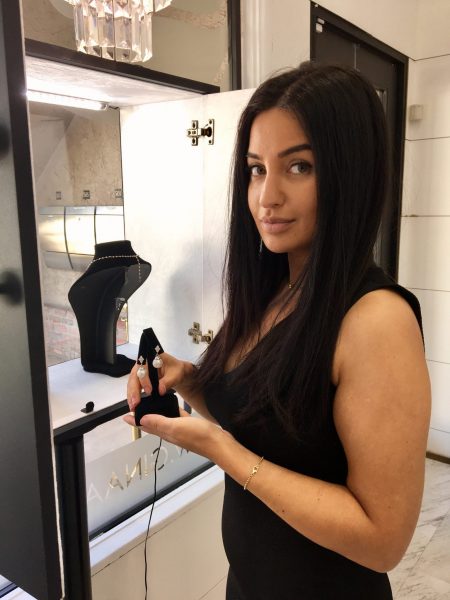 When you meet Gina Amir, 34, owner of the jewelry studio in her own name near the corner of Robertson Boulevard and Melrose Avenue, the first two physical traits you notice are her long midnight-black hair and her large eyes. Enhanced by eyeliner and makeup, it's the irises themselves that, well, sparkle, like gemstones she might use in her work.
"I opened my first store in Cologne, Germany," Amir said, after studying gemology near Frankfurt. "Eleven years ago I decided to expand the business and move to the States." She opened up about why jewelry is her passion, entrepreneurial joys and challenges – as well as about her naughty kitty cat and why she chose to continue her business in WeHo.
WEHOville: How do you describe what you do?
Gina Amir: What I do is the world of design. Customers can have one-on-one sessions. They give me a vision and I put their vision into reality. At the same time we have our own designs where customers can come in if they're looking for something new.
Q. How does the design process work from concept to execution?
Amir: It's always different. Sometimes you see beautiful stones. Sometimes you have a gorgeous diamond, and you get an idea. You're like, "Wow, this would look great on a ring." Sometimes I'm in the mood of big earrings, maybe something edgy. Then I draw something, and we'll put it into the computer (which) will tell us exact measurements. We then put the stones together.
Q. How long does it take to make that ring, for example? (I point at a delicate circle made with 18-carat white gold and dozens of little diamonds).
Amir: A ring like this? I would have the idea, draw it out on a piece of paper with as much detail as possible. Then we would cast it. I'd say…a week. And then only because the machinery…there's different steps and every step needs at least a day. Our stones are all handset so a piece like this, you have over 200 fully cut, raw, brilliant diamonds. All one millimeter stones each. You can imagine that to set these by hand it's a little time-consuming.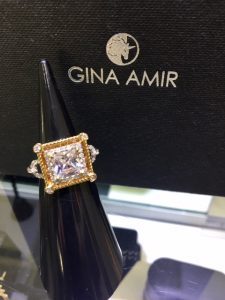 Q. Was jewelry something you were always interested in?
Amir: I always knew I wanted to be a jewelry designer. When I was eight years old I used to pick flowers. A lot of girls probably do that. But I started hands-on as soon as I could –with whatever I could. Jewelry has always been my main passion, the main thing that I always wanted to do.
Q. Are there favorite materials you like to work with?
Amir: You know, I love everything jewelry-related. (laughs) Obviously diamonds because they are the hardest stones.
Q. And why is the hardness of the stones important?
Amir: Once you custom-make a mounting and you want to [design] a ring…or do milligram edging…it's almost like tattooing the metal…putting some accents and designs onto it. Nothing will happen to the stone. So it's really easy to work with diamonds. Versus an emerald will crack because it's extremely soft. That doesn't mean diamonds are my favorite stones. I love all colored stones. It has nothing to do with the value, only with the beauty of it.
Q. Where do you get your product? Is it conflict-free? How do you make sure your stones are fair trade?
Amir: We make sure that our diamonds are not conflict diamonds. All of them have to pass the Kimberley requirements. That's something that's very important to us because I know, unfortunately, I'm in a trade where people die and really suffer over diamonds. It's something you always think about. As long as you personally try to do the right thing, know where your stones are from. I like to purchase a lot of stones, Indian stones. Israel really makes sure that nothing is conflict-related.
Q. Anywhere else?
Amir: There's a lot of Asian jade. The most beautiful emeralds come from Colombia. Diamonds, the main source has been Africa, through DeBeers, but now there's new mines in Canada.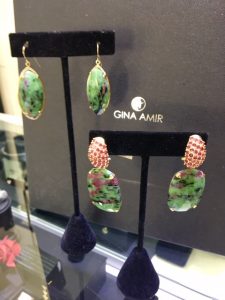 Q. Tell me about your customers.
Amir: A lot of new couples. We don't get too many people off the street. We only work by appointment. We have a lot of ladies who really appreciate jewelry. They really like to come in and design their own pieces with me. That's probably 80% of our clientele.
Q. Do men come in?
Amir: Oh, a lot.
Q. Same-sex couples?
Amir: Oh definitely. Definitely. Both men and women. It's always fun to work with them because they're so much more open to doing something different. And I love that.
Q. Why did you choose WeHo for your store?
Amir: I feel I belong here. I'm very accepted. It's a community of artists and entrepreneurs. It's like the arts district of LA. If you make something outside of the box, you don't get judged. People come here because they want to see different things. It's extremely artistic.
Q. Tell me about your background. Where are you from?
Amir: I'm Persian originally. I was born in Iran. My parents left after the revolution. I was less than a year old. I grew up mainly in Germany because nothing changed in my motherland. I had my education in Germany. I traveled for three years, literally [living] out of my suitcase. Italy, France, Spain, Switzerland, all of the major countries, for the biggest jewelry expos. I got a lot of experience. (But) it was always my dream to live in the U.S.
Q. So you speak German?
Amir: Yes. German is my first language. My parents always spoke Farsi to me.
Q. I noticed there's a mezuzah on the doorway. Are you Jewish?
Amir: I didn't grow up as a Jewish girl but Vin (Vin Cohen, her fiancé) and I both believe in the Jewish religion, the Jewish faith. And Persians actually are…Iran has one of the largest Jewish populations. Since I am not Arab…my last name sounds Arabic, but even in Israel, the name Amir is very common as a first name and last name.
Q. If I can expand, then, culturally it wasn't a big deal for you to fall in love with a Jewish man?
Amir: Absolutely not. No. And I was never raised that way. My parents…we are all humans of this world. We don't draw lines and borders. That's not how I think.
Q. Knowing that about you now, it ties in with you choosing WeHo, that theme of openness.
Amir: That's exactly why I chose WeHo. Because WeHo is really free. People don't get judged. People can live the way they want no matter what color, what sex. And that's how I always like to live. I don't like to judge and I don't like to be judged.
Q. What gives you the most satisfaction in your work?
Amir: Giving people joy. And the biggest joy is new couples. You design a piece that is so sentimental, which stays sentimental for so many years to come and gets passed down to their children. Just being part of that process is such good energy.
Q. And what is the most challenging?
Amir: I'm sure you heard we had a robbery. That's very challenging. It was a big shock. We're still in shock. To deal with something like that. You feel really violated.
Q. Starting the business. Did you use your own money? Did you get investors or loans?
Amir: I never got a single loan in my life. When I opened my first store I was 21. And I did it with my own earned money. I was working for (a big compan)  in gemstones and jewelry overall. Opportunities like that allowed me to tap into the business. And my commissions grew, you know. But I was never…I would put everything I earned back into the business. Instead of going and buying designer purses, or whatever, I would just go and buy gold and stock it up so I could make something with it.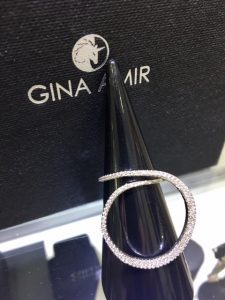 Q. Is there anything you want to let people in WeHo know?
Amir: I love you West Hollywood! (laughs) If you're up for fun design sessions, please come in.
Q. You want people to know that you do custom designs.
Amir: Absolutely. No limits. If they want a grill, or if they want something for their dogs…Whatever they want.
Q. Have you had people come in for their dogs?
Amir: A lot. Collars. Nametags. A lot of people have maybe the face of their dog engraved on their pendant. I have pets myself. They're like children.
Q. What kind of pets do you have?
Amir: I have a cat. Just the one cat but she just had kittens. She's extremely active. (laughs) She keeps us on our toes. She's awful. (we both laugh)
Q. What's the most surprising anecdote you could share with us about being a jewelry designer?
Amir: I get to meet people I didn't really count on when I thought about opening this store. I get a lot of people from the (Hollywood) Hills and they bring us…they (might) have a name for their mansion. They call it "Something Manor." They have us design a plaque for their home. They have very extraordinary homes.
Q. Can you share specifics?
Amir: (He) was a gentleman, actually, very high profile. I don't want to share his name. He came in super humble, by himself. He sat here with me, designed the plaque with me. He was so fun to work with and easygoing. Instead of, you know, their personal assistants. He enjoyed the design process as much as I did.
Q. Can you tell us the name of the house?
Amir: Unfortunately, I can't. I'm sorry.
You say no in the nicest way, Gina.
(Amir laughs)
Q. When you say he's high-profile, do you mean he's in the entertainment industry?
Amir: A-list actor. (But) I can tell you [the name of his house] ends with "manor." [laughs]
Gina Amir Atelier
509 N. Robertson Blvd.
West Hollywood, CA 90048
310-858-8377
ginaamiratelier.com
adorn@ginaamir.com
…