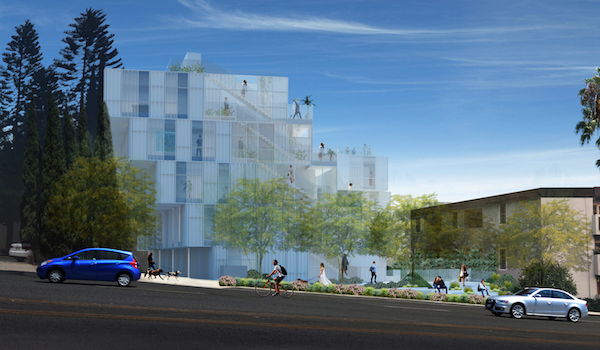 West Hollywood's Planning Commission Thursday night gave unanimous approval to a new condominium building with a contemporary design so unique that it will likely become a landmark in the city.
Designed by renowned architect Lorcan O'Herlihy, the L-shaped building will have "stepped massing" on a sloping site. Each floor will be stepped back from the floor below to give the appearance of steps on its southern side, but inverted steps on its northern side.
The five-story, 23-unit, 16,000-square-foot condominium building with two levels of underground parking will replace two single-family houses at 1136 and 1142 La Cienega Boulevard, just south of Fountain Avenue. Four of the units will be set aside for low-income residents.
The commissioners praised O'Herlihy's design. Newly elected Commission Chair Sue Buckner called it a "beautiful building," while Commissioner Lynn Hoopingarner said it was an "exceptional design" that will "fit in beautifully with the neighborhood."
Commissioner Stacy Jones commented, "We don't really have another building like this in West Hollywood. I do think it is exemplary."
Commissioner Rogerio Carvalheiro, an architect, declared, "I think this building is a great example of a contemporary building that uses local historic prescience to tailor a project that cultivates urban community both inside and outside its walls."
"Like La Fontaine, which was built in 1928 on Fountain Avenue, it stacks its building to one side and creates a beautiful courtyard that interacts with the public realm," Carvalheiro continued. "Like La Fontaine, it goes way above the height limit which creates a beautiful anchor for that intersection and for that street and therefore almost a guiding post for the community."
Owned by 1136/1142 La Cienega LLC, the project requested a slight modification to the rear setback. City zoning laws require the building be 15 feet from the rear property line. State incorporation filings list 1136/1142 La Cienega LLC as associated with Yosef Simsolo and Yigal Reani.
The design calls for the rear of the building to be pivoted slightly so that windows of the new building will not look directly into the windows of the building behind it on Hacienda Place.
With that pivot design, plans call for the northern part of the building to only be 13.5 feet from the rear property line, while other portions of it will be 17 feet from the property line.
While Commissioner John Altschul loved the project, calling it "extraordinarily magnificent," he did not approve of this setback modification.
"Setbacks, I think, are sacrosanct," said Altschul. "It's not something you can toy with or tweak at your convenience because you need an extra few inches to monetize your project."
Altschul explained setbacks are there to offer a small degree of privacy with the neighboring property.
"That's their privacy and it's sort of all we have to offer in a town of this density," Altschul said. "The setback requirements are to create a little space between us and our neighbors."
Hoopingarner agreed, saying the design could be modified to maintain the 15-foot setback throughout.
However, the other commissioners felt that 17-foot setback on the southern end balanced out the 13.5-foot setback on the northern end. Ultimately, the project was approved with language that said it should have an "average" setback of 15 feet across the rear property line.
Several of the nine people speaking during public comment expressed concern about the extra traffic the project would generate on the perpetually congested La Cienega.
The other major concern was about cars leaving the building turning left onto La Cienega. The commission discussed forbidding left turns from the building but realized there was no real way to enforce that rule.
Hoopingarner also warned that the high water table in that part of town might not allow them to dig two levels of underground parking.
After receiving the commission's blessing, O'Herlihy told WEHOville he enjoyed creating the building.
"It's an exciting project, because it's about urban engagement with the street and creating something which avoids big boxes," O'Herlihy said. "I was very happy with the solution and happy that they liked the project. It's trying to really think how you do these buildings and that's the most exciting thing for me. It's in a creative city and I think the solution is creative."
Wine Shop Delayed
The Planning Commission was also scheduled to consider a permit for off-site alcohol sales for the Wine Shop at 8500 Sunset Blvd, in western portion of the Sunset-La Cienega project. That 1,000 square foot shop would specialize in selling bottles of premium wine and be connected to the Tesse restaurant, specializing in French Californian cuisine, scheduled to open in November. However, amid concerns that the public notice regarding this hearing not going out in time, the commission voted to postpone that hearing until its Aug 17 meeting.