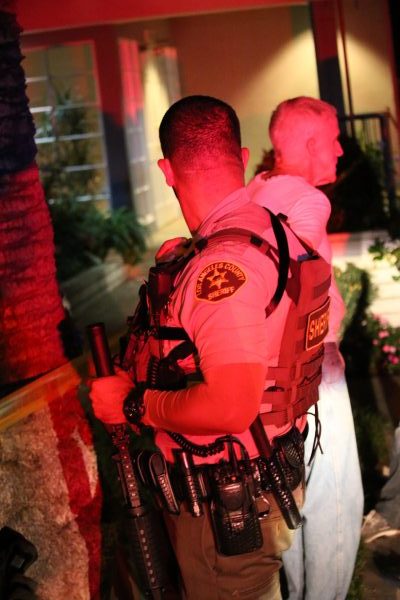 EDITOR'S NOTE:  The following story has been updated with new information from the West Hollywood Sheriff's Station, including the name of the burglary suspect.
The neighborhood surrounding the 8200 block of De Longpre Avenue between Harper and Sweetzer avenues was abuzz last night and this morning as West Hollywood Sheriff's deputies tried to extract an alleged robber who had barricaded himself inside an apartment.
Deputies from the West Hollywood Sheriff's Station responded at about 9:45 p.m. to a call from a resident who said he had walked out of his apartment briefly, leaving the door open and unlocked, and returned to find it was closed and locked. He told deputies that he believed someone had entered his apartment, where he had several firearms.
Deputies from the L.A. Sheriff's Department's Special Enforcement Bureau were called to the scene to try to talk the man inside the apartment into coming out. When that approach didn't work, they tossed tear gas into the apartment. Meanwhile, deputies had established a security perimeter around the location and evacuated nearby residents.
Deputies finally entered the apartment around 7:15 a.m. and arrested Benjamin Owen Hales, 36, who was not armed. He was taken to the West Hollywood Sheriff's Station where he was booked on charges of burglary and vandalism and is being held in lieu of $55,000 bail.