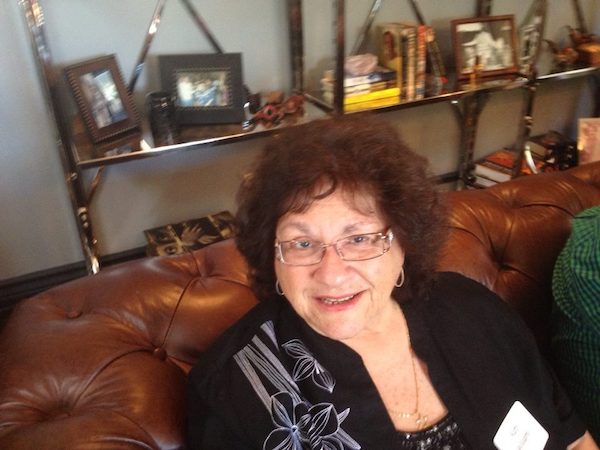 EDITOR'S NOTE: The is the first in a series of occasional stories titled "The Grownups" about West Hollywood residents 75 years old or older who are active in civic life.
She's been called the Mother of West Hollywood. She helped conceive the city, worked tirelessly to make sure the city was born and was a guiding force in shaping the city into one strong on renter's rights, LGBT rights, public safety, social justice and progressive values.
This week marks the 69th anniversary of her arrival in the city she helped nurture into existence.
On August 8, 1948, ten-and-a-half-year-old Ruth Williams (né Forster) moved to West Hollywood with her mother, Lillian. Their arrival likely went unnoticed, except possibly by their immediate neighbors on the 1200 block of Fuller Avenue. Nonetheless, it would prove to be a momentous day as the city's future mother had arrived.
"At this point, you could probably say I'm the grandmother of the city, maybe even the great-grandmother," laughs the 79-year-old Williams. "I love West Hollywood. I love this city for who we are. It's such a vibrant, loving, caring, giving community. I love that we're a diverse community, a compassionate community. I love the examples that we've set for the nation, for the entire world. I'm glad to have played a part in making that happen."
West Hollywood Mayor John Heilman has admired Williams throughout the 33 years he has known her.
"Ruth has been such an incredible community activist, a community leader," Heilman says. "Her values are in her heart, and she lives her values every day. We're lucky to have her as a part of our community."
Williams' dedication to the city is legendary and has inspired many, including transgender activist Drian Juarez, who considers Williams both a mentor and a friend.
"I think the city means so much to her because the city's values are the same values Ruth has," explains Juarez, who met Williams a decade ago when the two worked together to put on a transgender job fair. "What really comes through with Ruth is her love for the community and her love of the people around her. Ruth is a gift to have in your life. She just embraces you and surrounds you with her positive energy. If you are lucky enough to call Ruth your friend, you are indeed a very lucky person."
Protecting Her Home
When asked why she is so dedicated to West Hollywood, Williams replies, "It's my city. It's where I live. It's where I grew up. It's where my children grew up. It's where two of my grandchildren were born. It's my home."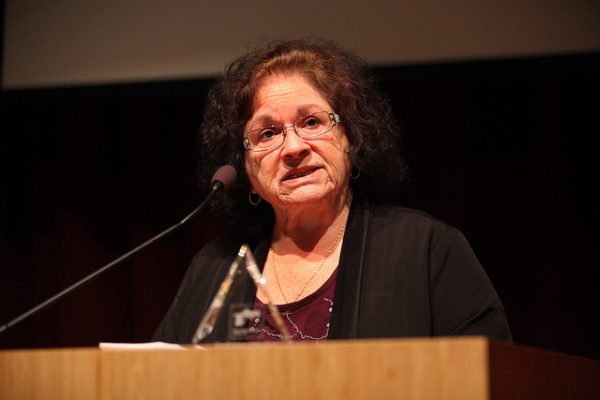 She defines "home" as "a loving, safe place surrounded by family." Preserving that feeling of home seems to drive Williams. When she feels something is threatening her sense of home, she gets fiercely protective.
As a single mother of three young boys in the 1970s, when the West Hollywood area was unincorporated and still a part of Los Angeles County, apartment rents were skyrocketing. She was paying $225 a month (a fairly standard rent the area at the time), but many of her neighbors were getting 300% rent increases.
Worried that she would not be able to keep a roof over her family's head if she was hit with a similar rent hike, she worked with the Coalition for Economic Survival to successfully lobby Los Angeles County to establish rent control.
In 1983, when those rent controls were due to be phased out, Williams again panicked. One of the first meetings to discuss forming the city of West Hollywood was held in her living room on Lexington Avenue.
There had been four earlier attempts at incorporation (in 1957, 1960, 1963 and 1966), but those never took off. However, this time the incorporation idea coalesced around renters' rights and LGBT rights (since the area had such a large gay population).
Among the many volunteers, Williams worked relentlessly on the cityhood movement, spending months organizing rallies, working the phones and going door to door, talking up the idea of creating a new city.
In the November 1984 election, cityhood was approved by a 2-to-1 margin – 10,627 votes for incorporation vs. 5,218 against.
She helped draft the city's tough rent stabilization laws and served on the city's original Rent Stabilization Commission, appointed by the city's first mayor, Valerie Terrigno.
Protecting Her Neighborhood
Despite those successes, Williams' work did not stop. She continued to make sure her home was safe. Amid a growing crime rate in her Eastside neighborhood, she organized a Neighborhood Watch group, serving as the area captain.
When street prostitution along Santa Monica Boulevard on the city's Eastside was escalating, she created ACES (Alliance of Citizens for the East Side) to fight it. The result was a dramatic downturn of male hustlers in that part of town.
Later, recognizing that the city's Eastside was lagging economically compared to the city's Westside, she formed a foundation which led to the creation of the city's redevelopment agency as well as the Eastside PAC (Project Area Committee). The result was many new developments and businesses got started on the Eastside.
Political activist Norman Chramoff considers Williams a long time and "loyal friend." He is amazed by her resolve.
"When Ruth sees something that needs to be done, she can be a tigress," says Chramoff, who first met Williams in the 1970s when both were working on the renters' movement. "She likes the limelight, but she has a good heart. If she cares about it, she gets it done or gets people to help her get it done. Ruth always finishes what Ruth starts."
Preserving Public Safety
Over the years, Williams discovered that her true passion is for public safety. The area was safe for her as a young girl and still safe for her kids growing up in the 1970s. She wants to preserve that safety as much as possible.
"We didn't really lock our doors when I was growing up," she recalls. "My kids would go off to play in Plummer Park, and I wouldn't worry about them. I realize times have changed as the area has evolved, but keeping that sense of safety is vital."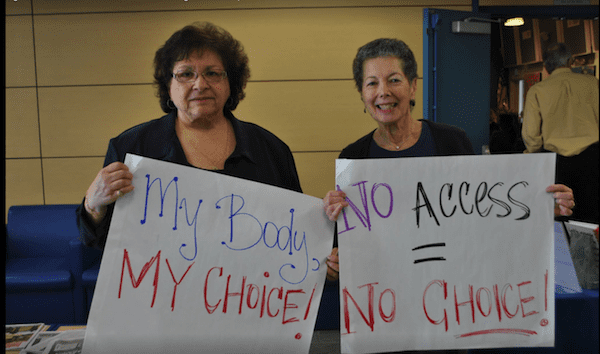 Consequently, she has served on the city's Public Safety Commission since the 1990s (save for a few years off). In fact, it was a result of Williams and then City Councilmember Steve Schulte talking about forming a police commission that the Public Safety Commission was created in 1989 (the city's contract with the Los Angeles County Sheriff's Department didn't allow for creation of a police commission, so the Public Safety Commission was created to provide oversight).
"Public safety is the backbone of West Hollywood," says Williams, who ran for City Council in 1984, 1990 and 2001, and isn't ruling out a run in 2017. "It's a safer city than a lot of people think it is. When you look at the demographics of the city, we have 35,000 residents, and in the daytime, it triples with the workers coming in. They leave, and it triples again with all of the nightlife. We've become such a visible city.
"We've become notorious as a celebrity city, a party town, 'the place to come.' Naturally, we're going to draw a bad element in . . . To me, one crime is too much crime, but you can't put a deputy on every corner. Yes, car break-ins are up, but if you look at how many people are here at one time, we're really lucky we don't have a huge amount of crime here."
Williams is a strong advocate of the sheriff's department, believing it is responsive and cost effective. In 1992, when the city held a ballot initiative to consider creating its own police force to replace a then somewhat homophobic and unresponsive sheriff's department, she successfully campaigned against it, creating a Save our Sheriff group.
Estevan Montemayor has served with Williams on the Public Safety Commission for the past two years. He appreciates the insights she brings to the commission's discussions and the loving guidance she has offered him.
"Ruth is a dynamic leader," says Montemayor. "She's isn't just a friend to me. She's almost like family. She's taken me in, taken me under her wing, has taught me so much about the city, the commission and the [sheriff's] department, one that she knows so much about. She's constantly thinking about ways to make our citizens safe . . . She's also taught me about being compassionate and about being a leader."
Kristin Cook, the city's Director of Public Safety, calls Williams' dedication "unparalleled."
"She's such a great supporter of sheriff and fire and our mission in Public Safety to make the neighborhoods more livable and create that unique balance between commercial and residential," says Cook. "She has always been a tremendous supporter of public safety."
In recent years, the Public Safety Commission has come under fire for not doing enough, especially about crosswalk safety and homelessness.
"People are entitled to criticize us, but do some research before saying, 'You're not doing this, you're not doing that,'" Williams says. "Look at the history and you'll see we have talked about crosswalks, cameras and homeless."
Social Justice and Civic Involvement
Williams credits her sense of civic involvement to her father, Oscar Forster, a businessman who served on the borough (city) council of Phoenixville, Penn., a small town just 30 miles northwest of Philadelphia, near Valley Forge.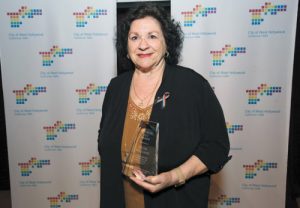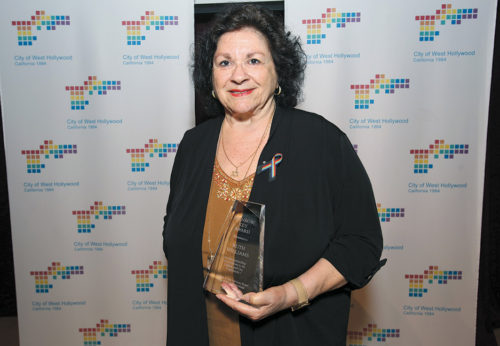 She also credits her dedication to helping others and to social justice back to the anti-Semitic prejudices she experienced as a young child growing up in Phoenixville.
"I know what it's like to be called a 'Christ killer' and asked 'Where are your horns and tail,'" she says. "My father told me never to forget how much it hurt to be called names."
Although much of her career was spent in the entertainment industry, in the late 1990s, she worked for PATH (People Assisting the Homeless). Starting in 2001, she worked 14 years as the director of advocacy at the L.A. chapter of the National Council of Jewish Women, where she spearheaded many social justice programs.
She traces her passion for helping the LGBT community back to her late brother.
"My brother was gay, and I always knew it and he would never ever really come out to me, no matter how hard I tried," she says. "I'm still angry that he didn't trust me enough to open up to me. That that's one of the reasons I've been so involved in the gay community."
Her dedication to the LGBT community was honored last year when she received one of the city's prestigious Rainbow Key Awards.
Defending Her Devotion
Despite all these accomplishments, she has been criticized for devoting so much time to the city and causes over the years. She dismisses those critics saying they are "not taking the time to understand the situation."
"This is my home, and I wanted to make it the best place possible," she says. "A lot of it wouldn't exist if someone didn't care enough to do something. When it comes to critical issues, I try to figure out how to get it done."
Although family is important to her, Williams concedes it hasn't always been her top priority. "I put my family second when it came to fighting for rent control. And for cityhood," she says. "My youngest son will still tell you that I had him out precinct walking with me on his 16th birthday."
As she has aged, she has devoted more time to family, especially her three grandchildren. "Now that I'm older, I enjoy the time I get to spend with my family even more," she says.
Mid-Century West Hollywood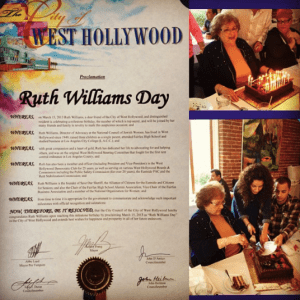 Ironically, when Williams arrived in West Hollywood in 1948, she didn't especially like it. The arid climate was a huge adjustment compared to the hot and humid East Coast. The attitudes here were also different thanks to the influence of Hollywood. Young girls here seemed to be especially cliquish and into clothes and makeup.
She notes that West Hollywood was still a small town then, made up primarily of single-family homes. It was a place where you got to know your neighbors, most of whom were here to stay.
While attending Fairfax High School, she worked her first job in the ticket booth at the Monica Theater, which was then a neighborhood movie house (it's now the Studs Theater, showing porno movies). Later she worked at the Ajax Answering Service, a telephone answering service with offices on the corner of Santa Monica Boulevard and Fairfax Avenue.
After high school graduation, she considered returning to the East Coast but had lost touch with a lot of her family. That's when she finally realized West Hollywood was her home.
In the 1970s, she worked as the studio manager at Motown Studios, then headquartered on Fuller Avenue at Romaine Street (now home to Quixote Studios). In the 1980s, she was the scheduling supervisor for stage crew and engineers at KTLA television studios. Both jobs would teach her valuable skills for her activism.
Transient City
She laments that as the city has evolved, it has lost much of that Mayberry-like feeling where you know all your neighbors. Few people seem to be here to stay anymore.
"Judging from my own neighborhood and building that I live in, most people still have their out-of-state licenses on their cars, they still pay their rent with out-of-state checks," she says. "When you talk to them and try to get them to register [to vote], they don't have the same buy-in to the city. That's not where their roots are and they're not planning on staying."
Consequently, many people are reluctant to get involved, to be a part of the neighborhood. She notes when she recently tried to restart the Neighborhood Watch group, only two people in her building responded.
"I really don't know what it will take to get people involved. Maybe a 5.0 earthquake?" she ponders. "The only time people get together and get concerned is when something is happening that is going to affect them."
Too Much Development
She's also troubled by the loss of history and community that is occurring thanks to so much development going on. So many places are being torn down and so many people are being forced out as new buildings go up.
As much as she pushed for development of the Eastside in the 1990s, she thinks it may have gone too far. Traffic and infrastructure problems are going to plague the Eastside for many years.
"I honestly don't think we can hold any more big developments on the Eastside," she says. "We've got four large developments [Avalon, the Dylan, the Huxley and the Domain retail-residential projects] on the Eastside now. They don't have many retail businesses and few real [long-term] renters. That's not doing anything to help create a sense of community or neighborhood."
Just because she's turning 80 in March, don't look for Ruth Williams to slow down anytime soon.
"I'm fighting for the Eastside," she says. "They're talking about developing the Madison Car Wash site (7617 Santa Monica Blvd, at Curson) and Fire Station No. 8 (7643 Santa Monica Blvd.). I don't know where they'd put a fire station if they get rid of No. 8. If I say I'm going to do something, I do and I promised Station 8 I would save them."