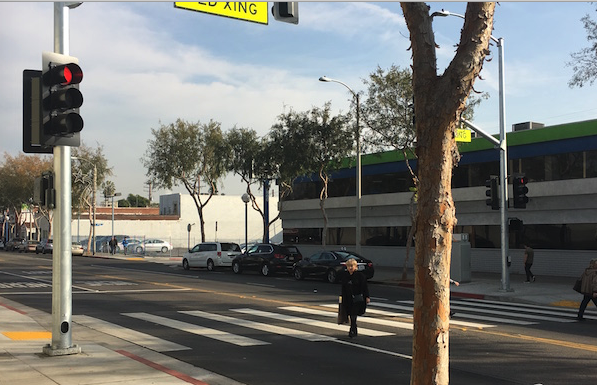 The installation of pedestrian crosswalks with traffic lights on Santa Monica Boulevard has reached a major step with the reopening of the crosswalk at Westmount Drive and the northbound u-turn lane in front of the Ramada Inn and the addition of a southbound u-turn lane.
An announcement from the City of West Hollywood's Public Works Department says work will continue to installing traffic signals at each of the four crosswalk locations on Santa Monica.
This coming week, drivers and pedestrians can expect daily lane closures in the immediate work areas between the hours of 9 a.m. and 4 p.m. Other activities include:
Monday. The contractor will be installing conduit via boring at Hancock Avenue, by Coffee Bean, and at Westmount Drive on the south side. Pedestrian access will be maintained. Also, irrigation work within new median island will be complete.
Tuesday. The contractor will continue working on underground conduits at Westmount Drive on the south side and set controller foundations.
Wednesday. Pull boxes and conduits will be installed at West Knoll Drive within the sidewalk and median. Pedestrian access will be maintained.
Thursday. Conduit will be installed at Hancock Avenue within the sidewalk. Pedestrian access will be maintained.
Friday. Conduit will be installed at Palm Avenue. Pedestrian access will be maintained.
To accommodate the construction, parking meters in the immediate work area may be tagged with Temporary No Parking signs posted 24 hours in advance. The crosswalk at Santa Monica Boulevard and Palm Avenue will remain closed while the new curb ramps are constructed.
The city installed its first traffic light synchronized crosswalk in December on Santa Monica Boulevard between North Orange Grove Avenue and North Ogden Drive. It replaced two unlighted crosswalks, one near Orange Grove and the other near Ogden.
The stoplights at the crosswalks will be able to be activated by a pedestrian, who must push a button on a pole on the sidewalk. The light is coordinated with the traffic light at the intersection of Santa Monica Boulevard and nearby streets.
Residents demanded the city increase efforts to prevent pedestrians from being hit by cars after the death in August 2014 of Clinton Bounds. Bounds, who was inebriated, was hit by a car while walking across Santa Monica Boulevard at night. Initially, it was believed he had been in the Hancock crosswalk, although photos later showed he was jaywalking.