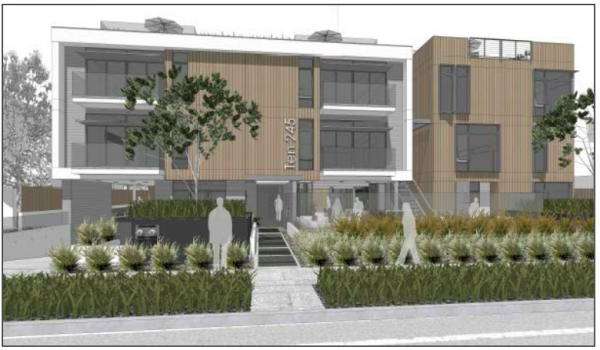 The West Hollywood Planning Commission tonight will review two proposed projects that would require demolition of a total of three single-family homes, which would be replaced by a total of 20 condominium units.
The largest project would require demolition of two single-family houses at 1041-1047 N. Spaulding Ave., between Romaine and Santa Monica Boulevard, which would be replaced by a three-story building that would house 14 condos and have an underground parking garage.
The building is a project of a limited liability company that apparently is owned by Guild GC, a Culver City development firm whose principals are Eric Fishburn and Craig Knight.
The building would include five one-bedroom units and nine two-bedroom units. One of the one-bedroom units would be made available to a very-low-income tenant. The addition of the very-low-income units allows the building to add four units to the 10 otherwise permitted under the city's zoning law.
The project also qualifies for certain concessions as a "green" or environmentally conscious building. The developer is using those concessions to request a reduction in the amount of required private open space, in exchange for which it will provide more common open space.
The project got some pushback in May from the Planning Commission's Design Review Subcommittee, with some members saying the front yard was not as pedestrian friendly as it could be and that the open staircase should be better integrated with the front year. The developer has made those changes.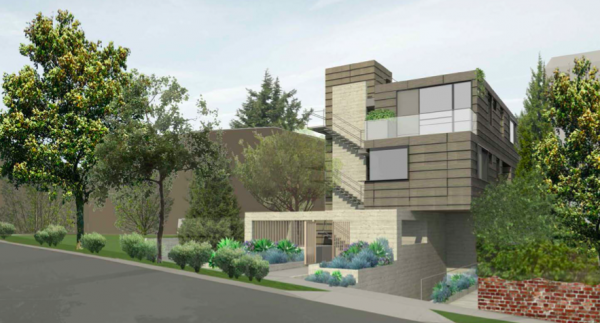 Another proposal on tonight's agenda is to demolish a single-family home on Cory Avenue and replace it with a six-unit condominium building.
The house is on 1012 Cory Ave. between Sunset Boulevard and Phyllis Street. The condo building is a project of Elite Investment Management Group, a firm owned by Meir Silbani and Jonathan Menlo.
The proposed building would be three-stories high with an underground parking lot. One of the six units would be set aside for a low-income renter.
Zoning for the lot on which the project would be built restricts it to four units. However, Elite's decision to add a low-income unit allows it to build a total of six units on the property. Four of them would be one-bedroom units and two would be two- bedroom units. Under state law, the developer also is allowed to add an additional story in an area otherwise limited to two stories and to reduce the setback of the building from the street by roughly two feet.
The project also qualifies for certain concessions as a "green" or environmentally conscious building. The concession Elite is seeking would allow it to meet part of the city's requirement for private open space for each unit by proving a common open space area.
Finally, the Planning Commission will consider a request by Noa, a new restaurant planned for the building at 8500 Sunset Blvd., to allow sales of wine at its adjacent Wine Shop for consumption by restaurant diners.
The Commission will meet at 6:30 p.m. at the City Council Chambers, 625 N. San Vicente Blvd., south of Santa Monica. Parking in the five-structure building behind the Council Chambers is free with a ticket validated at the Commission meeting.