What do you do when a pack of coyotes moves into your neighborhood? That's the problem that a West Hollywood neighborhood is grappling with, but not finding many solutions.
Residents living in the densely populated area due west of Plummer Park have been seeing a group of three to four coyotes regularly since June. These coyotes seem to be most frequently sighted in the area north of Santa Monica Boulevard between Curson and Genesee avenues.
Daniel Cammarata, who lives near the intersection of Spaulding Avenue and Hampton Avenue, reports regular sightings. One is a larger red coyote that he has seen so often that he's nicknamed it "Big Red." The others are smaller gray coyotes that appear to be about a year old.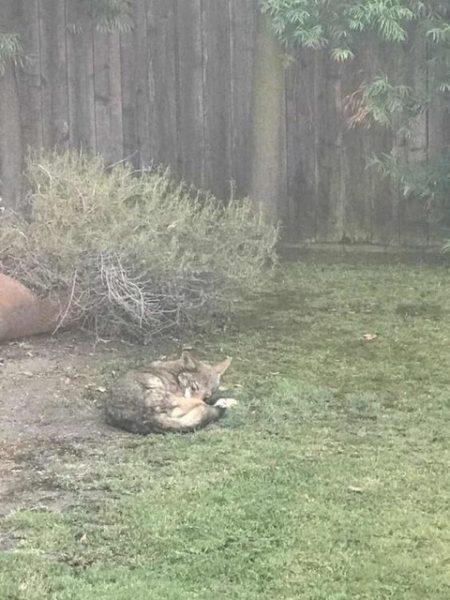 Cammarata's boyfriend, Axel Jordan, tells WEHOville he was followed several blocks by one of the grey coyotes one night about two weeks ago. The coyote maintained about a half block distance (approximately 200 to 250 feet) until Jordan made enough noise to scare the coyote off.
Ginny Rankin, a dog walker in the area, has not seen the coyotes but has heard many reports from neighbors about them. "Everybody seems to be talking about them," says Rankin. "Every single one of my neighbors has said they've seen them."
The coyotes also have been discussed on NextDoor, a website devoted to small neighborhoods like the area near Plummer Park. One NextDoor poster reported a coyote being bold enough to run up his driveway at 11 a.m. but was startled away upon seeing him.
Coyotes coming down from the Hollywood Hills is nothing unusual; sightings are reported frequently. In fact, on Thursday, WEHOville got a report of a coyote seen on Kings Road.
What is unusual is the fact that the same three or four are being seen in the same area repeatedly. The Plummer Park neighborhood fears the coyotes have set up a den somewhere in the area.
Although no one has reported being attacked, the residents are concerned that the predatory coyotes could attack their small pets. Or worse, small children.
Euthanizing Coyotes
Unfortunately, the residents in this area have few options.
"They either have to live with them or euthanize them," said Andrew Hughan, a public information officer with the California Department of Fish and Wildlife.
Yes, coyotes can be killed. Despite rumors to the contrary, coyotes are not a protected species, Hughan reports. Therefore, under state law and federal law, they can be killed.
"Coyotes have no protection under the law," Hughan said. "They can be trapped and killed just because they are a nuisance."
The only exception, Hughan says, is if a local ordinance prevents them from being killed. West Hollywood does NOT have such an ordinance protecting coyotes, so state law prevails.
"We would prefer people not kill animals. We're a loving city and we love animals," said Jeff Aubel, the city's code compliance manager. "We contract with Los Angeles County, so we would turn the situation over to Los Angeles County Animal Control."
However, L.A. County Animal Control does not deal with wildlife. It directs issues regarding coyotes to the Department of Agriculture.
Patrick Duggan of the Department of Agriculture's Weights and Measures division, says it follows whatever policy the city has set up regarding trapping and killing coyotes.
Killing Them, But Not Harming Them
While the Plummer Park area is in West Hollywood, the area north of Fountain Avenue is in the city of Los Angeles. Coyotes have been spotted there in the Spaulding Square residential area.
Mark Salazar, director of field operations for the City of Los Angeles Animal Services, reports the city of Los Angeles does allow killing urban coyotes.
"If they are trapped and humanely euthanized, that is lawful," Salazar said. "However, if they are harmed or trapped and harmed in the process of euthanizing them, we do not allow that."
Harming a coyote would include poisoning it, using a snare trap, hitting it with a baseball bat, or shooting it with a pellet or BB gun.
As for shooting a coyote with a firearm such as a shotgun or a pistol, that also would be considered harming the animal, Salazar says. The only exception would be if you can prove the coyote was posing an immediate threat.
Hughan of the Department of Fish and Wildlife, explains the firearms and imminent threat situation this way, "If you see a coyote in your backyard and you think it will attack your three-year-old child, you use a gun to protect your child. However, the LAPD may have an issue with firing a gun since it is illegal to discharge a firearm in the city limits."
Professional trappers or pest removal services can be hired to humanely euthanize the coyote. As professionals, they must have the proper business license allowing them to trap a coyote and take it to a facility to be killed.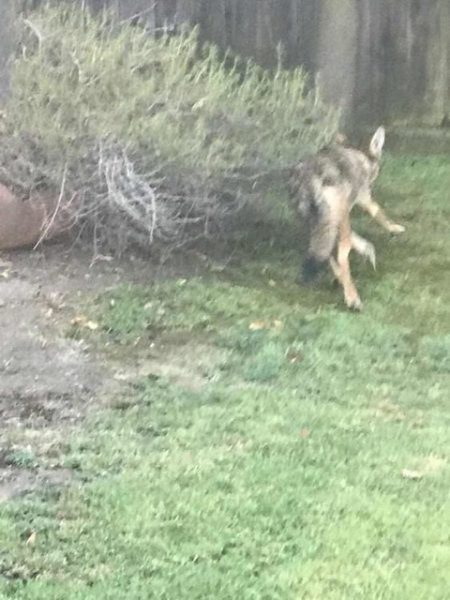 Relocating Coyotes
Cammarata and Rankin say they are not interested in having the animals killed. Instead, they would prefer to see them trapped and relocated back to the Hollywood Hills.
However, relocation is NOT an option. Anyone trying to trap and relocate urban coyotes would need a permit from the Department of Fish and Wildlife to do so. Hughan says his office does not issue such permits.
"We do not issue permits for relocation of coyotes,"  Hughan said. "All that does is move a problem animal from one place to another."
Hughan explained that once a wild animal is "habituated," meaning it has lost its fear of humans, it does not unlearn that behavior. It will always be aggressive toward humans, so relocation is not a solution. An animal relocated to a wilderness area will eventually return to an urban area and create more problems.
If someone is caught relocating a trapped wild animal, he can be fined.
Hughan also warned about scams where people say they will trap the coyote and relocate it into the wilderness for a fee.
"Anyone telling you they will trap a coyote and relocate it is lying to you," Hughan said. "They are taking it to be killed."
Remove Their Food Source
The easiest solution for urban coyotes is to take steps to chase them away.
Residents in Laurel Canyon constantly deal with coyotes. Skip Haynes, a 25-year resident of Laurel Canyon, has become an expert in dealing with the canines.
Haynes said that coyotes primarily feed on rats and small animals. Coyotes are good for the ecosystem because they help control the rodent population. If coyotes were not present, the rat population would explode.
When coyotes come around humans, they are looking for food and water, Haynes explained. So, the easiest thing to do is take away their food source. That means residents should make sure their trash bins are tightly closed. That's especially true of restaurants and other stores that throw unused food in the garbage.
Hughan agreed. "If a coyote learns he can get pizza out of a trash bin regularly, that's where he's going to keep coming for food until that pizza isn't there."
Residents should not leave their small pets outside unattended since coyotes might attack animals up to 25 or 30 pounds, viewing them as prey. Similarly, small children should not be left outside unattended.
In addition, residents should not feed their pets outside, or at least not leave their food and water bowls outside unattended.
Those steps will drastically cut down on the coyotes' food supply. They eventually learn to move on to find food elsewhere.
"It's primarily about removing the food source and letting them not be as comfortable in the area," said Salazar of L.A.'s Animal Services. "Coyotes don't like change."
"Hazing"
At the same time, residents can "haze" the coyotes by making efforts to scare the coyotes away.
Haynes and Hughan both suggest residents take umbrellas with them while out walking. If they see a coyote, quickly open the umbrella in the direction of the coyote. The sight of it suddenly springing opening generally frightens them.
Residents can also take whistles, air sirens and other noise makers with them to frighten the coyotes. If the coyotes are "hazed" often enough, that should send the message to be scared of humans.
The biggest obstacle is getting all the residents in an area to join in the hazing process. That's especially true for an area as densely populated as the one west of Plummer Park. However, Ginny Rankin said putting up signs in the neighborhood and spreading the word on NextDoor.com and social media should help accomplish that.
Hazing coyotes away can take time, and during that process, residents still have to contend with a predatory animal that might attack them or their pets.
Sergio Aloma, the captain of the West Hollywood Sheriff's station, advises that if someone spots a coyote while walking a pet, pick up the pet if it is small enough and carry it back home or to a populated area.
Haynes also advises using leashes that are only six feet long, so the dog remains closer to its owner.
Aloma advises not to run away from the coyote since that might provoke it to attack. Similarly, he says not to approach the coyote either.
"Stand your ground and try to make yourself look bigger," Aloma said. "Have that noise maker with you to frighten them. Just yelling at them or clapping loudly can sometimes be enough to scare them away."
Aloma said that if someone feels imminently threatened by a coyote, they can call for sheriff's deputies. He said that being "stalked" by a coyote would constitute a threat.
If someone finds a coyote den, he or she can also call the sheriff's department to come out and assess the situation.
Skip Haynes said that a coyote den can be something as small as a hole in the ground, or a shed in the backyard. He advises trimming bushes and closing up any holes in fences to help keep coyotes out of yards.
The Department of Fish and Wildlife's website, Keep Me Wild, has other tips for dealing with urban coyotes, as does the California Wildlife Center website.