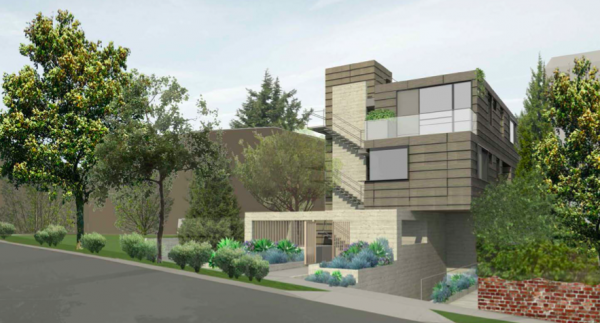 West Hollywood's Planning Commission approved two new condominium buildings during its Thursday night meeting. Once they are built, the two projects will offer a net gain of 17 new residential units in the city, as three single family homes will be demolished to build 20 units.
On a 6-1 vote, the Commission approved a three-story, six-unit condominium building at 1012 Cory Ave., just south of Sunset Boulevard, across from the high-rise building that includes Boa Steakhouse restaurant and the Soho House upscale private club.
The building will have underground parking, a rooftop pool and one unit set aside for lower-income residents. Designed by Los Angeles-based BO.SHI Architects, the property is owned by Elite Investment Management Group, a firm owned by Meir Silbani and Jonathan Menlo.
The commissioners gave lukewarm praise to the design. Commissioner John Altschul said it was an "acceptable" design, but "not sensational," while Commissioner Stacy Jones said she was "not crazy about the design."
Both Commissioner Rogerio Carvalheiro and Commissioner Lynn Hoopingarner objected to a six-foot-tall front fence with bars, saying it gave the building a prison-like quality. They suggested removing the fence to make the front yard more accessible.
While Carvalheiro voted to approve the project, Hoopingarner disliked it enough to cast the single vote against it.
"It had a lot of merits, but there were substantive things that made it not integrate well into the neighborhood, particularly the front façade with the bars," Hoopingarner told WEHOville after the vote. "It was not neighborhood friendly. I thought the bars were prison-esque."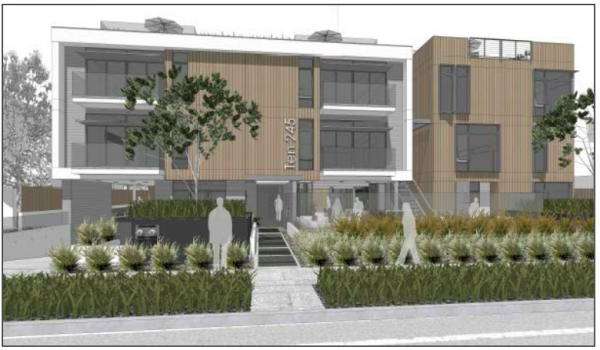 1041-1047 Spaulding
The commission unanimously approved a three-story, 14-unit condominium building that will replace two single-family homes at 1041 and 1047 Spaulding Avenue, just south of Santa Monica Boulevard.
The building will have subterranean parking and one unit set aside for lower-income residents. Designed by architect Kip Dickson, the upper floors will be townhouse-style units, while the ground floor units will be on one level. The building is a project of a limited liability company that apparently is owned by Guild GC, a Culver City development firm whose principals are Eric Fishburn and Craig Knight.
Carvalheiro called it a "thoughtful design" and particularly liked the courtyard design. "It falls well within the tradition of courtyard housing in West Hollywood," he said.
Meanwhile Jones called it an "exceptional design" and praised the owners for keeping the height to three stories, when it could have gone as high as four stores.
Commissioner Adam Bass had to recuse himself from the vote on this project because he voiced his approval for it prior to being appointed to the Planning Commission in June.
Wine Shop on Sunset
The Commission also approved off-site alcohol sales for a wine shop at 8500 Sunset Blvd., in western portion of the Sunset-La Cienega project. That 1,056-square-foot shop will sell bottles of premium wine and be connected to the Tesse restaurant, featuring French Californian cuisine, scheduled to open in mid-November.
Owner Jordan Ogron explained the upscale wine store would specialize in bottles of wine not carried by any other store in the area. Named "Boutellier," the shop would have limited edition wines as well as bottles from smaller wineries across the globe.
The Commission liked his business plan, Carvalheiro calling it a "gallery for wine." However they worried what would happen if the store went out of business. Since the entitlement to sell alcohol stays with the property even if the business fails, they feared a 24-hour liquor store could open there at some point in the future.
To prevent that from happening, they limited sales to beer and wine only (no liquor). They also forbid the sale of any chilled single bottles or splits. They also prohibited sales of cigarettes or lottery tickets. With those conditions in place, the Commission unanimously approved the project.
After the vote, Jordan Ogron told WEHOville he was thrilled by the commission's vote.
"We look forward to bringing a wine store of the caliber that I don't think L.a. has ever seen and definitely not West Hollywood," Ogron said. "As a part of the West Hollywood community for the past ten years, I look forward to really getting to know the residents of West Hollywood by inviting them into the store and teaching them about wine because I love to educate."