JOE & THE JUICE – NYC Casting #5 from JOE & THE JUICE on Vimeo.
Forbes magazine says it might be the next Starbucks. Business Insider describes it as a "chain (that) only hires hunks, and it's conquering the world."
But its new neighbors in WeHo's West Hollywood West neighborhood worry that Joe & the Juice might be what keeps them up at night.
Joe & the Juice is a Danish restaurant chain with more than 170 locations in 17 countries, including 11 in New York City, five in San Francisco and one in Miami Beach and more than a dozen others in the works in the United States alone. There are four locations on the west side of L.A. County labeled as "opening soon," with one at 8532 Melrose Ave., adjacent to the Lululemon store at the corner of West Knoll Drive.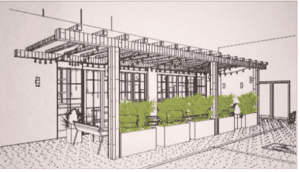 Joe & the Juice is hosting a neighborhood meeting on Thursday to address concerns by those living across the alley behind the Melrose restaurant about its plans to open an outdoor patio facing the alley. On the south side of the 249-square foot patio would be apartment buildings on West Knoll and houses on Westmount Drive.
The West Hollywood West Residents Association is asking neighbors to show up for the meeting, which will be between 5:30 and 6:30 p.m. at the restaurant location at 8532 Melrose.
"Although owners of this restaurant say that no table service or music will be played in the patio area," WHWRA says, "neighbors across the alley and near-by are concerned they will incur noise and light trespass from this un-buffered gathering spot so close to their homes."
Both the Forbes and Business Insider stories call out the hipster vibe of Joe & the Juice, with Business Insider noting that it "hires only cool hunky guys and promotes a very bro culture." Forbes says "they don't hire staff – they cast them online (#joecastings). Music plays a huge part of their concept and their staff create their own mixes and music." A casting video (at the top of this story) that is posted on the Joe & the Juice website is likely to raise some neighborhood concerns (and attract a lot of hip barista wannabes).
Joe & the Juice serves coffee, sandwiches, fresh juices, smoothies and as well as veggie shots made with organic ingredients.